At 12 noon on Saturday, September 17nd, Munich's mayor Dieter Reiter will tap the first beer barrel to declare the 2022 Okotberfest or "Wiesn" – as the Munich people call it – officially open. Oktoberfest is a 16-day beer festival held each year in Munich, Bavaria, running this year from 17nd September to 3rd October. It is the most famous event in Germany and the world's largest fair, with some six million people attending every year. If you only do one thing off-base when you live in Germany, better make it Oktoberfest!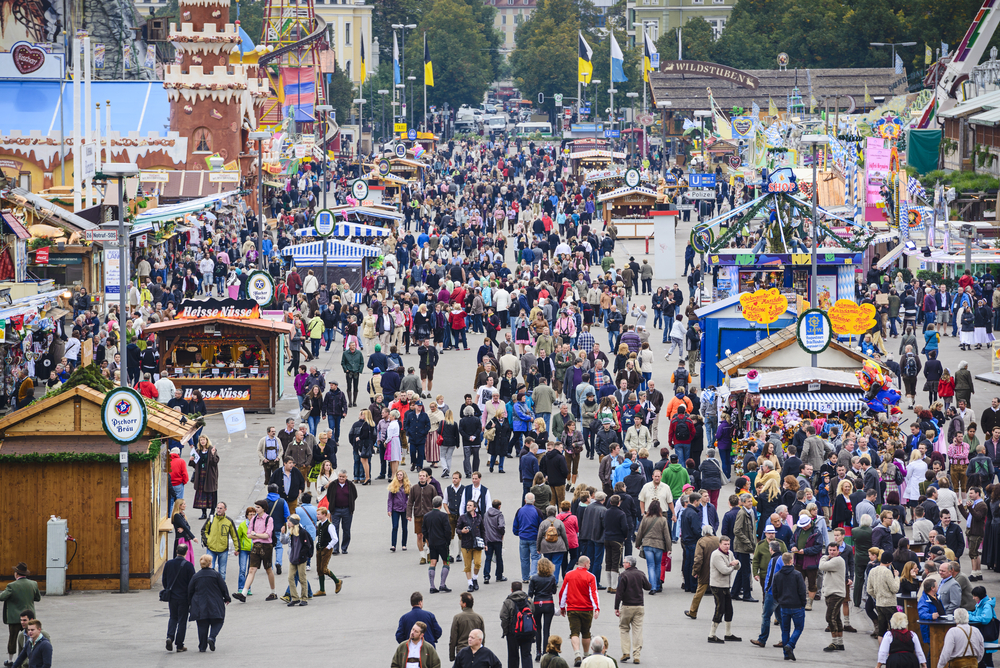 Sean Pavone / shutterstock.com
Parades A'Plenty
A huge parade of Oktoberfest landlords and breweries is the official prelude to the opening of the Oktoberfest on Saturday 20th. It involves about 1,000 participants, including the landlords' families in decorated carriages, the magnificent horse-drawn drays of the Munich breweries, waitresses on decorated floats and all the beer tent bands. Starting at 11am, the parade runs from Sonnenstraße-Schwanthalerstraße to the Oktoberfest grounds.
On Sunday 22nd September at 10am, the now World-famous Oktoberfest Costume and Rifleman's Parade takes place, which includes over 9,000 performers.
A varied succession of regional costume groups, "troops" in historical uniforms, marching bands, riflemen, thoroughbred horses, oxen, cows, goats, the decorated drays of the Munich breweries, floats displaying typical local traditions and historic carriages all pass by in a 7-kilometer-long procession through the streets of the city center. Ribboned trees, harvest garlands, craftsmen's tools from bygone days, harvest produce, dancers decorated with flowers, stars and crowns, trumpeters on horseback, flag-throwers and a host of other performers transform this traditional Munich procession into a brilliant highlight on the first Sunday of the Oktoberfest.
Family Attraction
The Oktoberfest is very much aimed at families, there are literally dozens of fairground attractions such as shooting galleries, dodgem cars, merry-go-rounds, ferris wheels and high adrenalin rides. There is something for everyone and this year there is a whole range of brand new white knuckle rides – definitely not for the faint-hearted.
Plus there are hundreds of stall holders offering candy floss, gingerbread biscuits, sweets of all descriptions, tasty savory snacks and lots and lots of souvenirs.
From Monday – Friday (except holidays) from 10 am to 3:00 pm – the sign "Mittagswiesn" means discounts for attractions, admissions and prices.
Festival Beer Tents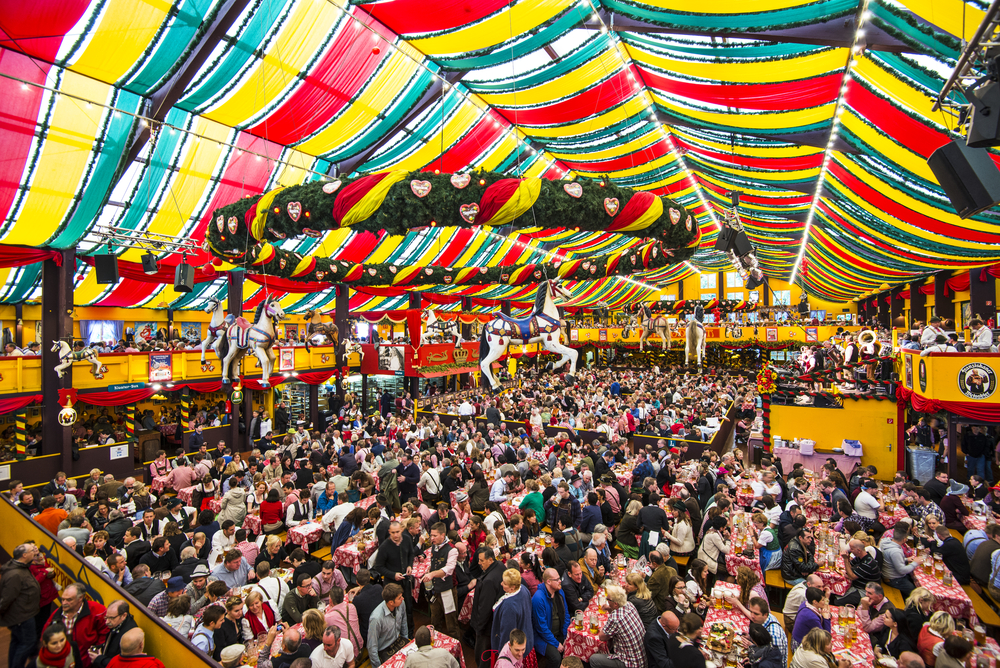 ESB Professional / shutterstock.com
Munich's largest and most traditional breweries invite you to join the fun in one of 13 huge festival beer tents – the most famous party tents in the world. Drink beer by the litre, eat traditional Bavarian food such as giant pretzels with Obatzda (a Bavarian cheese delicacy).
Party-on to live music from brass bands playing traditional Bavarian schlager (party) music as well as current hits, and enjoy yourself with thousands of other people from all over the world, dancing and singing the hours away. It's utter carnage after a couple of hours and terrific fun.
You should expect to pay around €10,70 for a Maß (litre mug) of beer. And prepare to be very impressed by the servers who can carry up to 5 in each hand!
Big Oktoberfest Tents
Augustiner – 
This is the only tent still serving the beer from large wooden barrels rather than from the steel ones used elsewhere. The tent seats as many as 8,500 people.
Bräurosl – (Pschorrbräu tent)
Four years ago Pschorr celebrated their 100th anniversary with a specially brewed beer. The tent seats 8,400 people.
Hackerbräu – 
This is the only tent with a revolving stage in the middle. The tent seats 9,300.
Hofbräu – 
As this is the tent tourists are most familiar with it is the one with the most international flair. Party till you drop is the order of the day here! You will even get served with a beer if you haven't got a seat. The tent seats 9,350.
Löwenbräu – 
This tent is the traditional meeting place for fans and players of 1860 Munich football club. The tent seats 8,500.
Ochsenbraterei – Spatenbräu – 
This is a must just to see the ox on a spit! Some 70 to 90 oxen are consumed during the 16 days of the fair. The tent seats 7,400.
Winzerer Fähndl – Paulaner – 
A tent with real Bavarian charm and the occasional celebrity. Players from FC Bayern Munich can sometimes be seen here. The tent seats 10,900.
Smaller Oktoberfest Tents
These slightly smaller tents are run exclusively by Munich based publicans all of whom are under licence to the larger breweries.
Armbrustschützen (Paulaner)
 – This tent is all about hunting and visitors can sit in the themed boxes (pheasants or badgers) and admire the hunters' trophies. The tent seats 7,430.
Fischer-Vroni (Augustiner)
 – This is a small and cosy tent located right next to at the entrance which offers grilled fish as well as sander, whitefish and salmon trout. The tent seats 700.
Festhalle Schottenhamel (Spatenbräu)
 – This is the oldest tent at the Oktoberfest dating way back to 1867. It is extremely popular with the younger visitors. The tent seats 10,000.
Hippodrom (Spatenbräu) – 
Last year the Hippodrom had two reasons to celebrate: the 100th anniversary of the tent taking part in the Oktoberfest and the 50th anniversary of serving Spaten beer. The gallery is always full of celebrities from the worlds of film, sport and business. The tent seats 4,200.
Käfer's Wies'n-Schänke (Paulaner) – 
Meeting place for the rich and famous. Because of the extended licensing hours to 1 a.m. there is always a real crush to get in here after the other tents close at 11 p.m. The tent seats 2,900.
Schützenfesthalle (Löwenbräu)
 – Old Bavarian specialities such as Boeff Lamotte or suckling pig are served here. The tent seats 5,442.
Note: At the weekends the beer tents are often closed as of noon due to overcrowding, so either reserve in advance, get in early or go during the week.
Oktoberfest Food
Visitors also eat huge amounts of traditional hearty fare such as Hendl (chicken), Schweinsbraten (roast pork), Haxn (knuckle of pork), Steckerlfisch (grilled fish on a stick), Würstl (sausages) along with Brezn (Pretzel), Knödeln (potato or bread dumplings), Kaasspotzn (cheese noodles), Reiberdatschi (potato pancakes), Sauerkraut or Rotkraut (red cabbage) along with such Bavarian traditional food as Obatzda (spiced cheese and butter) and Weisswurst (a white sausage).
It's all delicious and perfect for soaking up beer and wine, just don't think about the calories.
Dare to Dress Up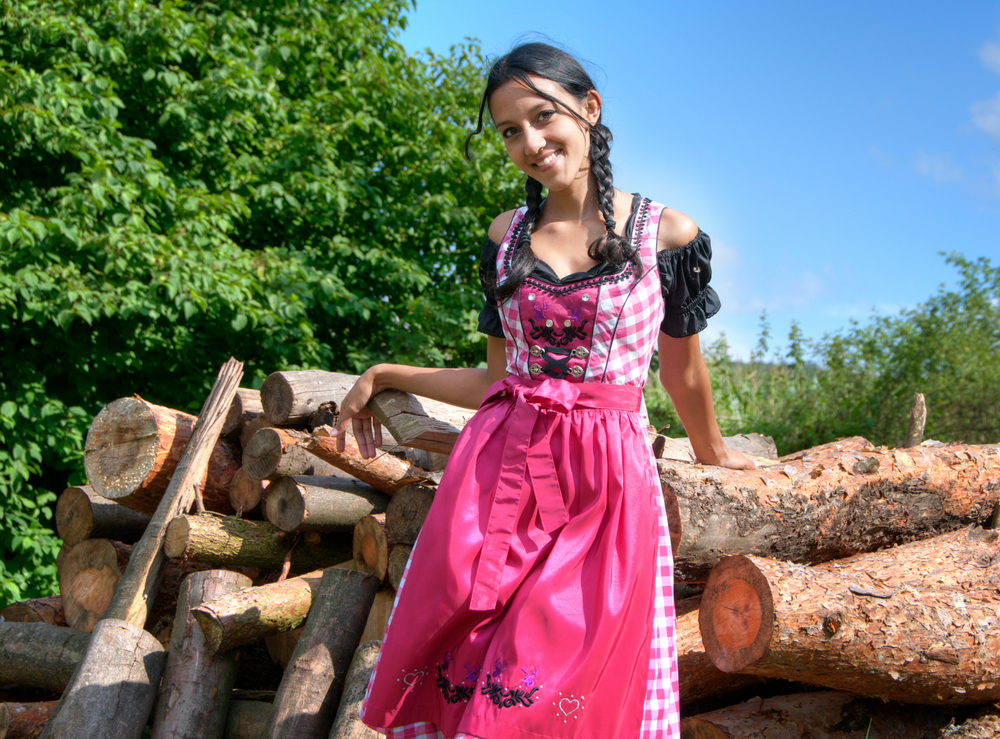 PlusONE / shutterstock.com
Lederhosen (leather shorts) for men and Dirndl (traditional Bavarian dress with full skirt, apron and tight bodice) for women are practically compulsory. Well not really, but you will be the odd one out if you do not go in costume. Read our article on traditional German costume to find out what to wear and where to buy.
Dates & Opening Times
Oktoberfest takes place between Saturday, September 17, 2016 12.00 noon – Sunday, October 3, 11:30pm.
Drinking hours
Opening day 12.00 noon – 10.30 p.m
Weekdays 10.00 a.m – 10.30 p.m
Saturday, Sunday & holiday 09.00 a.m – 10.30 p.m
Daily closing hour 11.30 p.m
'Käfers Wiesnschänke' and 'Weinzelt' open until 1.00 a.m, last drinks at 0.30 a.m
Opening hours of stalls
Opening day 10.00 noon – 12.00 midnight
Monday – Thursday 10 a.m – 11.30 p.m
Friday 10.00 a.m – 12.00 midnight
Saturday 9 a.m – midnight
Sunday 9 a.m – 11.30 p.m
Fairground attractions & sideshows

Opening day 12.00 noon – 12.00 midnight
Monday – Thursday 10 a.m – 11.30 p.m
Friday, Saturday 10.00 a.m – 12.00 midnight
Sunday 10 a.m – 11.30 p.m
Noon- Wies'n
Monday – Friday 10.00 a.m – 15.00 p.m
To find out more about the most famous beer festival in the world, visit the english website here. 
Getting There
Getting to Oktoberfest is best done by leaving your car at home and jumping onto Deutsche Bahn, especially as there is hardly any parking near the Wiesn (festival grounds). From the main station (Hauptbahnhof) in Munich you can then take local transport to the Wiesn.
S-Bahn:
S1 – S8 to Hackerbrücke
S7, S20 and S27 to Heimeranplatz, and then U4 or U5 to station Theresienwiese or Schwanthalerhöhe
U-Bahn:
U3 or U6 to Goetheplatz or Poccistraße
U4 or U5 to Theresienwiese or Schwanthalerhöhe
Bus:
MetroBus-Line 53 to Schwanthalerhöhe
MetroBus-Line 58 to Georg-Hirth-Platz or Goetheplatz
StadtBus-Line 131 or 132 to Hans-Fischer-Straße
StadtBus-Line 134 to Schwanthalerhöhe
Streetcar / Straßenbahn:
Line 18 or 19 to Holzapfelstraße or Hermann-Lingg-Straße
Cover Photo by Anselm Baumgart / shutterstock.com