Roast beef dinner cooked in your slow cooker! This is the perfect comfort food dish for the colder fall and winter months.
I have to admit that a roast beef dinner is probably one of my favorite comfort foods, especially this time of the year. The combination of carrots, rich gravy, mashed potatoes, dried cherries and rolls simply hits the spot. Best of all, all you need to do is throw everything into the slow-cooker in the morning before work and you'll come home to an aroma filled house and a fork-tender roast beef meal. The only thing you'll need to do when you come home is to mash the potatoes, heat up the side dish, usually a can of corn and mix up the gravy. Enjoying a tasty meal couldn't get much better than this!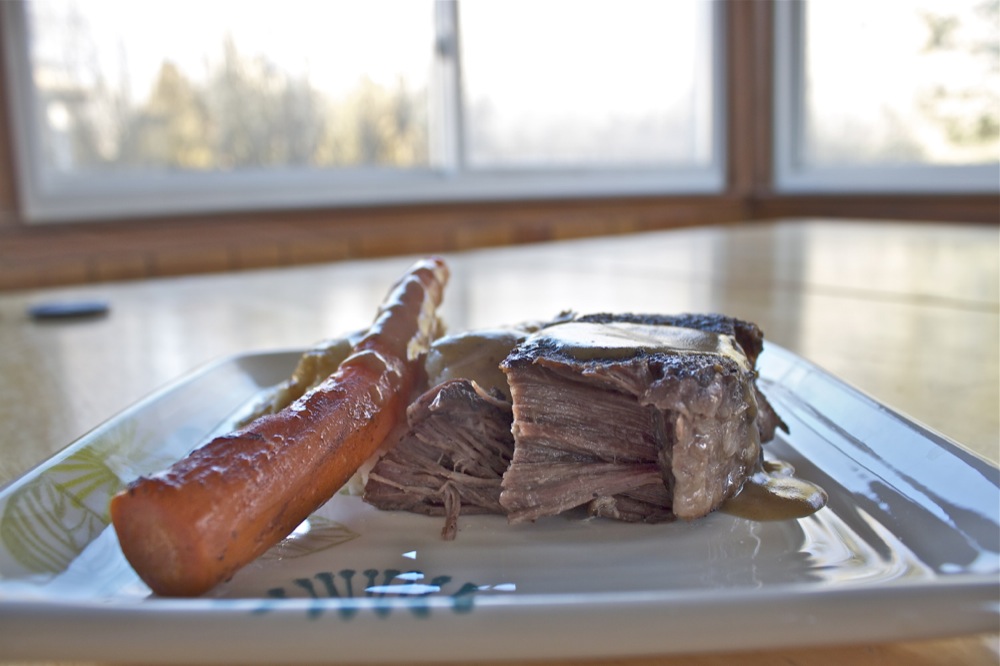 Ingredients
● 3 to 4 pound chuck roast (Preferably a shoulder cut)
● 1 ½ cup of red wine (Use your favorite red wine since you can also enjoy a glass with dinner.)
● 10 large potatoes (Peel, wash and cut in half)
● 8 – 10 large carrots (Peel and cut into halves)
● 1/2 cup dried tart cherries
● 1/2 cup of butter
● 1/3 cup of flour for the gravy
● 1 stick of butter
● ¼ cup of water
● 3 tsp of olive oil
● 1 tbsp garlic salt powder or one clove fresh garlic
● 1 tbsp seasoning salt
● Salt and pepper to taste
● ½ cup of sour cream
● 1/2 cup milk or half and half (My family likes extra creamy mashed potatoes so we use half and half.)
Step #1
Brown your beef in a preheated pan. I use a cast iron pan for this but any sort of hot pan will work fine. Place a few tablespoons of oil in the pan and heat it up. I also add a hint of garlic (diced clove) for a little more flavoring.
Step #2
Season your roast with salt, pepper, onion powder, garlic salt and seasoning salt.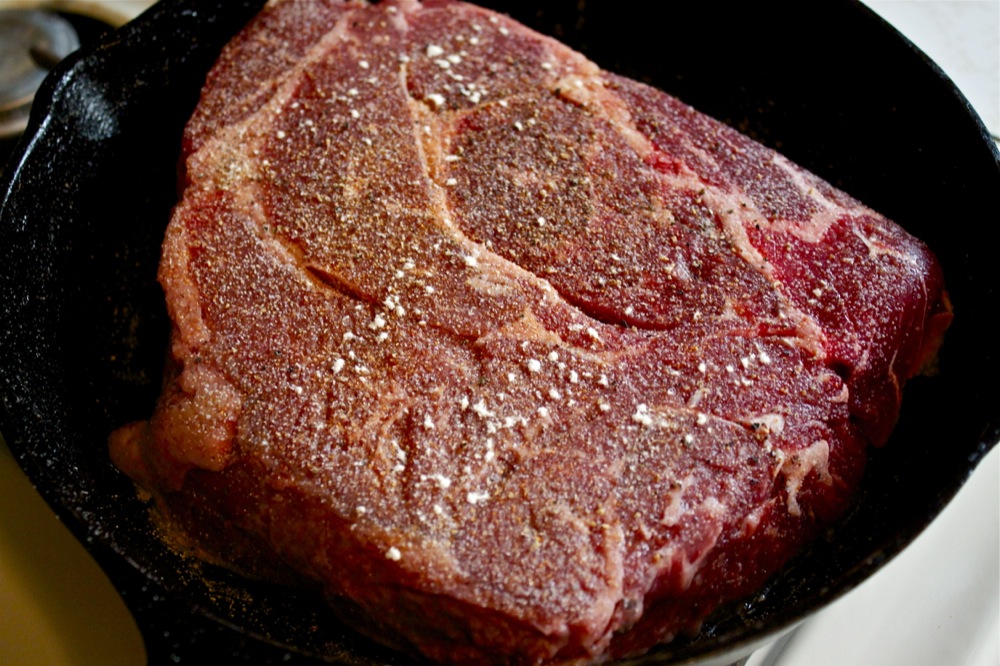 Important to note, let your roast cook for about 8 to 10 minutes before moving or flipping. You will know it's ready to flip when it's brown and you will smell that great beef aroma. Once flipped, allow this side to cook for approximately 10 minutes, until brown.
Step #3
Chop up several large onions. I love onions, so the more the better! Peel and cut the potatoes, and then place all vegetables on the bottom of the slow cooker.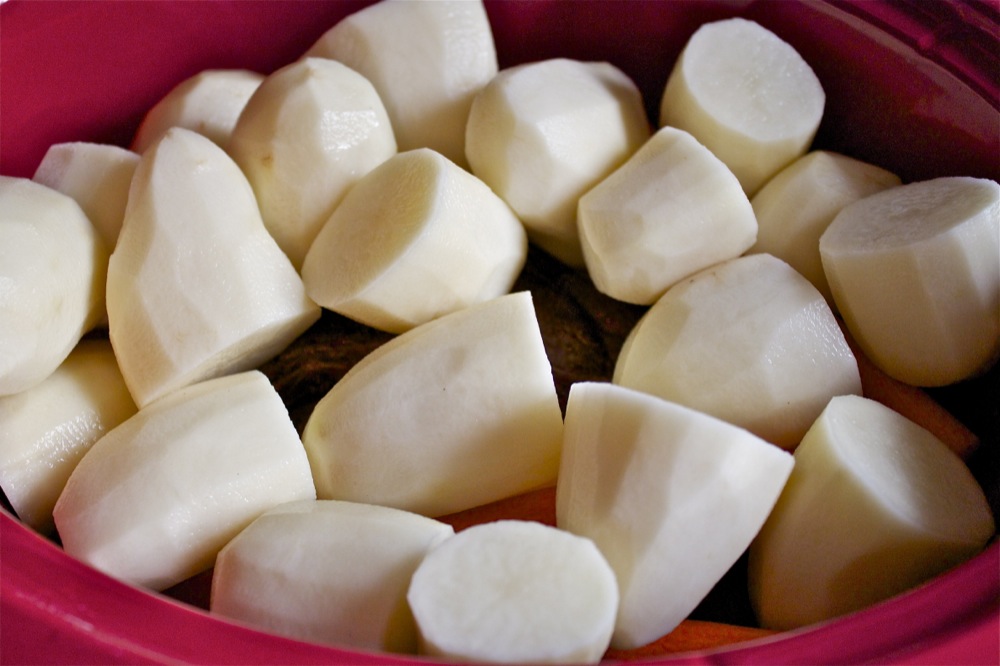 If you really want to add a great flavor to your roast beef, toss in ½ cup of dried tart cherries into the bottom of the cooker, too. The dried cherries will add that extra flavoring to the recipe. This is the special ingredient that will really make this recipe delicious, while also giving it an appealing presentation to the eye. The cherries will also add a little cherry juice flavor to the recipe, too. (We do offer free shipping our dried tart cherries when you order 4 lbs. Click on Traverse Bay Farms to learn more.)
Step #4
Now put the roast on top of the vegetables. Pour 1.5 cups of red wine into the same pan that was used to brown your roast. Allow the red wine to simmer for about 1 minute. Pour this over contents (roast and vegetables) in the slow cooker. You'll also have the remaining open bottle of red wine to enjoy with dinner.
Step #5
Place peeled carrots and any remaining potatoes around and on top of the roast. You're done! Let the slow cooker do the hard work…cover the lid and go about your day. Cook for 4 – 6 hours on medium/high or 6-8 hours on low.
Step #6
Check to see if the potatoes are done after the allotted time mentioned above. If the potatoes are not soft, then allow them to cook until done (soft). However, this time cook on low in order to avoid drying of the meat. Once the potatoes are done, remove and place in a bowl. Then mash them and then toss in some garlic powder, butter, milk and sour cream. Cover the bowl until the roast is fork tender.
Step #7:
Make sure that roast is completely cooked. The best way to know if it is done is by using a cooking thermometer. The center temperature should be:
• Rare: 120°F to 125°F, (49°C to 52°C)
• Medium rare: 130°F to 140°F (55°C to 60°C)
• Medium: 145°F to 150°F (63°C to 66°C)
• Well done 155°F to 165°F (68°C to 74°C).
If the meat has not reached your desired temperature, allow it to cook a little longer.
Step #8
To make the gravy for the mashed potatoes, use a spoon to remove the juice from the slow cooker and then simmer in a pan. Now whisk in flour, ¼ cup cold water, salt and pepper into the simmering pan. If you are gluten intolerant, feel free to use corn starch instead of flour.
Step # 9
Serve up and enjoy!
Author profile:
Story and photos by Andy LaPointe, a health and wellness coach, speaker and the health and wellness radio host  on the Talk With Heroes radio network, the largest internet radio broadcast supporting both active and retired military. He has written 12 books on the subject of healthy living, lifestyle entrepreneurship and healthy recipes. His company Traverse Bay Farms has won 23 national food awards at America's largest and most prestigious food competitions. His company offers exclusive discounts to active and retired military and military spouses.