Read part 1 here
You've likely been to the Champs-élysées in Paris or seen the cathedrals at Strasbourg and Cologne. You've surely been able to stand up close, beside Big Ben in London and all those were indeed fabulous trips for you and your family. But have you ever seen the world's tallest cathedral spire or the looked through the world's oldest piece of stained glass? Have you sought out some not so popular destinations during your stay here in Germany?
Germany has so much to offer and many exciting things close to us get overshadowed by all the must-do touristy trips we end up taking during our time here. All of the spots listed below are easily accessible from autobahns, with many hotel and lodging opportunities, and not too costly to undertake.
Visitors who make the stop at Voelklingen might continue westward across the border to Metz, France. Aside from the well-documented St. Stephen cathedral and another antiquated religious building, St. Pierre aux Nonnains, flea markets, small wineries, bistros and pubs, and a few children-themed places to let the kids blow off steam are scattered throughout the town.
The Porte Des Allemands is a 13th-century, twin-towered structure that once stood in the path of invading forces in the region. It features a walking area that winds through the building and several shops and restaurants are situated nearby. Just blocks from the towers is Eglise St. Maximin, one of several churches and noteworthy for its blue-hued, modern stained glass that was installed under the direction of its creator, 1960s artist Jean Cocteau. (See cover photo by Sergey Dzyuba/ Shutterstock.com)
Castle ruins in Homburg, just a 30-minute drive along A6 toward Saarbruecken, are the best you might have seen, with drawings and plans that show exact layout and floorplans of what used to be there. There are caves that served various purposes and are located underneath the castle complex. Dress warm for the caves are at pretty much a constant cool temperature for exploring in any season and they can give the visitor an idea of ways of life from another time period.
There is a fun and spacious park close to downtown with an extremely shallow pond that has a children's pirate ship at its center. Children can get on tiny boats and use poles to push themselves out to examine the ship. The park also has a rock climbing wall, a miniature golf course, and large, open fields for volleyball, and other outdoor or ball games. Teenagers and younger kids alike will find this place appealing.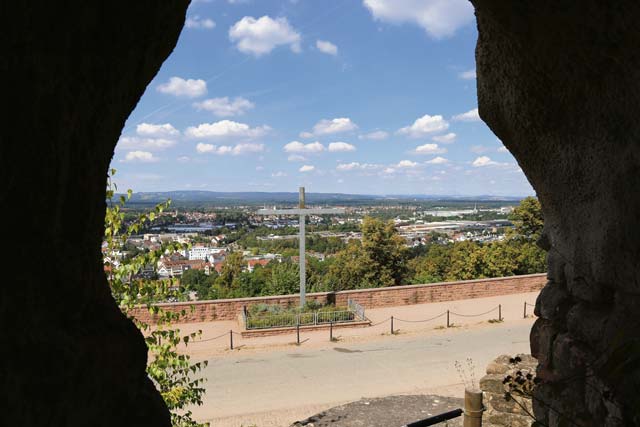 U.J. Alexander / Shutterstock.com
Northeast of Kaiserslautern is the Rhine River town of Mainz. It is here that you simply must come before your time is up, for a visit to both the Gutenburg Museum and to trace Martin Luther's path to reforming religion into what we know it as today. Taking time out to drive south for 30 minutes and see Worms, where Luther appeared in front of Roman emperor Charles V in high court, might inspire you to seek out more Luther-related spots in German towns north of Frankfurt.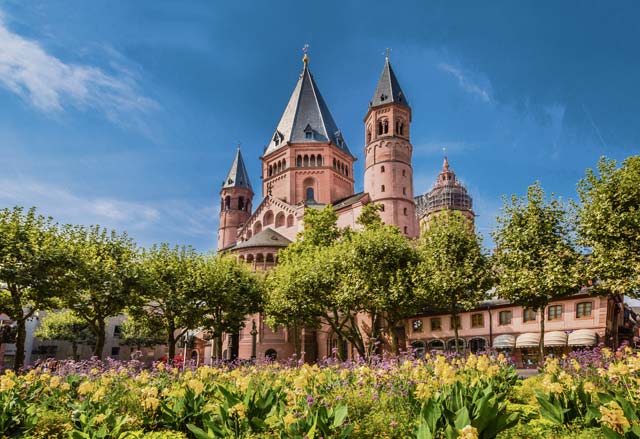 jo Crebbin / Shutterstock.com
Downtown Worms has a walking tour that traces some of Luther's steps. The city also has castle ruins that are different from castles on the Rhine River hills, as they are set right in the middle of downtown. There is a convenient parking garage area with inexpensive day rates plus many restaurants and shops to fall into.
Altstadt is the old town portion of Mainz and a place to find authentic servings of sausage and beer, varying representations of medieval architecture, and lots of walking space for shops, pubs, coffee houses and photo opportunities. A day in Mainz is not enough and it's probably worth the traveler's while to book a room somewhere and stretch the experience. The printing press and ancient bible memorabilia take time to get a handle on, so plan accordingly a give yourself time to digest the information.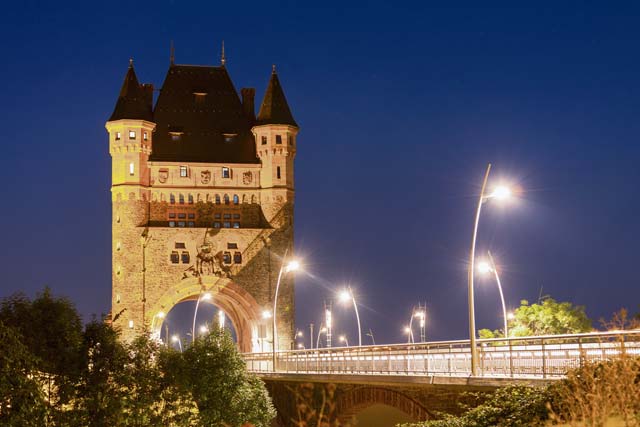 Tobias Arhelger / Shutterstock.com
Story by Thomas Warner