Going to a German Easter Market is not only fun and uplifting, but it also thaws any inner winter chill you may have lingering around! The pastel egg colors, the bunnies and fuzzy yellow chicks are so uplifting! Michelstadt Easter Market was the perfect way to ring in spring! This year's market will take place on March 21 and 22. For more information go to www.ostern-in-deutschland.de
I have wanted to go to the well-known Michelstadt Easter Market for years, but it never worked out somehow. Never making it there and only seeing it online, I always imagined Michelstadt as being some magical town hidden in the middle of the Odenwald. Then after visiting, I learned that my prediction wasn't too far from the truth.
Charming Michelstadt
Odenwald is a beautiful low mountain range that stretches over the German states of Hesse, Bavaria and Baden-Württemberg. The region has stunning landscapes and traditional towns with peaceful sceneries. Michelstadt, one of said charming towns, is a delight. If you ask me, wandering quaint cobblestone streets is lovely in any season!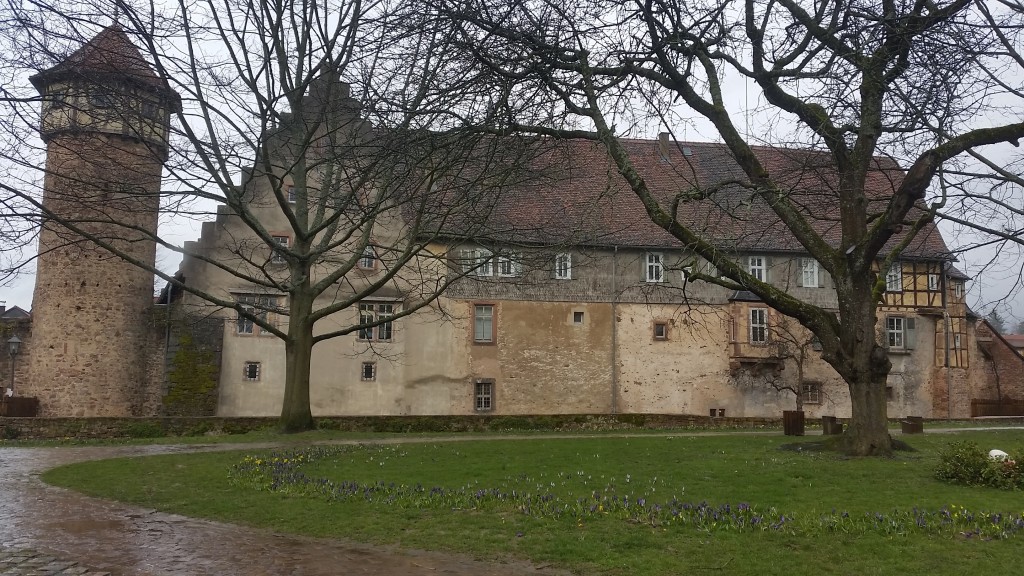 © Gemma
The signs for the market led me to a beautiful park with medieval buildings and towers. Even though it was a bit frustrating to find parking, the pretty walk over a wooden bridge brought me back in the spirit.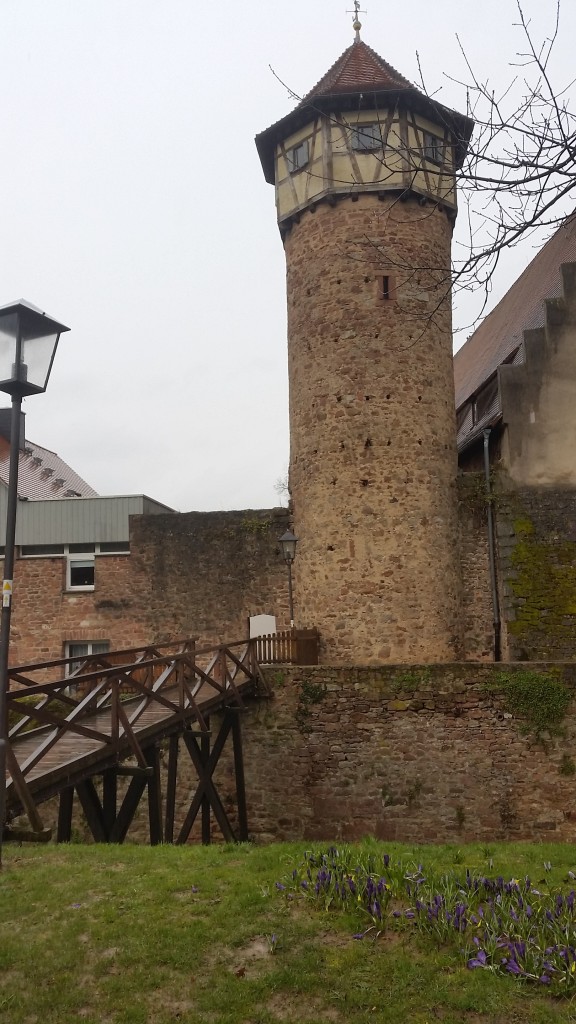 © Gemma
The center of the town looks perfect like a movie set. The weather wasn't the best the day we went, but I could just imagine how the town square must be buzzing in the warmer months.
Easter Spirit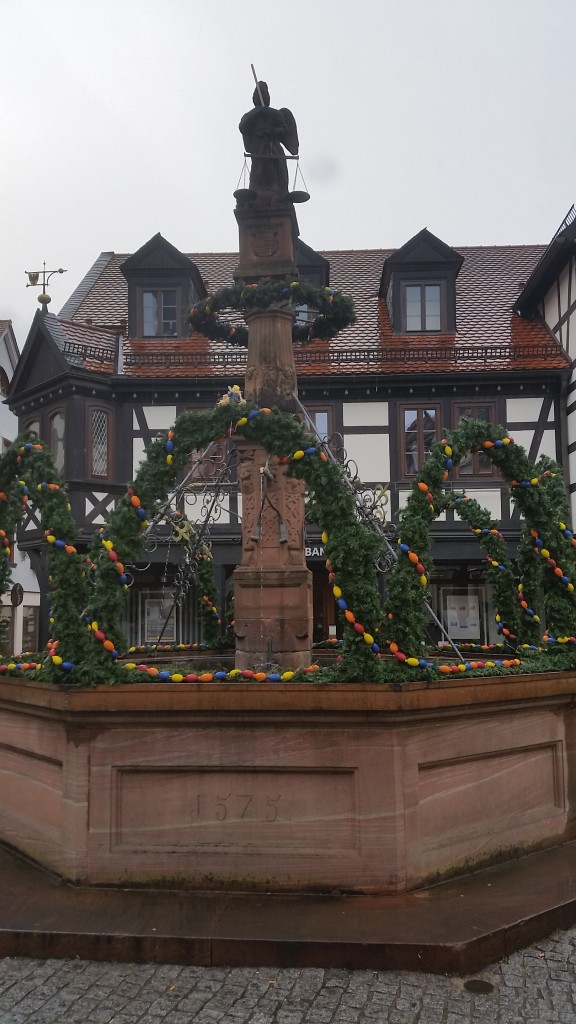 © Gemma
The center of town was decorated so nicely to celebrate the Easter market. There was a "band" of wooden rabbits right under a tower where beautiful bells chimed.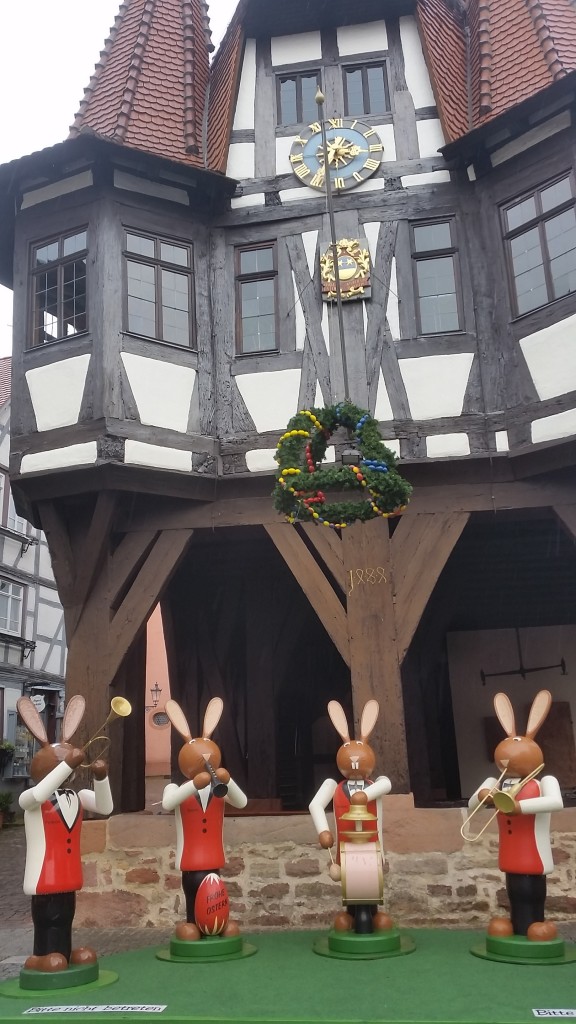 © Gemma
We then left the square and found the market. Many people were attending that day and the courtyard was pretty full with people. Entry into the Easter Market costs 5 Euros for adult. Children get in for free.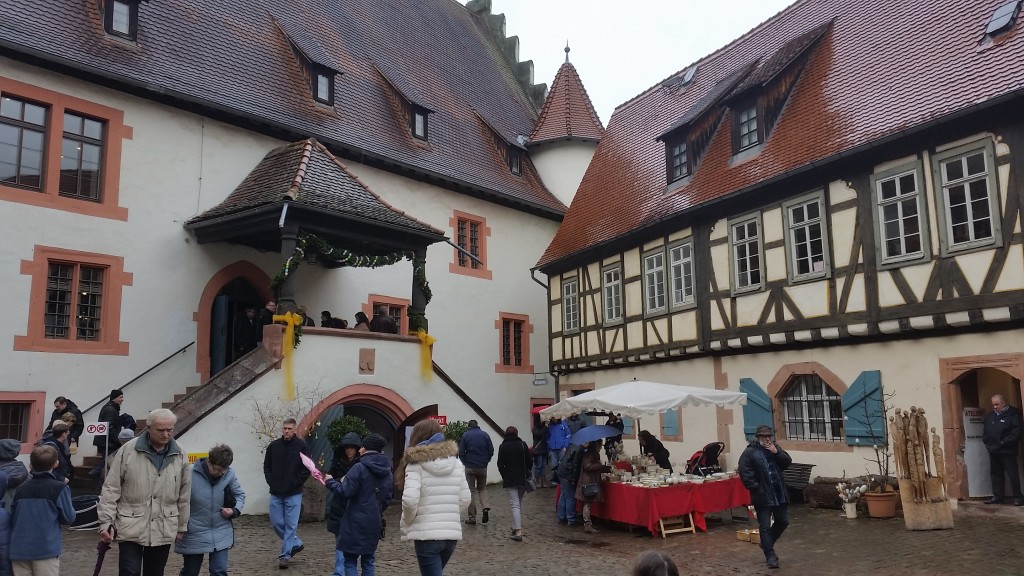 © Gemma
I loved the building the market was held in because of the architecture and overall charm. Bonus: shelter from the weather.
I found this Easter market different from others because visitors were able to touch the items more and there were many affordable items to buy.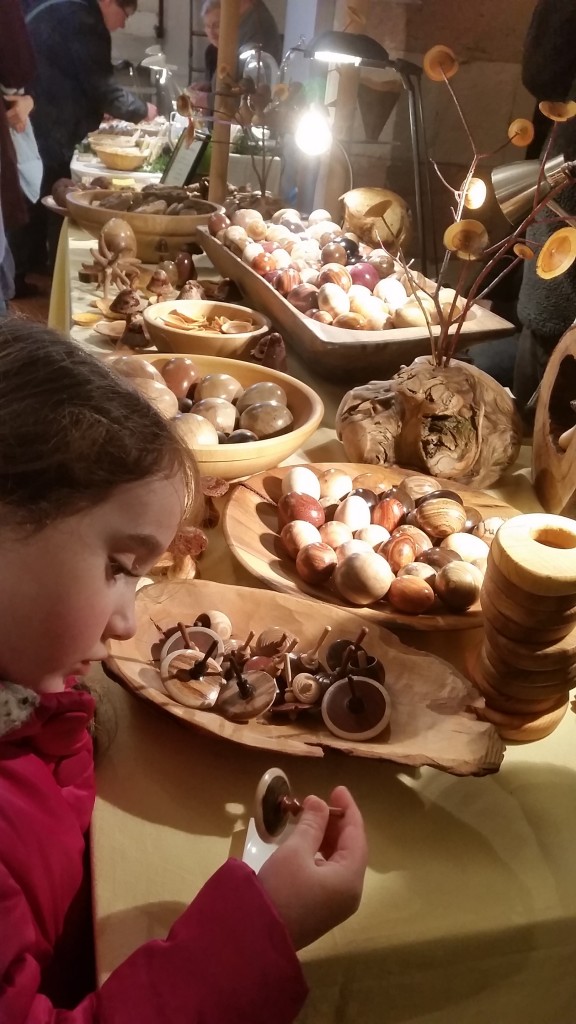 © Gemma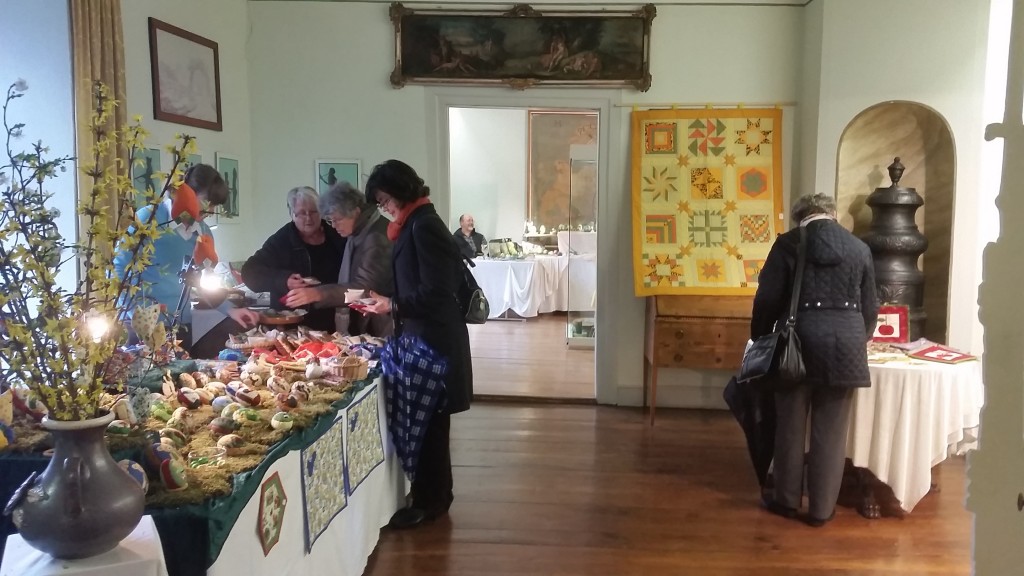 © Gemma
Doll Museum and More
Visitors could also walk around and look at the display cases of antique dolls and toys in the building's Doll Museum.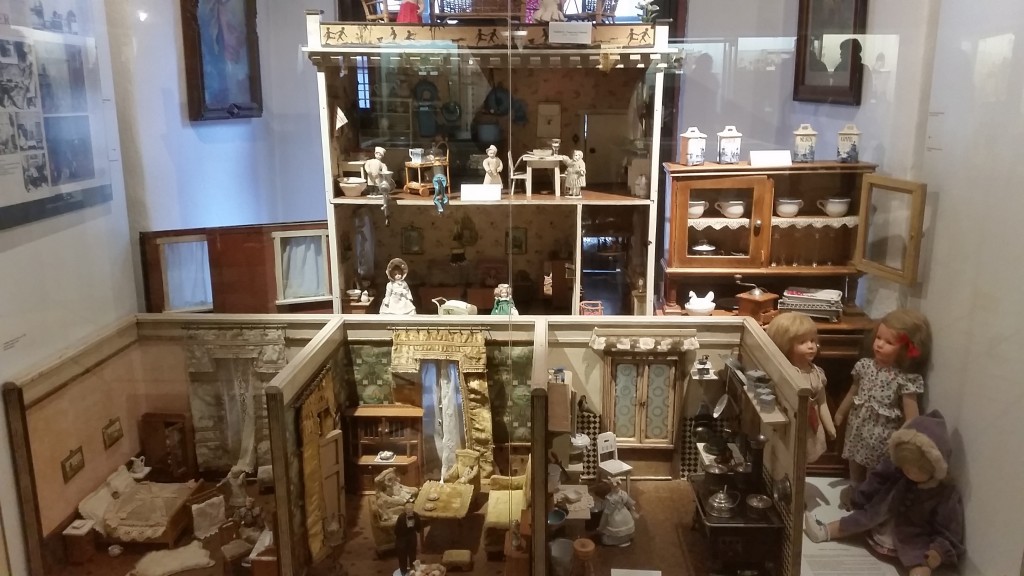 © Gemma
Pretty or terrifying… ? You decide.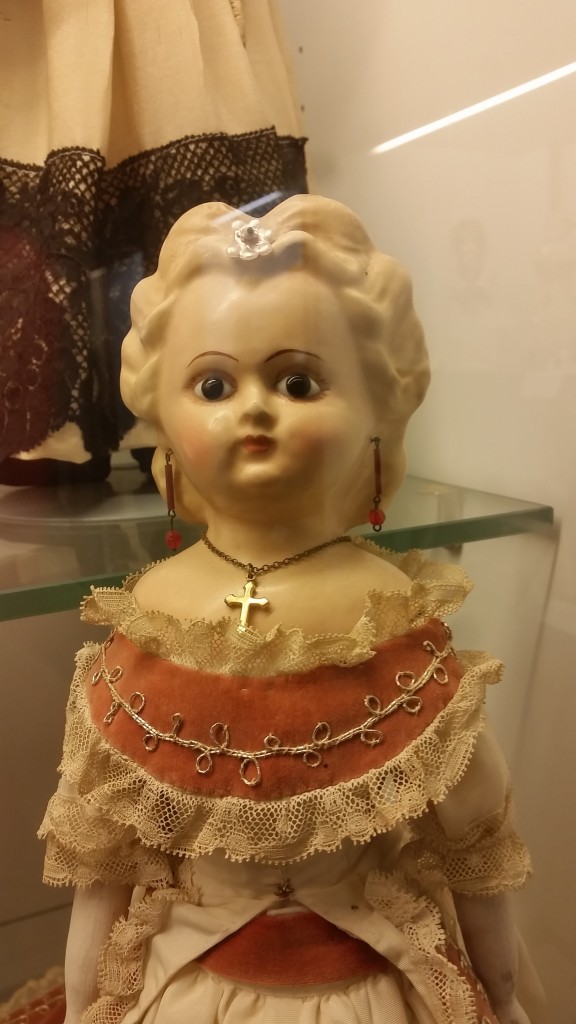 © Gemma
Inside the (scary) Doll Museum was also a crafts table for kids to color or make adorable bunny hats. This served as a nice break for the kids who were getting tired of looking at decorated eggs!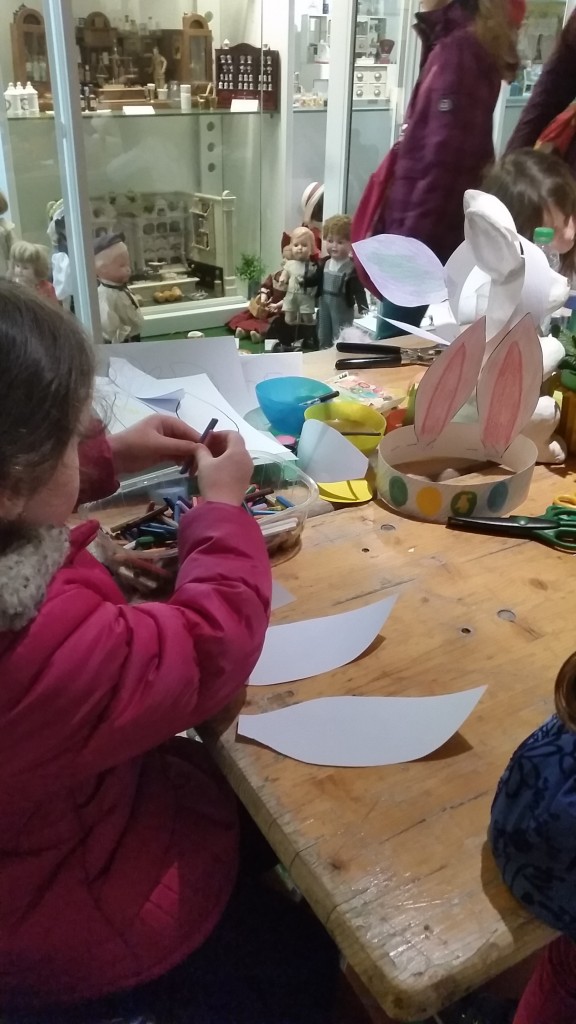 © Gemma
Perhaps the best part of the Easter market was when we saw baby chicks hatching out of their eggs!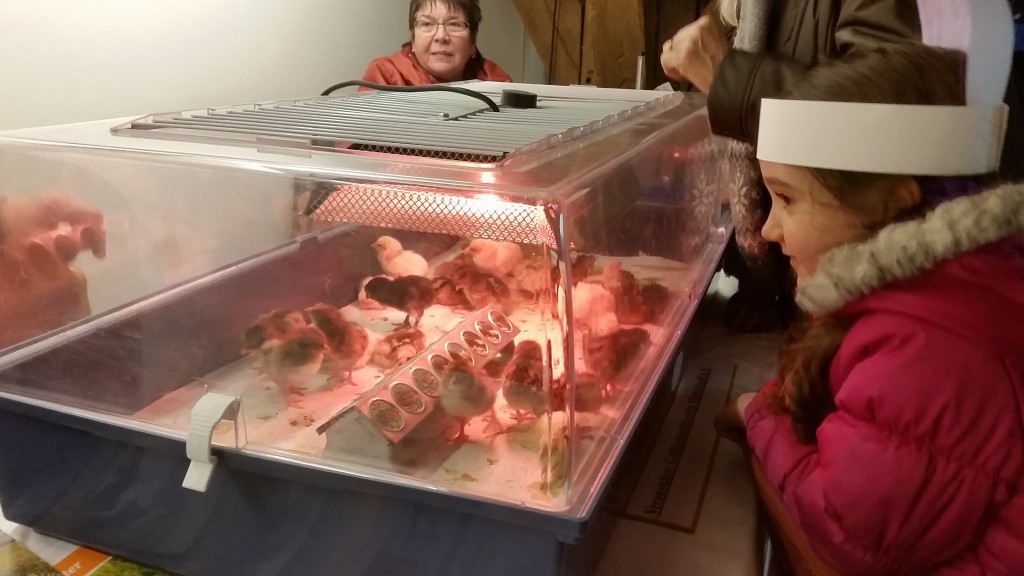 © Gemma
One incubator had recently hatched chicks and another had chicks cracking out of the egg before our eyes! This was definitely the highlight of the day for my daughter.
Something to Eat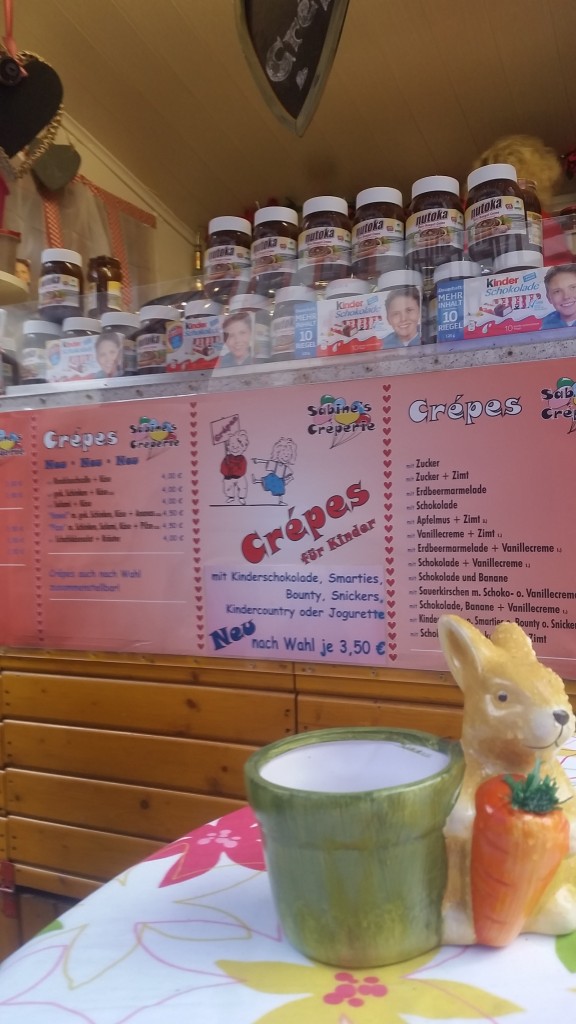 © Gemma
Outside the Easter market everyone had one thing in their hand: a crepe. Since there were no food vendors inside, the crowd was pretty excited to see the crepe truck. We joined the fun and got a chocolate crepe that sure hit the spot.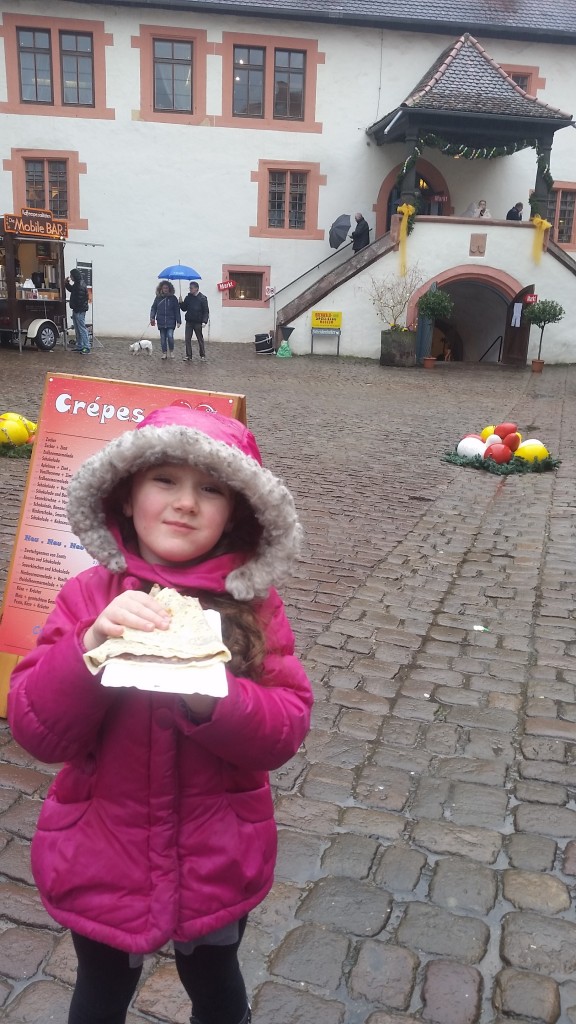 © Gemma
Our fingers were covered with chocolate and our spirits were definitely lifted after visiting the wonderful Michelstadt Easter Market! Just as I thought, Michelstadt is a magical town in the middle of the Odenwald and a perfect place to explore throughout the year!
How to Get There
By car, Michelstadt is approximately 1 hour and 20 minutes southeast of Wiesbaden, under 2 hours northeast of Kaiserslautern and just over 2 hours north of Stuttgart. Click on DB Bahn for train information.
Author's Profile: Gemma is a mom, a veteran and an Army civilian living in Wiesbaden, Germany. With New Jersey roots, she is enjoying her extended European vacation.
Featured Image Photo Credit: © Gemma