Story by Ronnie Juhans
Cover photo by santypan / Shutterstock.com
As the unpredictable German Winter weather approaches, the temptation to stay indoors and keep your fingers and thumbs fit with the latest technology increases.
Indoor bouldering is an excellent way to maintain or increase your level of fitness no matter what the conditions outside.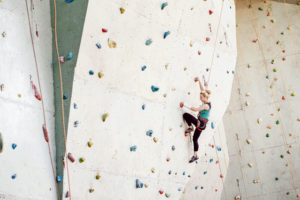 frantic00 / Shutterstock.com
Bouldering is a form of rock climbing that is performed on small rock formations or artificial rock walls, known as boulders, without the use of ropes or harnesses.
This sport is a full body workout that has increased in popularity because it is fun, challenging, increases strength and stamina, and offers a social aspect. While bouldering, you do not encounter people tuning out everything around them by blasting music in their ears or cruising through social media while on a treadmill, stationary bike or any other piece of equipment as you would in a gym.
Bouldering requires no more equipment than a chalk bag and a good pair of climbing shoes, both of which you can rent for a low price at the climbing center. If you enjoy this sport enough to invest into your own equipment, I do not recommend purchasing shoes online. The lack of proper fit can make your bouldering experience miserable. Seek expert advice for a perfect fitting shoe.
If you are afraid of heights and cannot bring yourself to trust another person on the ground with your life (belayer), this form of climbing allows you to stay within your comfort zone, bail out whenever you are too fatigued, not feeling it anymore, and know that you have a crash pad below that will absorb that unexpected fall.
The featured climbing centers in this article are within a short distance of the KMC and offer a variety of routes based on skill levels, strength building areas, group programs, kid's programs, slacklines, outdoor bouldering, yoga and saunas, as well as food and drink bistros.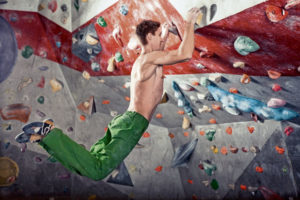 takoburito / Shutterstock.com
What to Bring
Clothing that is loose, comfortable and unrestrictive.
Climbing shoes that have been properly fitted. Otherwise I suggest renting them for a small fee at the climbing hall.
A pair of sandals or flip flops.
Euro to be on the safe side in case your plastic is not accepted.
Dos and Don'ts
Read and abide the rules of the facility. Some of them can be very restrictive for safety reasons.
Take breaks frequently to avoid overexertion and injury.
Don't wear climbing shoes outside, in the restrooms or while taking a food and drink break.
Don't allow children to be unattended at any time.
Rocktown
Rocktown has a large 1,500 square meter bouldering gym that is not only designed for a great workout but is visually grasping due to its amazing structures. Beginners to experts will have a great experience here. The German national bouldering team has even used this venue for training. Other features include slacklines, areas for strength and flexibility training, and yoga classes. Classes are offered on a regular bases for adults and kids. There is also a kid's area with low walls that can be used for birthday parties, an equipment and accessory shop, as well as a very impressive bistro and bar that offers pizza snacks and drinks when you need to take a break or just hang out for a while.
Boulderhalle Rocktown, Kantstrasse 38, 67633 Kaiserslautern
0631 89 29 08 50
www.rocktown.eu
Kletterzentrum Saarbrücken
This climbing gym is designed for beginners to experts and has a large variety of walls with very interesting and fun routes that are also challenging depending on your skill level. They offer a try-out climbing session to see if you are interested in the sport, as well as courses for beginners, advanced and youth training programs. Within the center is an area designed for children where they host birthday parties and school group programs.  If you want to invest in some quality climbing equipment and accessories check out their shop which has everything you need. Make sure to take a break and enjoy a variety of snacks and drinks in the bistro.
Kletterzentrum Saarbrücken GmbH, Mainzer Strasse 30, 66111 Saarbrücken
0681 910 22 32
www.kletterzentrum-saarbruecken.de
Rocklands
Two of the most impressive climbing gyms that I've had the opportunity to work out, have fun and enjoy an amazing atmosphere is Rocklands. Located in Saarlouis and St. Wendel.  The visual design of the facilities alone will crank up your adrenaline and can be a bit overwhelming to newbies. However, there are regular introductory courses provided by highly-trained staff that will take away the jitters and build your confidence in no time. The bouldering halls are state of the art with a variety of routes that will challenge your strength and coordination from the beginning. Taking a fall will only injure your ego due to the crash pads that provide a lot of protection and let you bounce back and continue to work out and have fun. Rocklands have a kid's climbing area, gymnastics, special events, excellent group rates, and bistros that are open late enough to have dinner without having to scramble around town for a good meal.
Rocklands Kletterhalle Rocklands Kletterhalle, Willi-Graf-Straße 3 St. Nazairer Allee 10, 66606 St. Wendel 66740 Saarlouis
06851/8024114 06831 986 49 10
www.rocklands-wnd.de
Outdoor Ramstein Indoor Climbing Wall
The Ramstein Outdoor Recreation climbing wall is the ultimate indoor activity for outdoor enthusiasts all year long! ODR's $28 million facility offers something for climbers of all abilities. The rock wall is higher than 30 feet in some areas, and with its textured composite-material rock wall, offers climbing routes for all abilities.
For beginners, there is ropeless small bouldering, with big yellow padding for safety.  Experienced climbers can take on the inverted tower.
To climb the wall at Ramstein, you are required to take a 45-minute "Climbing 101" to learn the basics of fitting a harness, tying knots and belaying.
A number of classes are available through ODR Ramstein, including equipment hire.
Visit www.86fss.com for registration and more information