The legend of Sibyllenweg is what fairytales are made of, which typically has a hero, villains and good wins. The legend of Sibylleweg involves a wise woman, an enchanted carriage and a few evil sons. Unable to live with the choices of her wayward sons, a benevolent, kind-hearted Sibylle flees in the night in her golden carriage, never to be seen from again. The tire tracks she leaves in her escape turn into beautiul, blooming flowers that bring joy to hikers and explorers to this very day.
If you are Swabian, you know this story and the castle, which is steeped in tradition and history. This castle, near Kirchheim Unter Teck, has views of the entire valley. It is said that on a good, clear day you can see all the way to the Black Forest.
History of Burg Teck 
Perched atop a little Swabian mountain, Burg Teck, is believed to be a Celtic name. The castle was built from 1135 to 1150, probably by Duke Konrad von Zähringen or the "Duke of Teck." The castle remained in the possession of the Duke of Teck until 1318 when it became part of the Württemberg reign. Burg Teck has its place in modern day royalty: Queen Elizabeth II is the great grand-daughter of Duke Francis of Teck.
Trail & Cave
The hiking trails and caves in this region are trickled with castles, ruins, orchards and history. From the watch tower we saw at least two castles in the distance worth investigating, too. It took us two hours to hike up the mountain as we decided to take a long, looping trail. After we ate our picnic lunch at the castle and toured the grounds, we followed the trail to Sibyllenloch. The remnants of the cave are amazing and archaeologists have found bear, mammoth, wild horse and other prehistoric bones in it.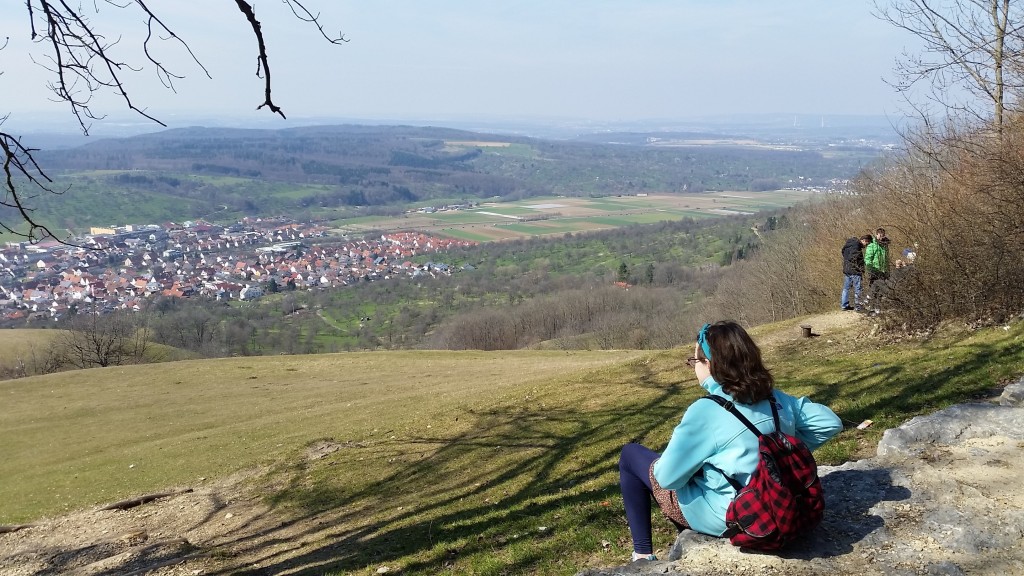 On our descent we took the narrow hiking trail from the cave through the woods down the south path towards the second parking lot, where we saw several airplane gliders and a group of outdoor enthusiasts just enjoying the fresh spring weather. Click on this link to find out information on many hiking trails within the Swabian Alb. On this site, there are several articles about hiking through Germany, and I hope to blog more about them in the future.
Youth Hostel & Café
Today, Burg Teck is a youth hostel and restaurant, which was converted in 1953. The hostel can accommodate up to 20 people for an overnight stay. The restaurant is very nice and there is plenty of outdoor seating. We walked up the watch tower (turm) too. Admission is a 0.50 cent donation and definitely worth the panoramic view.
How to Get There
We parked in Owen, a little hamlet at the base of the mountain. We used GPS to Owen (Teck Strasse 100, Owen 73277). We then followed the signs for Sibyllenweg and Burg Teck, which led to the parking lot with several apple and pear trees and a trail map. There are several other parking areas along the trail up to the mountain, but you still have to hike a little bit because there's no car access to the castle.
Owen is approximately 30 minutes southeast of Stuttgart, 2 hours and 30 minutes southeast of Kaiserslautern and 2 hours and 30 minutes south of Wiesbaden. Click on DB Bahn for train information.
Author's Profile: Wendy Payne is a military spouse and lives with her family in Stuttgart, Germany. She is a freelance writer, blogger and photographer. She also enjoys gardening, hiking, yoga and sharing Europe with people.