There are few places in Europe to match the feeling one gets when entering a German Christmas market for the first time. By the end of November, everything seems to be changing under the magic wand of a fairy, time stands still and the holiday spirit embraces the land and invites the visitor to step into a different realm.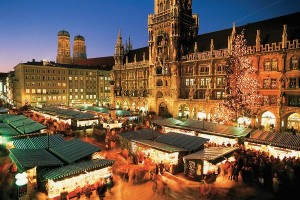 There are over 2000 Christmas markets available to visit in Germany and they annually attract millions of tourists from all over the world, giving them the opportunity to live again, for a few days, in the enchantment of their childhood. Santa Clauses and snowmen walking in the streets for the delight of children and adults alike, the tantalizing smell of traditional Christmas German treats, mixing vanilla and cinnamon scents, sugary donuts and spicy sausages, the angels' parades, the sellers' national costumes, together they make any tourist from any country and of any religion feel welcomed and somehow… home.
The fairytale world opens up to you with millions of colored lights, Christmas trees and seasonal decorations that will steal your heart and make you never want to leave.
Here are some of my favorites:
Hans-Sachs-Platz and the meeting with the Nurnberg Plum Men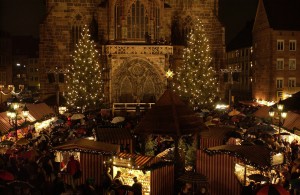 Some say that Nurnberg hosts the greatest, most beautiful and most attractive Christmas market in Germany. It is probably true considering that over two million people come here every year to taste the German delights, buy gifts for loved ones back home, get a sip of glühwein and a chat with the angels. You can't leave Nurnberg's Christmas market without sampling the famous plum figurines, something that German artisans take very much pride in. Christkindermarkt is something that is worth visiting at least once in a lifetime.
Marienplatz and the quintessence of Bavarian culture
If you needed another reason to visit Munich, this is the one. The Christmas market has been going for a very long time and is one of the best places to be around the holidays. The heart and soul of Bavaria unfolds in front of your eyes and you can only feel swept away by the variety of traditional stands offering toys and souvenirs, enchanted by the multitude of sweet treats you can enjoy, and enriched by people's hospitality and joy. Maybe this is the best time of the year to truly understand the German spirit and the Munich spirit for that matter, as modernity blends with history and tradition.
Spoilt for choice in Köln?

There are at least six Christmas markets in Köln, so you will need a little bit of time to see them all. But if you really want to feel the holiday's spirit envelop you, the Medieval Christmas Market near the Chocolate Museum is the place to be, especially if you're taking the children along. It is hard to resist not taking a bite from every traditional snack or cake baked under your nose and it is ten times harder to leave without seeing the traditional shows, the Christmas tree or the classic music concerts.

There are a lot of travel agencies offering German Christmas markets tours, taking usually five or six days, but it is hard to even pick one, as they simply can't cover all the wonder out there. You can choose Berlin or Dresden as final destinations, or you can opt for a tour focused on Munich, Rothenburg and Nordlingen. Whatever you choose, prepare your heart to welcome the Christmas spirit in the most traditional way.

(Visited 2,455 times, 1 visits today)

Tags: