Wouldn't it be nice if there were a place you could go for some pampering? Guess what?! There is!
Bonus: many are close to the KMC area. Regardless of how long you've been living in Germany, you may have always wondered about the elusive spa and sauna experience. Admittedly, I knew nothing about them before arriving overseas except from my experiences back in the States: Massages, whirlpools, facials, etc. But after some digging I found there is much more to the spa/sauna experience in Germany. Adopted from Roman tradition, the concept of a spa was originally created for soldiers returning from battle as a form of hydrotherapy. In Latin SPA or sanus per aquam means 'health by water,' so it makes sense that when we think of a spa we think of water and pools.
The spa culture is so important in Germany (over 900 registered across the country!) that treatments and visits can be prescribed by your physician
and are covered by the federal health care system. You read that correctly. German health care covers spa treatments. Commonly seen as vital to maintaining health, Germany considers the spa a natural and logical remedy for stress and anxiety. It's important to know that there are a variety of spas and each have their own rules of etiquette and unique methods for relaxation.
The Spa
Similar to the U.S., German spas typically off er wellness treatments like massage and facials in addition to the use of their sauna. Therme, or thermal baths, are what Americans call a day spa and are purely medicinal in nature. Therme typically offer a variety of saunas, steam baths, and tanning beds with a separate section devoted to cosmetic treatments (think manicures, pedicures, and massages). While day spas are popular, most locations
also off er hotel accommodations. Treatments are typically separate from any hotel costs and it is recommended they be booked in advance.
What To Expect:
1. Changing rooms may not be separate and are likely less lavish than that of an American spa.
2. Swimsuits are worn in most areas and in the pool with the exception of the sauna.
3. Shower before entering.
4. Flip-flops are recommended for walking around.
The Sauna
Saunas and steam baths tend to be one portion of the overall spa experience. In fact, it is more common for people to go to a spa solely to use the sauna. Saunas are commonly found near a swimming pool and typically look like a wooden cabin. Germans are very particular when it comes to sauna etiquette so if you are hoping to blend in, be sure to know what you're getting yourself into.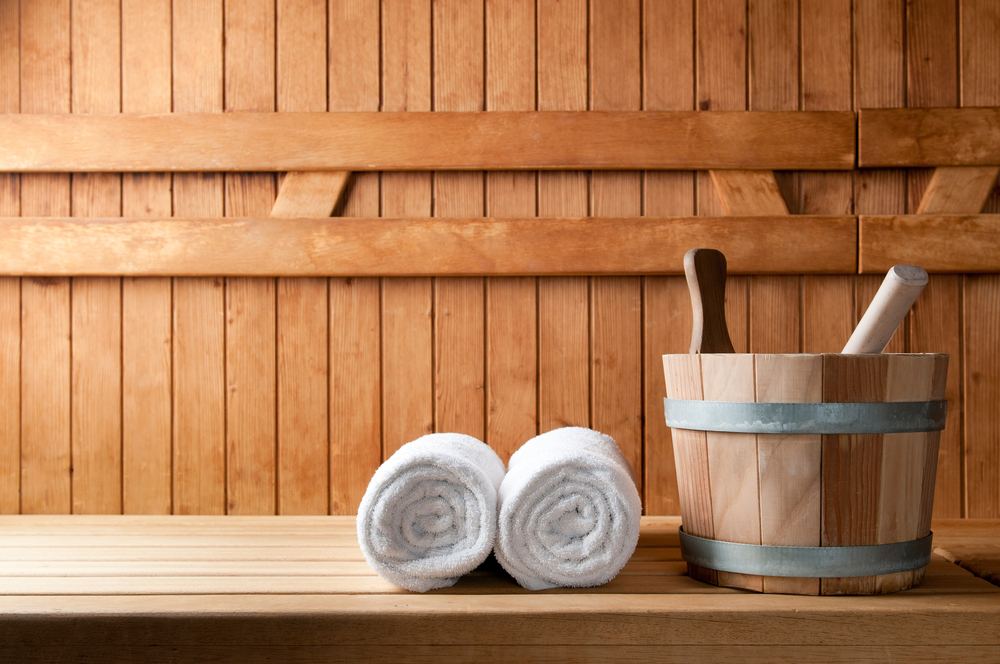 Rido / shutterstock.com

What to expect:
1. Nudity is normal. Europeans as a whole are much more relaxed when it comes to the human body. In fact, Germany established its first nude beach on the island of Sylt in 1920. Massage areas are typically towel only or in German, FKK (Freie Körper Kultur, meaning free body culture). Some places might let you get away with wearing a towel in the sauna as long as you are nude underneath. Depending on where you go, nudity could be mandatory, so if you're not big into letting it all hang out be sure to check the spa's rules ahead of time. If you think Germans already stare too much and you decide to cover-up at the spa, expect the staring to continue.
2. Shower before entering.
3. Enter the sauna quickly so as to not let too much heat escape.
4. Sit or lie on your towel with every body part on it. Germans are very particular about this!
5. Most (if not, all) saunas are co-ed.
6. Bring a bathrobe and fl ip-fl ops for walking around other areas of the spa as well as a few towels for drying yourself off and sitting on.
7. The average sauna session is between 20 and 30 minutes although it is typical to re-visit multiple times throughout the day.
8. Loud conversations are a 'no-no.'

Water Parks

Bet you weren't expecting this to be an option! If you have children and realize that kids are typically persona non grata at spas and saunas, water parks are likely what you're looking for. Hydro-parks have become more popular in recent years and most include additional in-house spa facilities for adults. Win-win! Similar to that of what can be found in the States, most water parks off er indoor and outdoor pools for yearround enjoyment along with massive slides and rides.

Where to go:
So now that you know what to expect, feel like you could use a relaxing day, weekend, or week? The good news is you are closer than you think. In fact, if you've ever seen signs for Bad Duerkheim or Bad Kreuznach, you are all set! The word Bad in German translates to 'bath' and when used as a prefix (Bad Duerkheim) or suffix (Wiesbaden), the town is denoted as a 'spa town.' Here are a variety of spas, saunas, and water parks well within an hour's drive of the KMC area. Check out some of the options below for more details and specific pricing.

Spas / Saunas in and around the KMC

Kaiserslautern
• CUBO www.cubo-sauna.de

Bad Duerkheim
• Gartenhotel Heusser www.hotel-heusser.de
• Thermal Bath Bad Duerkheim www.kurzentrum-bad-duerkheim.de

Bad Kreuznach
• BÄDERHAUS Bad Kreuznach www.baederhaus.de

Saarbruecken
• Saarland Therme www.saarland-therme.de

Spa / Sauna / Water Park

Kaiserslautern
• Monte Mare Kaiserslautern www.monte-mare.de

Ramstein
• AZUR www.freizeitbad-azur.de

Saarbruecken
• Calypso Erlebnisbad www.elebnisbad-calypso.de

Story by Katie F. Boltuch

Cover photo by wavebreakmedia / shutterstock.com

(Visited 1,720 times, 1 visits today)

Tags: