Winters in Germany can feel so long that once the summer hits, we have to make the most of every ounce of sunshine. One great way to do that is with a Draisine tour. A Draisine is a trolley that travels along railroad tracks and is propelled by its riders. It's a full day activity and a real workout!
My husband and I rented a bicycle style Draisine for the minimum 20 km ride. That's right! The minimum trek is 20 km, although brave souls (with little regard for their posterior) can sign up for a 40 km ride.
How to Rent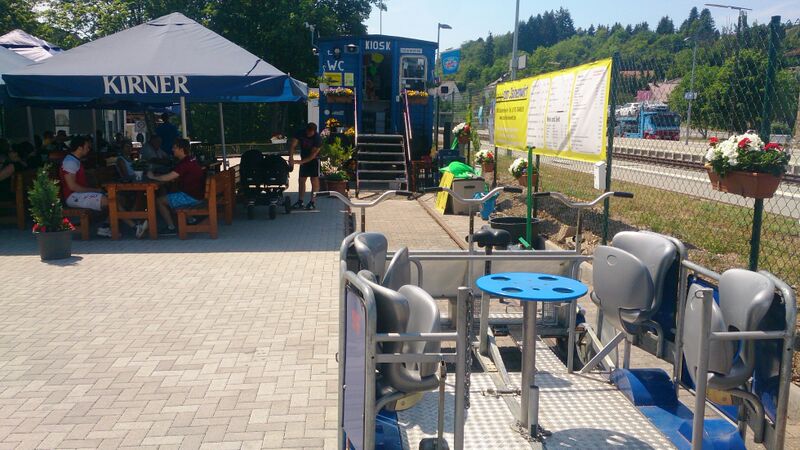 © Kelly Lauer
Reservations for Draisine tours can be made online by visiting their website. Various Draisines are available for 2-13 people. A reservation is for the whole day, so you can take your time in making the trip as long as you return your cart by 7 p.m. Once you make the reservation, you will receive a confirmation email (in German) which tells you to sign a contract and return it (via email scan or fax) within 24 hours to keep your reservation.
Who to Bring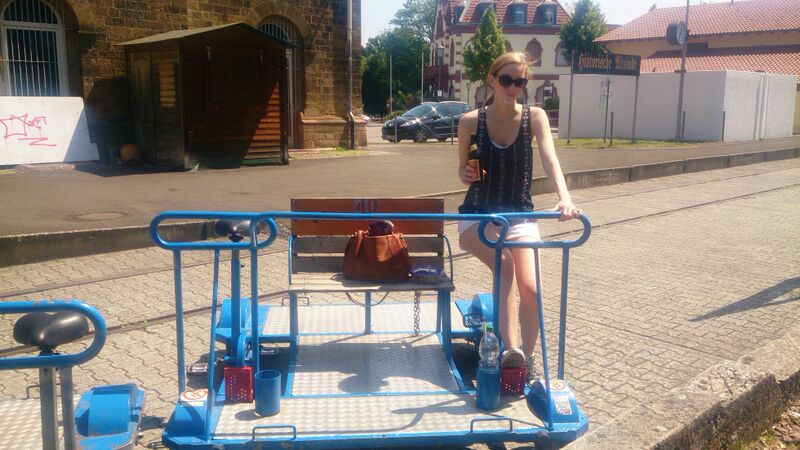 © Kelly Lauer
Use your best discretion when choosing your crew. It's important to note that the trip is a long one (a minimum of 2 hours). And unlike a typical bike, the Draisines are limited in the amount of speed they can gain on the rails. Young children might get bored, and the trip is really more fun if the kids can "pull their weight" and pedal too.
Food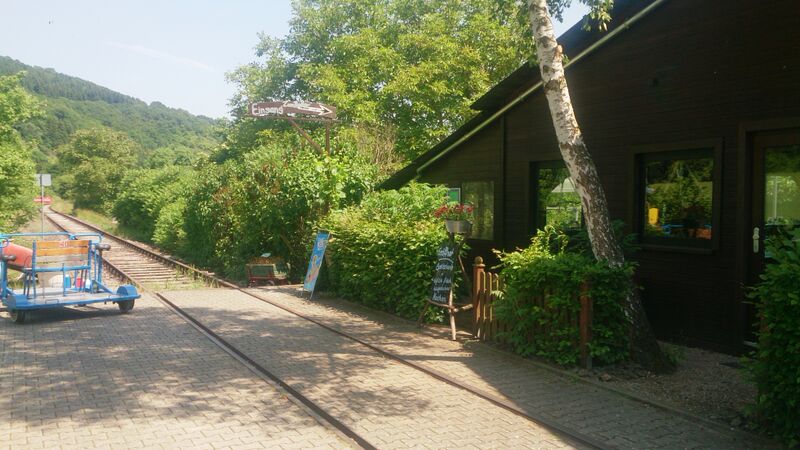 © Kelly Lauer
Pack a picnic and bring it along. I recommend a cold beer on hand for when your partner reminds you that you are only half way there. If you forget your picnic basket at home, there are restaurants along the way. We stopped at Zum Radler in Rehborn for (additional) beer and ice cream.
Getting There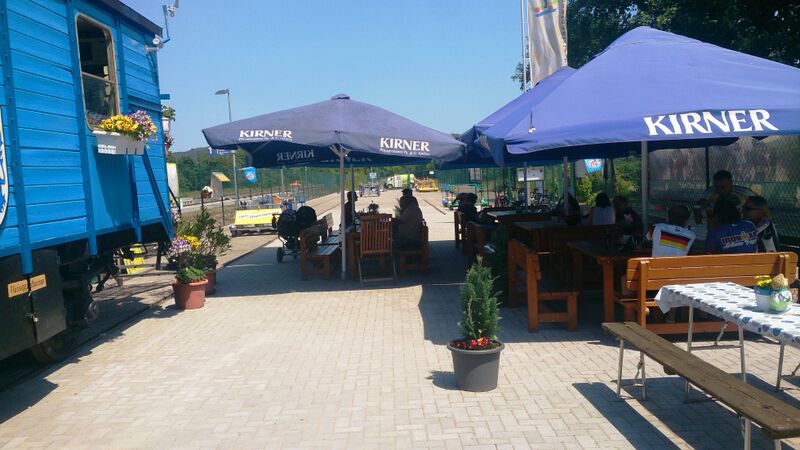 © Kelly Lauer
The 20 km ride begins at Lauterecken Banhof and the 40 km begins at Altenglan Banhof. Both end at Staudernheim Banhof and there is car parking at each station that is marked by the company logo.
The track only goes one way, so I recommend either taking the train to your start point or driving to your end point and taking a bus back to where you will start. The buses accept cash on board (tariff information on website above). You can, of course, do as we did and park at the beginning and take a bus back; however, it might mean longer wait times once you finish.
Lauterecken is about a 37 minutes drive north of Kaiserslautern, 1 hour and 17 southwest of Wiesbaden and 2 hours and 40 northwest of Stuttgart.
Author's Profile: Kelly is a DOD wife, devoted dog-mom, a mediocre cook, a whiskey aficionado and an avid traveler who's exploring the Kaiserslautern area with dog and husband in tow.
Featured Image Photo Credit: © Kelly Lauer