Photos and story by Beto
If it's possible to relate food to passion, surely chocolate and raspberries would be among those foods. Add in truffles and you've got yourself one truly delectable Valentine's Day treat that will sweeten up your sweetheart.
Try this Valentine's Day Raspberry Truffle recipe for a treat that's rich, sweet and decadent.
Ingredients:
1lb of Callebaut Chocolate
1lb of Vanilla Frostin' Pride (1/2 of a Frostin' Pride quart size carton).
8 oz. of Westco Raspberry Filling
1lb of Chocolate Coating of any color (white is best to use for Valentine's Day)
Hot Pink Disco Dust
(It's best to thaw your Frostin' Pride overnight in the refrigerator prior to using it, but you can thaw it in the microwave or in a bowl of warm water prior to use, too. If you don't have access to Frostin' Pride, you can use heavy cream to make your ganache with a ratio of 2 cups chocolate to 3/4 cup of cream. If you can't get Callebaut chocolate or Westco filling, any good quality brands will do.)
Directions: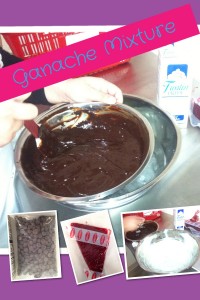 The first step is to make the ganache, which we will be using to form the truffles.
Heat 1lb of Frostin' Pride or cream to a simmer in a microwave or on the stovetop.
Pour the hot Frostin' Pride or cream over the Chocolate and stir until completely melted. This will give you your ganache.
Once the chocolate is melted, stir the ganache mixture over an ice bath until the ganache is set (fill a large bowl with ice and place the smaller bowl with the ganache into it and stir). For truffles, we will need a thicker ganache so the consistency should be about the same or slightly thicker than pudding.
When your ganache is close to reaching the consistency you want, mix in the raspberry filling so it is even throughout the ganache.
Form the ganache into truffles by scooping it out with a spoon and then forming the truffles with your hands.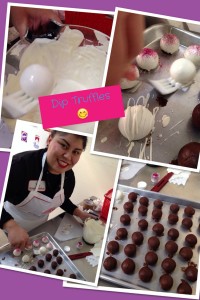 Chill your truffles in the refrigerator for 4 hours or leave them in there overnight.
Melt your coating chocolate in a double boiler or a microwave if you don't have a double boiler.
Dip the cold truffles into the warmed chocolate with a fork, covering them completely. Don't stab the truffles, just roll them onto a fork and carefully dip the fork into the melted chocolate.
Decorate your truffles with Disco Dust while the chocolate is still warm. If you can't get disco dust, you can use sprinkles or anything else you think might go well with truffles. Use red or pink to keep with the Valentine's Day spirit.
Let cool and enjoy!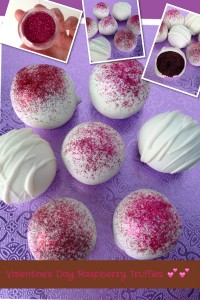 You'll be able to get anyone to be your Valentine with these scrumptious truffles. The Hot Pink Disco Dust looks really good on the white coating chocolate and gives these truffles some real Valentine's Day flair.
About the Author
Beto the Baker
is the loveable mascot of
BakersBodega
, a baking supply store located in the Los Angeles neighborhood of Pico Rivera. Beto keeps a
blog
that has news about the store, contests, recipes and classes on offer.