Germany is known for its world-class castles sitting high on mountain tops with their towers and turrets reaching the sky, surrounded by flowing rivers and lush woods. Millions of tourists flock to see what is called Germany's jewel in the tourist crown each year, and it's easy to see why. Each one boasts of a rich history,  stunning scenery and impressive architecture. A visit to a castle is like a step into the past where kings and emperors ruled and knights and dukes once displayed valor. But their main purpose was to provide security and vantage points in times of attack.
The 25,000 plus castles in Germany date back to the Middle Ages, Medieval, Renaissance, Baroque and the Romantic periods. If you ever wondered why there were so many castles in Germany, it is because during the Middle Ages the country was divided into small, competitive feudal states in which fortified castles were needed during this volatile time. Many of the German castles have been restored to their former glory and possess national treasures including artifacts, paintings, furniture and weapons. Today they now serve as museums, restaurants, hotels and in some cases the homes where the families of the founders still reside. Then there are also the castles that remain in a state of ruins which display a dignified charm that merits a visit.
Below is a list of six of the most beautiful castles in Germany.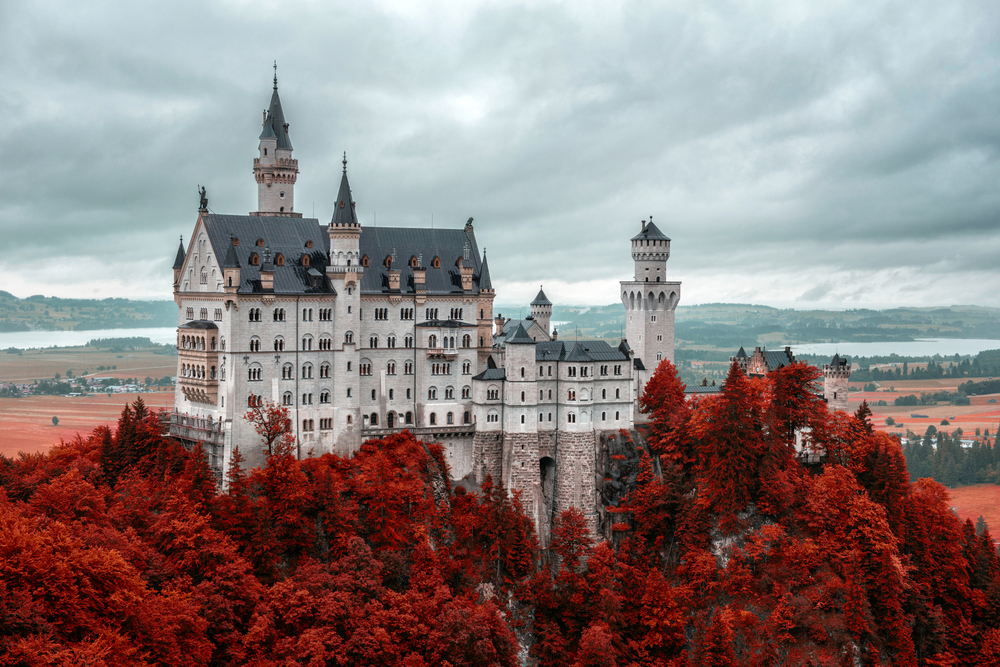 Alessandro Colle
Located in South Germany, Neuschwanstein is one of the most famous and most photographed castles in the world. It attracts more than 1.3 million tourists every year and is said to have been the inspiration of the Walt Disney's Cinderella and Sleeping Beauty Castles. This masterpiece of "Mad" King Ludwig of Bavaria was built between 1869 and 1892. As it was a time when castles no longer had strategical and defense tactics, this romantic palace was built for pleasure. It served as the king's private summer retreat. Being a great admirer of the German composer Richard Wagner, the enchanting castle was built in Wagner's honor with many interior rooms inspired by Wagner's opera characters. Though the castle has a retro medieval design, the eccentric king made sure to include the modern technologies of the day, such as flushing toilets and heating.
Open Hours: October 16 to March 27: 10 a.m.-4 p.m. ; March 28 to October 15: 9 a.m.-6 p.m. Closed: January 1; December 24, 25 and 31
Location: Neuschwanstein St 20, 87645 Schwangau
Just over 4 hours southeast of Kaiserslautern. Just over 4 hours southeast of Wiesbaden. Approximately 2 hours and 30 minutes southeast of Stuttgart.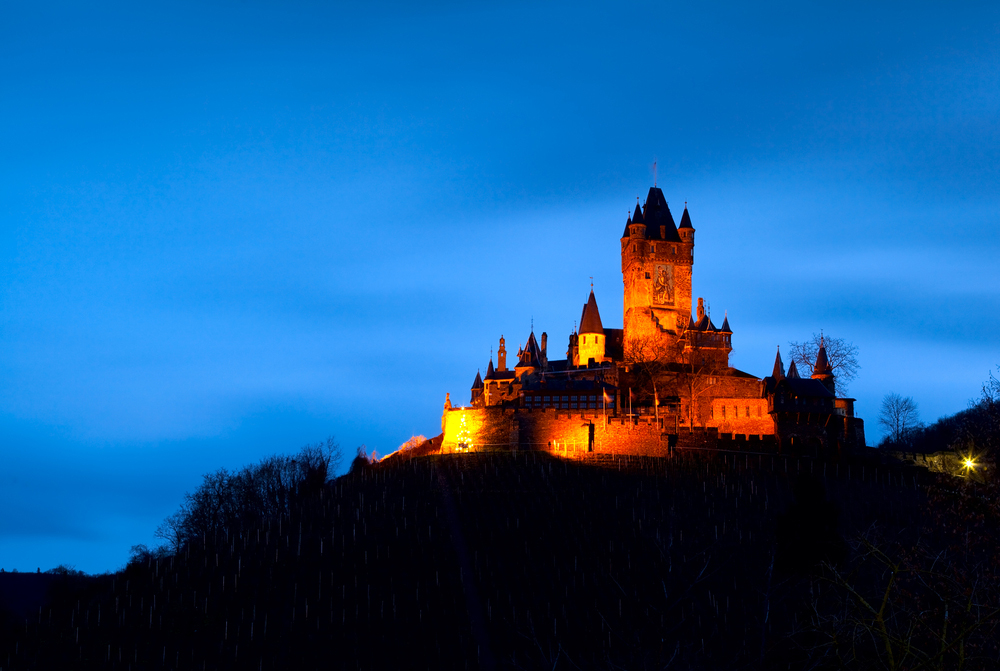 Olha Rohulya / shutterstock.com
Cochem Castle that towers over the scenic town of Cochem is the largest hill castle on the Moselle River. It was built around 1000 A.D. and was nearly destroyed in 1689 by the troops of French King Louis XIV. Cochem was once a defensive castle which was said to have housed as many as 40,000 knights at one time. After the French invasion, the castle remained in ruins for 180 years. The  reconstruction of the castle (what is seen today) in a Neo-Gothic style began in 1868 by the Berlin businessman Louis Ravené. There are medieval banquets (Knight's Meal), medieval castle festivals, gourmet festivals, Christmas and cultural events, and the Sparkling Wine gala. Additionally. visitors can see inside the palace an impressive display of Renaissance and Baroque furniture. Castle tours are in German and free translation sheets are available in 12 languages (including in English).
Open Hours: March to November: 9 a.m.-5 p.m. During winter months, the castle is open only on Wednesdays, Saturdays and Sundays with a limited number of tours.
Location: Schloßstraße 36 , 56812 Cochem
Directions: Approximately two hours north of Kaiserslautern. Approximately 1 hour and 30 minutes west of Wiesbaden. Just over 3 hours and 30 minutes northwest of Stuttgart.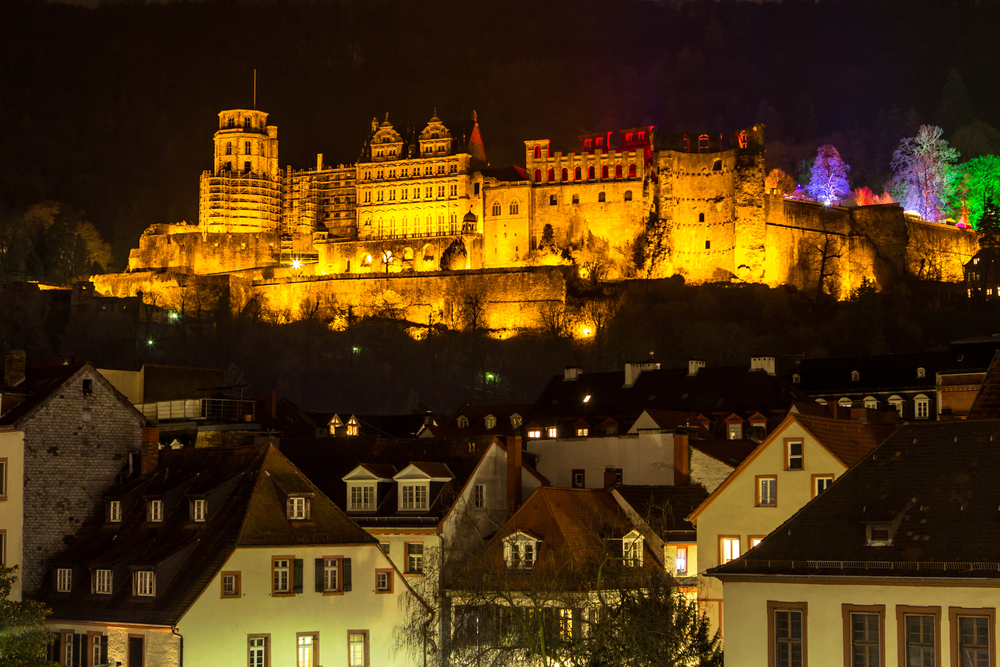 D.Bond / shutterstock.com
The picturesque, romantic palace that lies above the Neckar River has attracted millions of tourists over the years, including Mark Twain. The famous castle in ruins is among one of the most important Renaissance structures north of the Alps. The first parts of the castle were constructed around 1300 and it was completed by 1764. The once Gothic masterpiece was destroyed several times through the centuries. It was hit twice by lightening and then finally reduced to ruins in the late 17th century by the French. Surrounding an inner courtyard, the castle consists of several buildings which represent different periods of German architecture. English tours are available daily. The interior of the castle can be visited only as part of a guided tour.
Open Hours: Courtyard: 8 a.m. – 6 p.m. (last entry: 5:30 p.m.) Big Wine Barrel: 8 a.m. – 6 p.m. (last entry: 5:50 p.m.) Pharmacy Museum: 10 a.m. – 5:30 p.m. (last entry: 5:10 p.m.)
Location: Schlosshof 1, 69117 Heidelberg
Directions: Approximately 1 hour east of Kaiserslautern. Just over 1 hour south of Wiesbaden. Approximately 1 hour and 20 minutes northwest of Stuttgart.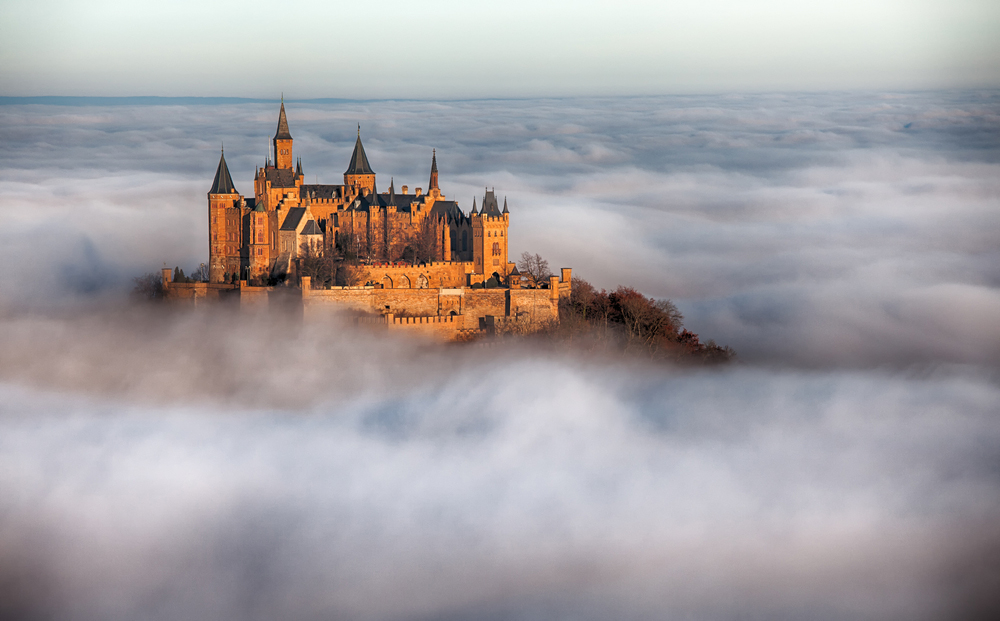 Jens Ottoson / shutterstock.com
Located just one hour outside of Stuttgart, this breathtaking castle began in the 11th century. As the original castle was destroyed with only the chapel remaining, the castle we see today was rebuilt in the English Neo-Gothic style in the mid-19th century by King Fredrick William IV of Prussia. The castle that sits on top of Mount Hohenzollern is the ancestral home of the Hohnzollern family, which emerged in the Middle Ages and eventually became emperors and kings. This privately owned palace is one of the most visited castles in Germany. The castle's museum is like no other as it is filled with treasures including the crown worn by Prussian kings and a uniform worn by Frederick the Great. Visits are guided tours as well as tours are available in English.
Open Hours: Open daily: 10 a.m.-5:30 p.m. November 1 to March 15: 10 a.m.-4:30 p.m. Location: 72379 Burg Hohenzollern
Directions: Approximately 3 hours south of Kaiserslautern. Approximately 3 hours south of Wiesbaden. Just under 1 hour south of Stuttgart.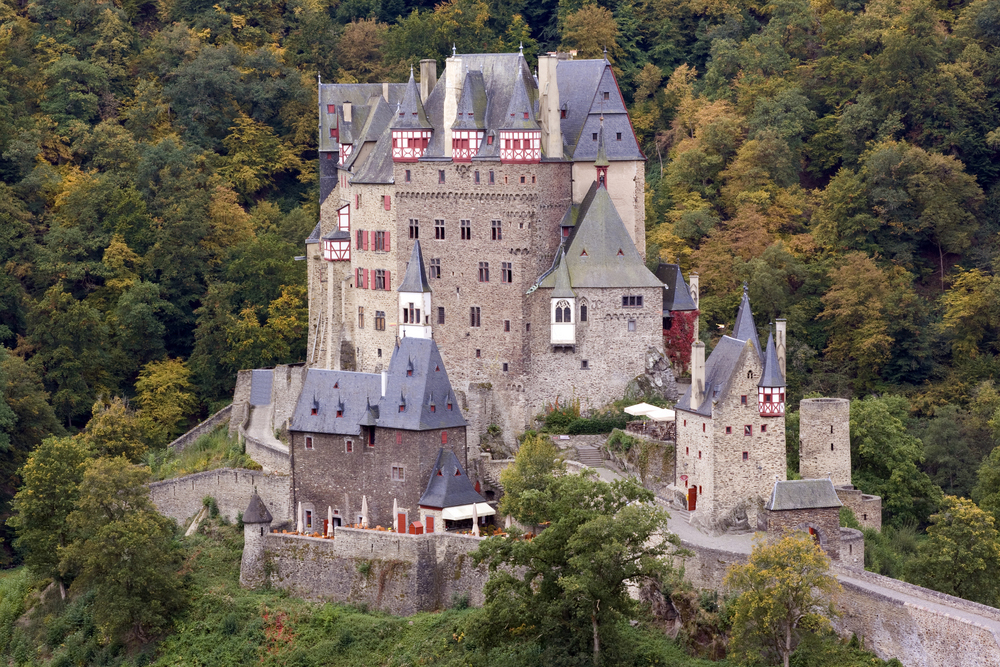 Matt Apps / shutterstock.com
Situated near the Moselle River between Koblenz and Trier, has been the ancestral home of Rübenach, Rodendorf and Kempenich families since it was built in the 12th century. This grandeur palace (a stately family home) was designed more for looks than for defense. What makes this medieval wonder quite unique is that it has never been touched by war. The castle has some of its original furnishings as well other treasures including armory, gold and silver artifacts, porcelain and jewelry. Touring this castle will offer a glimpse into the domestic lives of early Modern German nobility.
Open Hours:  March 30-November 2 Open daily: 9:30 a.m.-5:30 p.m.
Location: Burg-Eltz-Straße 1, 56294 Münstermaifeld
Directions: Just under 2 hours north of Kaiserslautern. Approximately 1 hour and 30 minutes west of Wiesbaden. Approximately 3 hours and 30 minutes north of Stuttgart.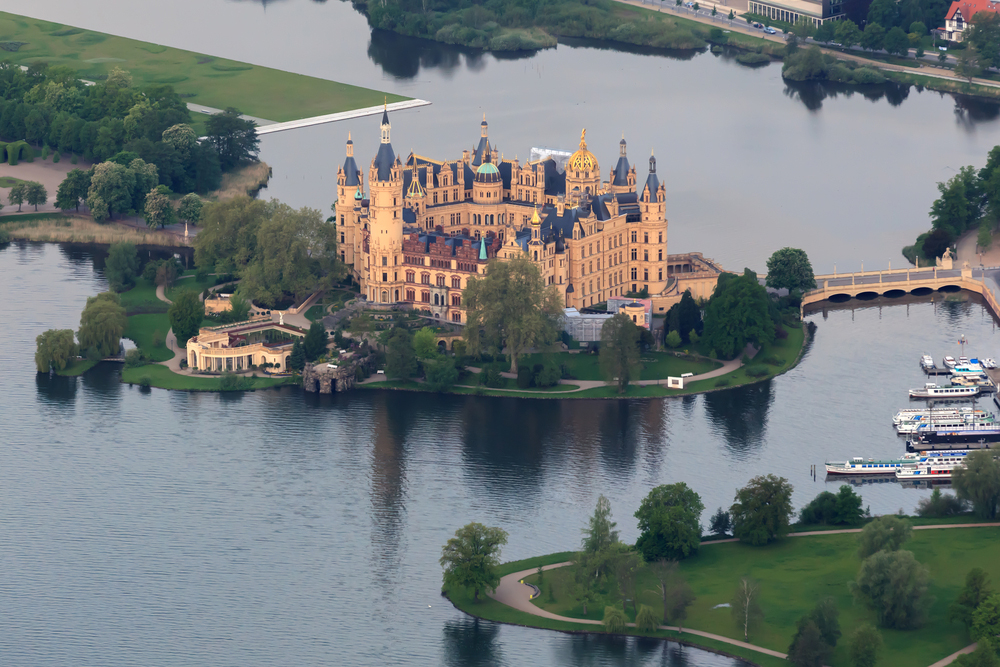 UbjsP / shutterstock.com
Situated on an island in the main lake at Schwerin, the castle was first built as a fort in the 10th century. Considered the gem of the Northeast Germany, this is a magnificent Neo-Renaissance ducal (pertaining to a duke or dukedom) castle that is now a federal state parliament building. Today the federal parliament of Mecklenburg-Vorpommern works where the dukes of Mecklenburg once lived. A major attraction is the castle's State Art Museum, which is an eclectic mix of classic and contemporary treasures. Some art works include Dutch and German Renaissance masters and one of the largest collections of paintings by Jean-Baptiste Oudry and sculptures by Jean-Antoine Houdon. Exhibited in the former living quarters and lounges of the Grand Duchess is art work from the 18th and 19th century. Also on display is an impressive porcelain (mainly Meissen) collection with some pieces dating back to the 18th century.
Opening Hours: October 15-April 14: Tuesday-Sunday, 10 a.m.-5 p.m.
Location: Lennéstraße 1, 19053 Schwerin
Directions: Approximately 7 hours north of Kaiserslautern. Approximately 6 hours north of Wiesbaden. Just over 7 hours and 30 minutes north of Stuttgart.
Germany has some of the most impressive and picturesque castles in the world. The country is virtually filled with more than 25,000 castles in which some have been restored to their former glory and others lay in ruins. Listed above are some of the most beautiful palaces of the country which definitely warrants your visit. Have an incredible experience that you can only experience while in Germany!