Perhaps you have just arrived or even been in Germany for a while, and you would like to venture beyond the Commissary and the Army and Air Force Exchange Service (AAFES). However, you do not know where to begin or where to go. Well we are here to help you get started on your shopping journey beyond the gate guards! You find below info on popular grocery and hardware stores as well as drugstores.
Grocery Stores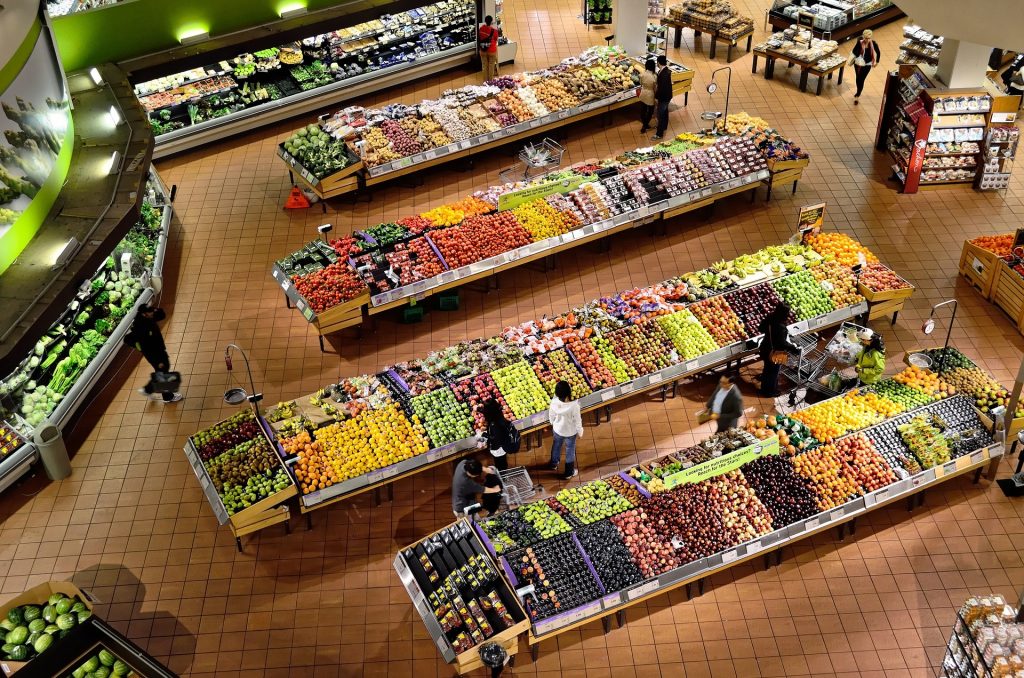 © Pixabay-ElasticComputeFarm
Let's first head to the grocery store! Depending on which part of the United States you are from, you may be familiar with Wal-Mart Megastore, Publix, Piggly Wiggly, County Market, Food City, Safeway, Whole Foods, Arlan's Market, Giant Food, Kroger, and many many more. If you are looking for grocery stores in Germany, then look out for Aldi, Lidl, Netto, Penny, Edeka, Globus, Real, and others.
Although German grocery stores may be a little smaller and have less items than what you are used to in the U.S., you will find all your necessities such as food items (fruits & vegetables, dairy products, meats, breads, canned goods, frozen goods, organic products, snack foods, etc); beverages (including alcoholic drinks); cleaning products; paper products; health products (lotion, shampoo, etc.); sanitary products, baby products, and much more. Additionally, many of the German stores offer their own brand goods at a cheaper price than the well-known brand products.
You will find some unexpected non-food items at a German grocery store what you would not typically find back home. For example, have you ever thought about buying a bicycle or a computer at a Piggly Wiggly or a Publix? Well, you can sometimes find these items at a discount store like Aldi or Lidl.
Some non-food items may include pots & pans, electronic devices, appliances, clothing, sports & leisure goods, school & office equipment, crafts & gardening goods, toys, magazines & newspapers, DVDs and other items.
Because German bakeries are essential to its people's way of life, it is not surprising to find a bakery located in all German grocery stores, offering fresh bread, pastries and more. You can also find a (butcher) fresh meat, seafood and cheese sections in larger stores such as Edeka and Real but may not be available in discount stores such as Lidl or Penny.
One of the first things you will probably notice that is different about German stores is the shopping cart. In Germany you will need a coin (usually a 50 cent, 1 or 2 Euro) in order to use it. You just simply place the coin in the slot to release the chain that is connected to the other carts. And when you finish using the cart, replace the chain to get your money back. Carts can be found outside in the parking lot or in the front of the store.
Other things that you may find different are the following: the cashiers are sitting; you must bag your own items and take them outside as there are no baggers; and you must pay for your own bags. If wanting to use a (U.S. or German) credit card or a (U.S. or German) debit card, it is best to ask the staff before purchasing because some stores accept cash only but this is changing more and more.
We recommend: Globus Kaiserslautern & Globus Wiesbaden or Real Kaiserslautern & Real Wiesbaden 
We also recommend the following shopping centres: Pfalzcenter Kaiserslautern & Lilien Care Wiesbaden

Drugstores
Back home we are familiar with Walgreens, CVS and Rite Aid. In Germany, large drugstore chains include Müller, DM and Rossmann. Their range can be divided into four areas: remedy (teas and essences); beauty and wellness (body care and skin care products, fragrances, essential oils, cosmetics, etc.); organic health foods; and product for house and garden maintenance.
Müller offers the following products: perfumes, stationary including school supplies, toys, multi-media (i.e. DVD movies as well as music CDs), commodities and fashion accessories.
DM's product range can be broken down into the following:
Beauty products (makeup, natural cosmetics, face, body, hair, fragrance and intimate hygiene)
Health (over-the-counter medicine, vitamins & minerals, etc.)
Nutritional (food, drinks, organic products and special dietary)
Baby & child (pregnancy care, diapers, nutritional items, bottles & pacifiers, games, clothes, etc.)
Household goods (kitchen, bathroom, washing, cleaning and animals)
Photo service (Order photo products online & instant print service)
Rossmann's product range is the following:
Beauty & Care; (personal care and cleaning, facial care & cleaning, make-up & accessories; hair care & styling; oral & dental care; hygiene & intimate care; shaving & hair removal; perfume & fragrance)
Baby & children (food and drinks; care & cleaning; diapers and accessories; basic equipment & accessories; pregnancy & lactation)
Health & fitness (over-the counter medication, massage & care; contact lens & care; insect repellant; pedicure & soles; diet & sports products)
Food & enjoyment ( cooking & baking; breads & spreads; cereals & flakes; snacks & sweets; drinks)
Household & technology (cleaning & laundry; washing & ironing; household helpers; hygiene & packaging; tableware & decoration; shoe & leather care; fertilizers & insecticides; pet food & accessories; photo & technology)
We recommend: Rossmann Kaiserslautern
Pharmacies
What you will not find at a German drugstore is a pharmacy or a pharmacist. For prescription medication, you must go to an "Apotheke". This word translates to pharmacy. And how do know when you are at or near an Apotheke? You will see a large red color "A" with the shape of a glass inside. Additionally, it is worth noting that many of the pharmacists (Apotheker) speak English.
We recommend: Markt Apotheke Ramstein & St.Hubertus Apotheke Ramstein
Hardware stores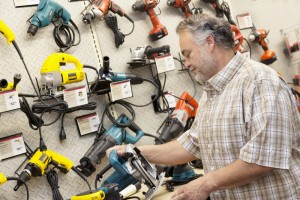 © Shutterstock-bikeriderlondon
Are you thinking about adding a deck to your backyard or redesigning a room in your apartment? Are you a "Do-It-Yourself" kind of person? What probably come to mind back home would be Home Depot, Ace Hardware or HomeBase. Here in Germany a few large hardware chains are Hornbach, Toom Baummarkt, Obi, and Bauhaus.
Get your DIY juices flowing by selecting various items including: building materials; build & technology; garden & outdoor; grills & grill accessories; living & design; plumbing & installation; bad & sanitary; flooring & tiles; paint & wallpaper; heating, air conditioning & ventilation; kitchen; lights & electrics; machine tools & workshop; awnings & sun protection; zoo & aquarium, etc. The list goes on!
German hardware stores also have professional staff available to assist you with your purchase or give advice on your DIY project. Though language barrier may be a problem, you can usually find someone that speaks English and will enjoy the chance to show it off.
We recommend:  OBI Kaiserslautern & Toom Kaiserslautern
Featured Image Photo Credit:  © Shutterstock-Andresr