Have you ever been frustrated sitting in a lovely German restaurant wanting to order off the menu but not knowing where to start? Well, I hope this little "cheat sheet" basic guide helps you take a leap of faith past the Schnitzel and Pommes Frites. Here are a few tips, words and customs to help you order your meal like a pro!
Customs
Just like our American states, German states have different customs and dialects that are sometimes distinct and sometimes subtle. In a few short hours from Stuttgart in the county of Baden-Württemberg (BW), there is the Rhein, Hessen and Bavarian regions. Within the county of Baden-Württemberg, there is also the Black Forest and Swabian cultures that blend and contrast, creating quite the confusion for newcomers. Take heart, I'm going to help as much as I can.
It's worth mentioning early that meals in Germany sometimes take a little longer to prepare than what we are use to in America. In Germany everything is mostly made fresh and local; therefore, it takes a little time for love and care. So sit back, take in the ambiance and enjoy your beverage.
Entering a Restaurant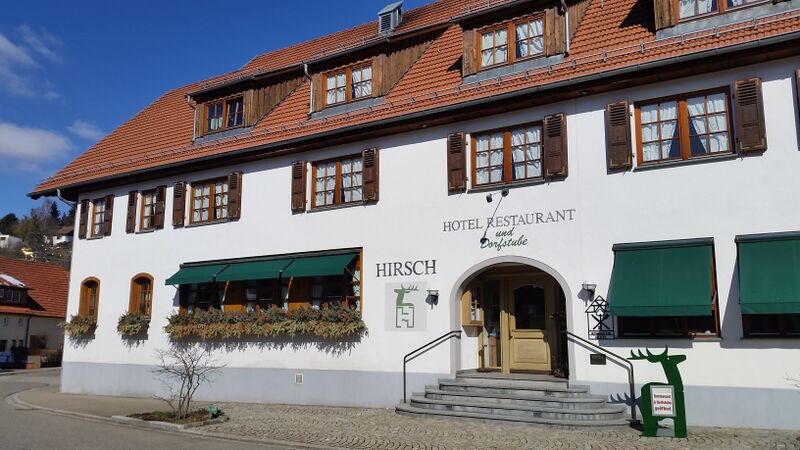 © Wendy Payne
When entering a traditional German restaurant, it is customary to find your own table and have a seat. Be polite, especially if it is a busy restaurant. If there is an owner or host/hostess at the front, they may wish to seat you.
And if you have over five guests, it is recommended to make a reservation in advance. To make a reservation, you can say, "Ich möchte eine reserverein für ___ personen." This translates to "I would like to make a reservation for ___ people." They will at least know what you are calling for. Also  feel free to say "Sprechen Sie Englisch?" (Do you speak English?).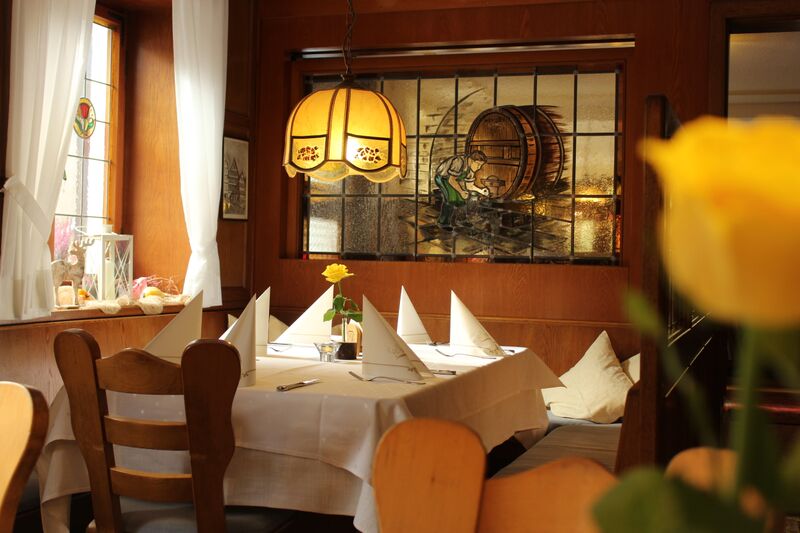 © Wendy Payne
It is also a custom in the Stuttgart area to greet other diners and staff when entering with "Gruß Gott" or "Guten Tag," depending on the time of day. They usually reciprocate. And when leaving, don't forget to say  good-bye ("Tschuss" or "Auf Wiedersehen").
With now having colder weather, it's worth noting that most restaurants have coat racks for your jackets.
Menu (Speisekarte)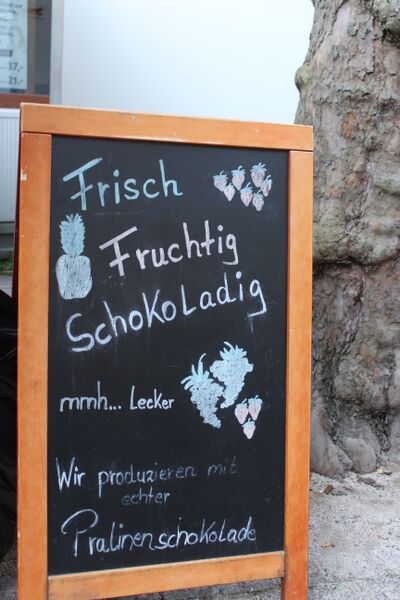 © Wendy Payne
Uh, oh… no English menus, no problem. Start with these…
Vorspeise – Appetizers/Starters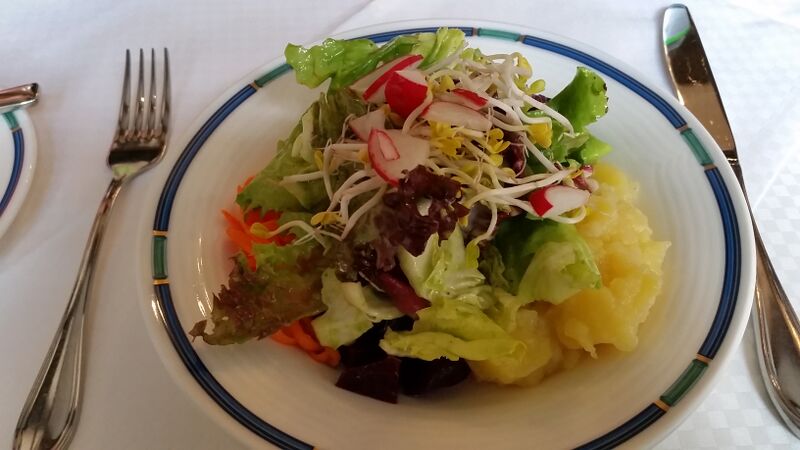 Gemischter Salat (Mixed Salad) is a typical salad found on most German menus and is usually included with the entree. This salad usually includes a little potato salad (vinegar based), carrot salad, red and white cabbage and sometimes corn and red kidney beans. Most times these food items are underneath the perfectly displayed green lettuce leaves. The salad is usually dressed with a light vinaigrette or sometimes a yogurt dressing.
*Special note: if your salad says Blattsalat, this is a type of lettuce leaf and can be found on most salads in the BW region.
Though there are many delicious soups (Suppe), here are a few popular ones. Available only in the fall, Kürbisscreme Suppe (pumpkin cream soup) is prepared with roasted real pumpkins (Hokaiddo or Muskat) and served with pumpkin seed oil and sometimes roasted pumpkin seeds.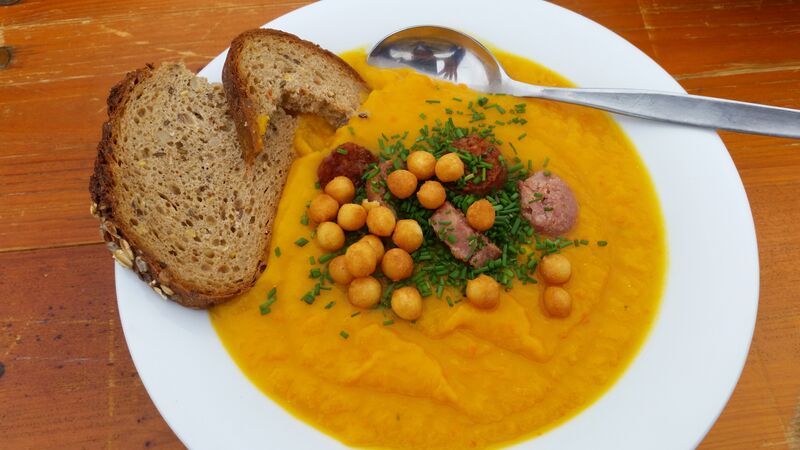 © Wendy Payne
Kartoffelsuppe (potato soup) is sometimes served with little round crunchy balls (croutons) and addictive.
Zweibelroastbraten is a steak with rich, brown onion gravy and is usually served with roasted potatoes.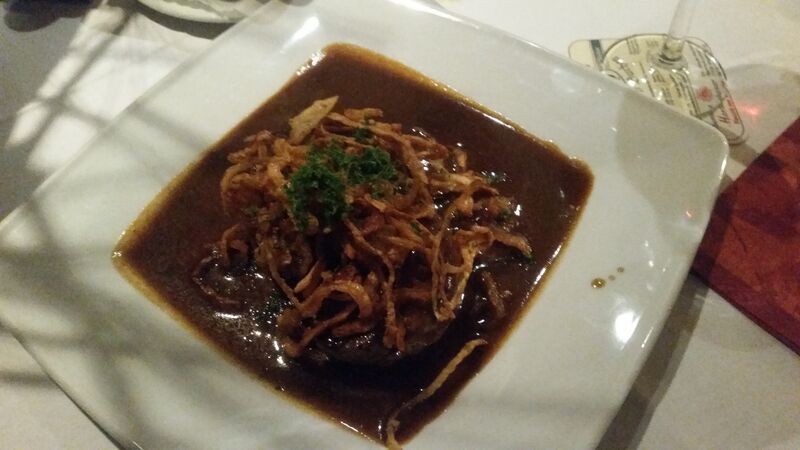 © Wendy Payne
Rahmschnitzel is a boneless pork steak with a light brown gravy served with Spätzle (a Swabian noodle made usually from scratch with flour, eggs, water and salt). If you see Hühnchenrahmschnitzel, this is prepared the same way but with chicken.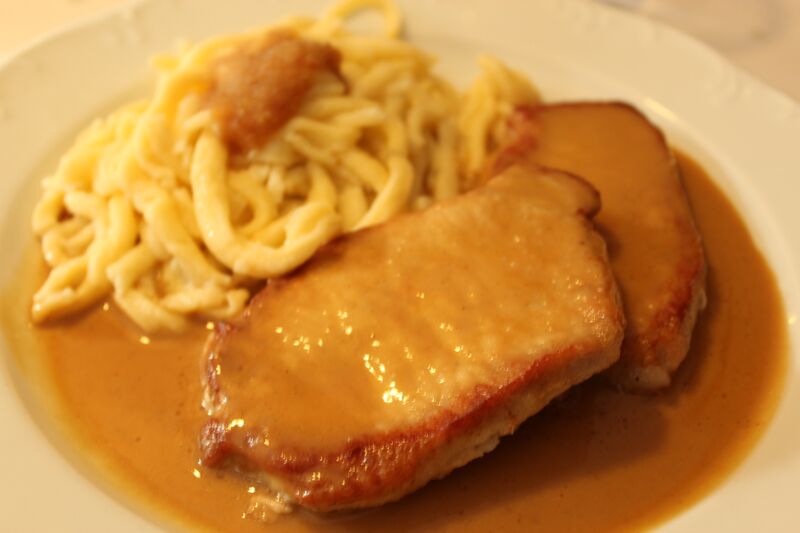 © Wendy Payne
Rostbraten is roast steak with onions, in a red wine cream sauce and often served with red cabbage or Sauerkraut.
Hühnchen (chicken) can be found as a filet, schnitzel, kutlet or in an entree salad.
Schweine (pork) can be found as a filet, schnitzel, kutlets or Schnetzelles (small chopped pieces).
Kartoffelpfannkuchen are potato pancakes and Kartoffelpuffer are potato puffs.
Zweibelkuchen (onion cake) is  a one-crust cake (quiche or tart) that is made with steamed onions, diced bacon, cream and caraway seeds.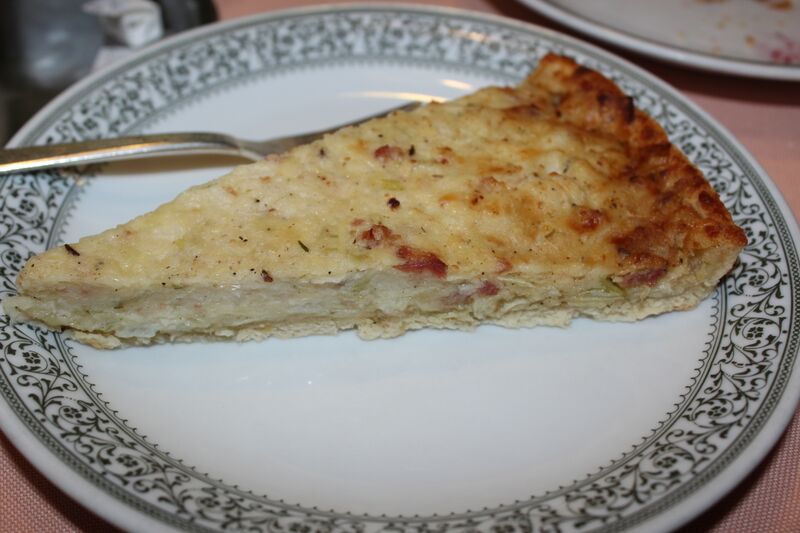 © Wendy Payne
Käsespätzle is a cheese pasta that's topped with toasted, roasted onions.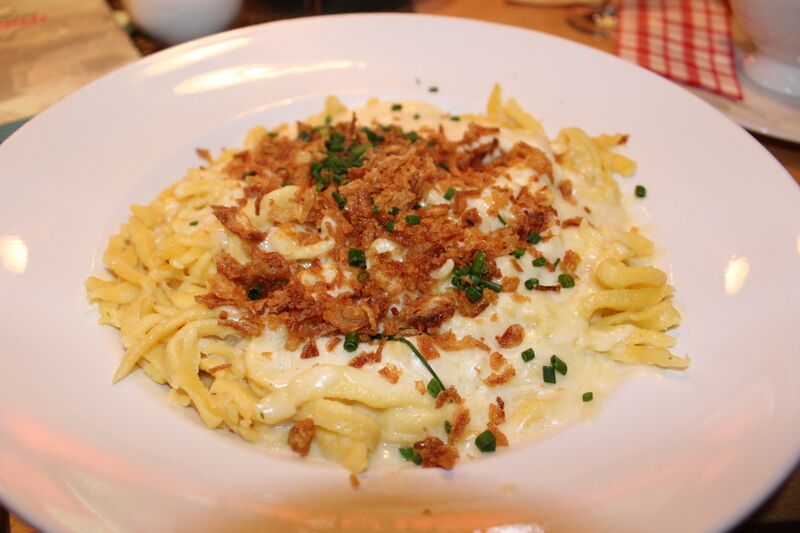 © Wendy Payne
Maultaschen is a Swabian type stuffed ravioli that looks like large dumplings in a broth. It is usually filled with meat or vegetables, eggs, spinach, parsley, onions, leeks, dried bread ans spices such as nutmeg. Maultaschen can come as a meat or vegetarian dish.
Linsen mit Spätzle und Saiten is a dish with lentils, Spätzle and sausages. This is also made with onion, carrots and a little bacon. (This is not a vegetarian dish.)
Flammkuchen can be found almost on every menu in Baden-Württemberg and then all the way to France. This thin crust pizza-like concoction is made with créme fraiche, onions, bacon bits and cooked under a very hot (usually brick oven).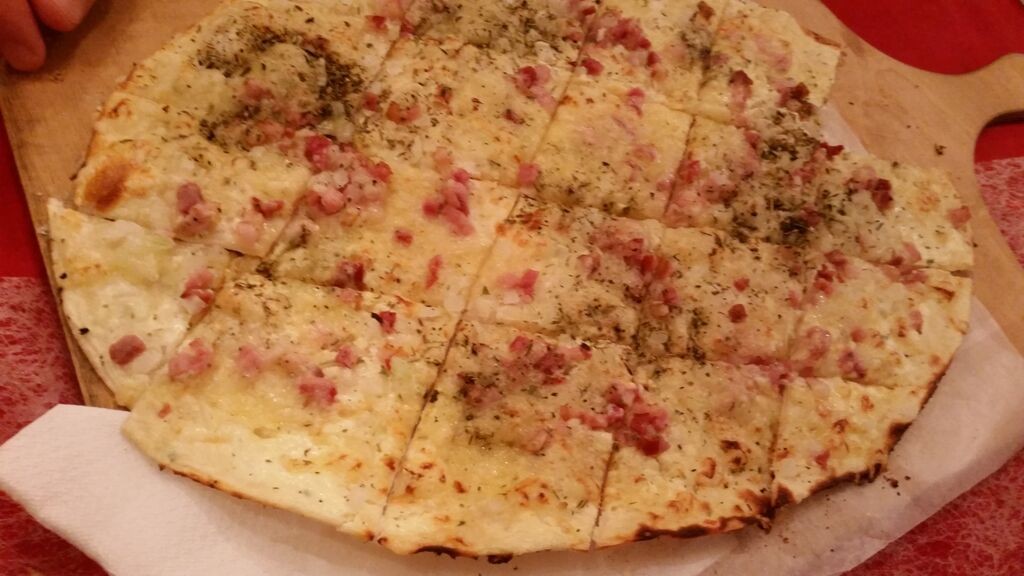 © Wendy Payne
Other Tips
OK that was only a start for becoming a pro when ordering a meal in Germany. And here is another tip: if you don't want something that is included in your meal, Google translate what that word is and ask politely, "Ohne" _______." This means"without ______." Some restaurants will be accommodating with your request, but it might be harder if the item is in the recipe.
If you have an allergy, learn what it is called in German and then say, "_______ allergien."
In this article I am not going to hit the desserts! If you've tried any, well 'nuf' said.
Bill Please
Sometimes, the restaurateur will offer a shot of Schnapps or Espresso to finish off your meal. This nice touch is believed to help settle the acid built up from the dinner. I usually don't have room left.
Now it's time to ask for the bill, "Zahlen, bitte." It is short for "bezahlen" (to pay), so saying either is acceptable.
When tipping, it is customary to round to the nearest Euro. This is typically 5-10% but not the 15-20% like in the states. You should total the amount to include the tip if you want to pay (via cash or credit card).
Saying "Stimmt so" means "keep the change." This is also customary to say if you would like to just leave the rest without making change.
German waitstaff and food service professionals are trained at the highest level and generally work for better wages than in the states. Though not necessary, I'm sure a tip is always appreciated.
Restaurants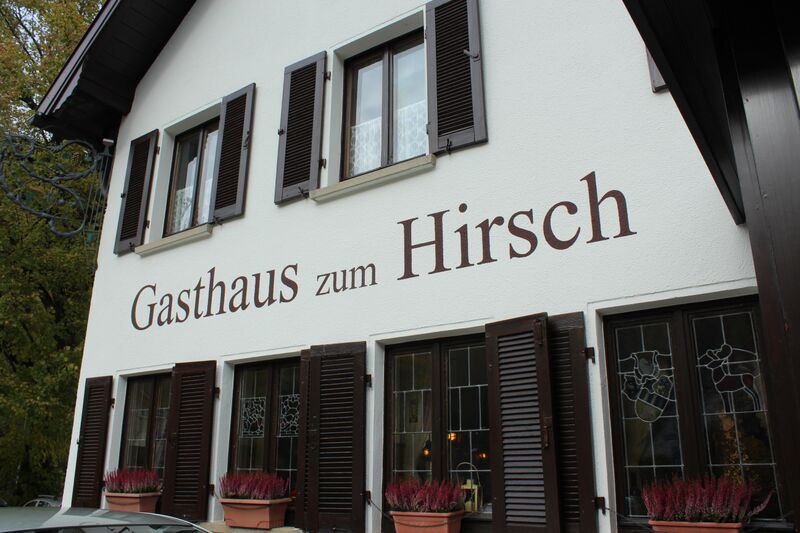 © Wendy Payne
Where can you find delicious meals while in Germany? It can be at a restaurant, a "Gasthaus" or other places. Below is a break down of some of the places.
Gasthaus is a German-style tavern or inn with a restaurant, bar, banquet facilities and rental hotel rooms. These establishments are typically family-0wned and found in smaller towns. The menus here are traditional and regional.
Gaststätte is a café, pub, bar, tavern, tea room, restaurant, etc.
Vereinsgaststätte this is a club restaurant for a group or association and can be found near tennis, golf, soccer or sports clubs.
Brauhaus (brewery) is a traditional beer house that typically serves a regional menu.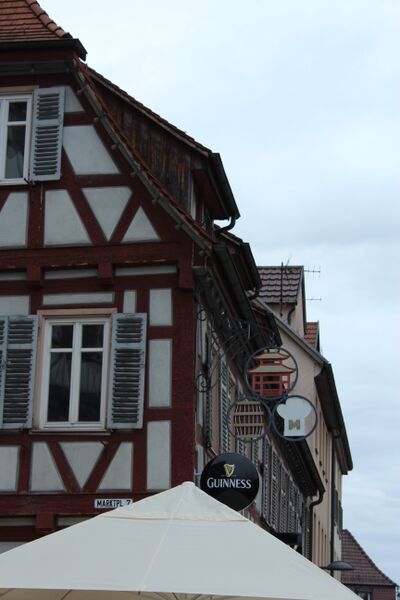 © Wendy Payne
Stüble is an affectionate local word for familiar restaurant, usually the large room for the restaurant.
Lädle is a small restaurant that also has catering.
Keller is another word for a restaurant that may be in a cellar or in the downstairs room of the main restaurant.
There is no need to be frustrated again when wanting to order off a German menu. This simple cheat sheet can help you become a pro when dining out in Germany. So Guten Appetit!
Author's Profile: Wendy Payne is a military spouse and lives with her family in Stuttgart, Germany. She is a freelance writer, blogger and photographer. She also enjoys gardening, hiking, yoga and sharing Europe with people.
Featured Image Photo Credit:  © Wendy Payne