Hello friends of delicious cooking!
Let's do some vegetable today.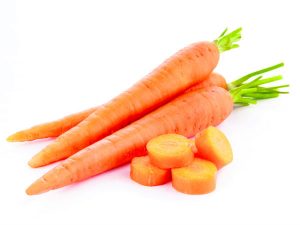 Maks Narodenko / Shutterstock.com
This name comes from a little french town called Vichy…they have mineral springs there for people who are looking for healing
What do we need?
For four persons we will need 400 grams of carrots, half teaspoon of sugar, salt, ground white pepper and a whole bottle of mineral water, a teaspoon of butter and a teaspoon of margarine
Preparation:
Start with peeling the carrots. Then cut them in thin slices.
Heat a pot, put the butter and the margarine in it to melt. Be careful not to burn the butter. Add the sugar and let it gently caramelize. The mix should not get brown at all. Then add the carrots. Stir everything and add salt and ground white pepper. Next, add as much mineral water until all the carrots are covered. Let it come to a boil, then reduce the heat and let the carrots simmer for 20 – 25 minutes. The carrots should be done after that period of time.
Please don't boil the carrots too long! They will just get mushy. Carrots Vichy mustn't be mushy.
When they're done, your carrots vichy will be a perfect side dish for grilled chicken, veal or even a nice ribeye steak.
Bon appetit!
I hope you will join me again next time.
If you are interested in setting up a cooking class with Klaus, he can be found on facebook at www.facebook.com/CookingWithKlaus or via email at CookingwithKlaus@web.de.
Featured Image Photo Credit: © Lilyana Vynogradova / Shutterstock.com