Cover photo by Erlebnis Akademie AG
Many people from other countries, particularly the United States, see Germany as a place that truly 'gets it' with regard to wellness, concern for environment, and plugging-in with nature. Since 2009, a series of extended, elevated walking routes is putting Deutschland and surrounding countries in the spotlight of low-stress, interactive wellness.
Designed by national park engineers or corporations such as Erlebnis Akademie AG (eak), treetop walks have become a fascination not only with visitors to Deutschland, but also permanent residents. The eak group has now constructed two paths in the Czech Republic and another one in neighboring Slovakia. These upward tiered walk paths built among tall trees provide relaxation and exercise for millions of people every year. They are accessible at various sites for wheelchairs, bicycles, pets, and always for small or large groups. The first one was constructed in the Bavarian Forest at a cost of €3.5 million and there are now about a dozen of these venues scattered throughout Europe.
The most expensive walkway constructed by eak is on the northern tip of Germany, inland from the Baltic Sea, called Naturerbe Zentrum Rue-gen. It cost upwards of €12 million to build in 2013 and includes a massive visitor information center.
Family ticket packages or individual passes can be purchased at all the tree top walks, with restaurants and other refreshment opportunities connected with each venue. On the walks themselves, there are chances to take bicycles on the paths and lots of interactive aspects as you traverse the thoroughfare. Long-range viewing scopes, information kiosks, and child-friendly stop points highlight these amazing structures.
The prospective heights of these unique structures might seem scary to people planning trips but in actuality, the paths are usually not more than 20-30 feet above the ground. Higher spots along these routes are optional as each location features a signature complex that takes users to the ultimate viewpoints of the surrounding area.
Interesting plant growth and wood scenery make for a replenishing feeling that guests can generate while various animals indigenous to the areas can be spotted on any given day. It is recommended to wear proper clothing at all of these places, based on when you plan to visit, since the higher elevations can get windy and cool.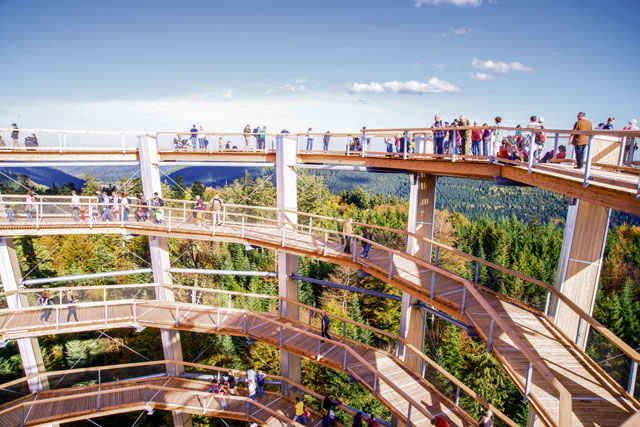 Erlebnis Akademie AG
In Saarland, the Baumwipfelpfad Saarschleife gives walkers an amazing view of the Mosele River at one of its loop points and landscape surrounding it. The state of Saarland is loaded with other opportunities to see and explore so this can be a chance to do a lot on a trip that's pretty close to home.
www.baumwipfelpfad-saarschleife.de/saarschleife
Less than an hour west of Frankfurt is Baumkronenpfad Hoherodskopf, which stretches 650 meters and features an expanded, not-so-faraway view of the city of Frankfurt. This facility is made almost entirely of wood and has multiple attractions to go with the treetop path.
www.baumkronenpfad.de
Alongside the Baumkronenpfad path is the new Elebnisberg area, which has zip lines, miniature golf, tree climbing, and several other family oriented activities.
www.erlebnisberg-hoherodskopf.de
Bavaria has several of these pathways in place and while the drive might seem daunting, it is possible to do use the time spent in the area to visit more than one tree park. The Baumwipfelpfad Bayerischer Wald made a claim to be the longest treetop park in the world when it first opened about a decade ago.
Baumwipfelpfad Bayerischer Wald is over 1,300 meters long and is visited by half a million people each year. The route is raised 25 meters from the forest floor but people can choose to head up to the Baumturm, a tower that takes approximately 500 meters to climb and offers a remarkable view of the Bohemian Forest once they arrive.
www.baumwipfelpfad.bayern/bayerischer-wald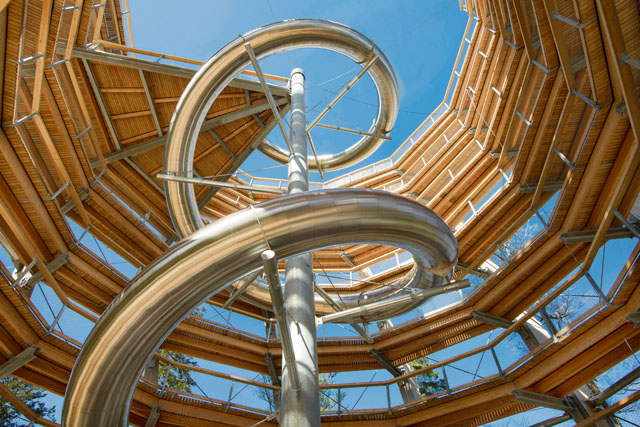 Erlebnis Akademie AG

Skywalk Allgaeu is located 50 kilometers from Lake Constance and to the east of Munich. It is easily accessible by U.S. military and dependent visitors to Garmisch-Partenkirchen. A largely cement and steel construction, it has an elevator to take guests to the top, so they can walk back down with ease.
www.skywalk-allgaeu.de

Baumwipfeld Schwarzwald is situated in the Black Forest, about 130 kilometers south of Frankfurt. Like most treetop walks, it puts the user some 25 meters above the ground surface and is not too imposing for people who aren't good with heights. An extra challenge here is the circular lookout tower path that takes people another 40 meters into the sky.
www.baumwipfelpfad-schwarzwald.de/schwarzwald

The listed parks are just a sampling and it will be beneficial to research through travel agencies and the Internet exactly which treetop walk best fits your schedule. Lots of good information is available and you might find friends who have been on some of these paths who can give you a first-hand account of what to expect.

Drive times from the KMC vary depending on location. Pricing varies but is affordable at most parks.

(Visited 1,432 times, 2 visits today)

Tags: