When in London, one simply must partake in Afternoon Tea. There's nothing more British. It's quintessentially an 'upper class' tradition which involves sipping the nation's favourite brew from fine china and indulging in fancy snacks and cakes. It's usually taken around 4:00pm and served on low, comfortable, parlour chairs or while relaxing in the garden.
The History of 'Afternoon Tea'
The institution of Afternoon Tea began in the early 19th century and it is believed that Anna, the 7th Duchess of Bedford, started this routine after complaining of "having that sinking feeling" during the late afternoon, something we can all relate to. As a solution, the Duchess was offered a pot of tea and a light snack privately in her boudoir, to keep hunger and light-headedness at bay until dinner. It soon caught on in all the best households and thus afternoon tea became the norm in all the right addresses.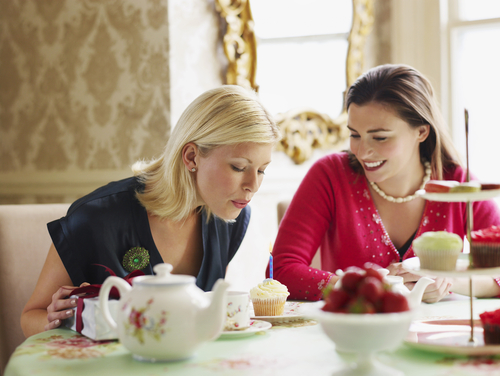 So, What's 'High Tea'?
To avoid frowning waiters, don not confuse Afternoon Tea with High Tea. The origins of Afternoon Tea show clearly this was the preserve of the rich in the 19th century. But for the working classes in the newly industrialised Britain of the time, 'tea' had to wait until later in the day – after work.  After a long day of labour, this meal needed to be more substantial than just light tea and a snack of fancy finger sandwiches and cakes. Therefore this after-work meal was more often hot and filling and accompanied by a pot of good, strong, blended (inexpensive) tea to revive flagging spirits.
The addition of 'High' is believed to differentiate between the upperclass Afternoon Tea which is served on low relaxing chairs and the worker's High Tea which would have been served at the table and seated on high back dining chairs.
Tea Today
To this day, the evening meal in many British working class households is often called 'Tea' but as working patterns have changed yet again, many households now refer to the evening meal as Dinner or Supper. However, the meal taken around midday is always called lunch, no matter where you are in the country. Additionally, the strong, blended tea is still drunk daily in almost every household in Britain and lovingly referred to as 'Builder's Tea' to differentiate it from fancier servings of tea, such as Early Grey.
These days, partaking in Afternoon Tea is considered a treat – something special to enjoy on birthdays or mother's day. After all, it takes at least two hours to do it right and who has the time for that during a working week? But we can think of no better way to spend an afternoon whilst visiting London and it will present you with a much welcome break from shopping and sightseeing.
Top Spots for Afternoon Tea in London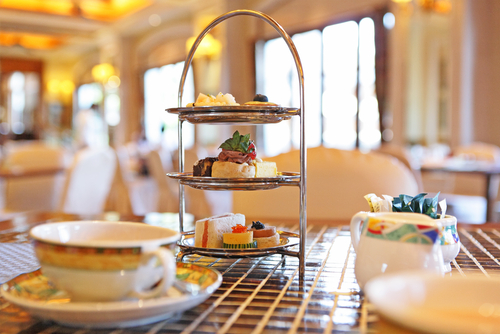 To get the best experience of this rather lovely treat we've listed our favourite spots in London where you can indulge in this afternoon tradition of milky tea, fresh warm scones and triangle sandwiches. Check the websites for the dress code for each establishment – after all, this is a British tradition and certain 'rules' do apply! Booking in advance is essential.
Here are our favourite haunts:
One of the oldest restaurants in London, Kettner's was founded in 1867 and was a favourite of Edward VII, Lillie Langtry and Oscar Wilde. Here you can enjoy a traditional Afternoon Tea beneath the shimmering chandeliered ceilings right in the heart of Soho. It is Soho, so everything is a little bit shabby, but that's part of its charm – Kettners is the theatre-lover's institution. The traditional Afternoon Tea menu features dainty finger sandwiches, freshly baked scones with lashings of jam and clotted cream and deliciously decadent cakes and tarts. You can add a little tipple by way of Champagne or some specially selected cocktails to compliment the Afternoon Tea. This won't be the fanciest Tea you can find in London, but it's probably the best value.
Prices from £24.95* per person 
Kettners, 29 Romilly St, Soho, London W1D 5HP. Tel: +44 (0)20 7734 6112. 
The Sanderson Hotel invites you to "tumble down the rabbit hole" and enjoy the wonderful world of the Mad Hatter's Afternoon Tea. This is a bit of a quirky, multi-sensory experience as  menus are hidden inside vintage books, napkins are wrapped with riddles, teapots are adorned with kings and queens and sandwich platters feature zebras, birdcages, carousels and ticking clocks. But your culinary senses are not left wanting either – classics such as dainty sandwiches and freshly baked sweet scones to through to contemporary treats including 'strawberries and cream' homemade marshmallow mushrooms; a 'Tick Tock' traditional Victoria sponge clock, and 'Jelly Wonderland'  are also offered – on a lavish Phillipe Starck cake trolley. It's even possible to purchase the bespoke 'Mad Hatter's' crockery to take home with you. This is British eccentricity at its finest.
Prices from £38* per person 
The Sanderson Hotel, 50 Berners Street, London W1T 3NG. Tel: +44 (0)20 7300 5588. 
The Palm Court is the venue for the world-renowned Afternoon Tea at The Ritz, a British institution in itself. The menu offers guests a selection of 16 loose leaf teas, delicately cut finger sandwiches, a daily selection of freshly made tea cakes and pastries as well as traditional warm baked scones with strawberry preserve and sumptuously topped with Devonshire clotted cream. Afternoon Tea is certainly a formal event here, if not a touch theatrical: the glamorous setting of The Palm Court filled with gossiping guests, immaculately presented waiters discreetly flit amongst tables decked with esquisite chinaware and gleaming silver tea services, whilst a pianist plays gently in the background. Afternoon Tea at Ritz would make the Duchess of Bedford proud.
Prices from £47* per person 
The Ritz London, 150 Piccadilly, London W1J 9NR. Tel: +44 (0)20 7300 2345.

One of London's most exclusive hotels Claridge's is a favourite of the paparazzi loving celebrities, so you can expect its afternoon tea to be something impressive. Everything is served on finest china as you would expect. Feast on heavenly filled finger sandwiches, freshly baked sweet scones – served warm, an array of pastries, and sip from a selection of over 40 different teas from all over the world, selected by the hotel's own tea connoisseur, Henrietta Lovell. Of course you can add some champagne to your tea for an extra treat. Good news if are travelling with your kids, there's a special afternoon tea for children, which is pretty rare.
Prices from £50* per person 
Claridges, Brook Street, Mayfair, London W1K 5HR. Tel: +44 (0)20 7629 8860.
For a true "Alice in Wonderland" experience, head to The Thames Foyer at The Savoy, another of London's top hotels. Rather surprisingly, inside the hotel is you walk into a typical English garden party on a summer's day, complete with bouquets of flowers,a gazebo, and a pianist for entertainment. Afternoon Tea at The Savoy (not unlike the rest of the hotel) is world famous and includes a selection of delicious sandwiches, homemade sweet scones with devillishly devine Devonshire clotted cream & jam and a mouth-watering selection of cakes created by The Savoy's Executive Pastry Chef, Ludwig Hely.  Yep, that's a real job!
Prices from £45* per person 
The Savoy, Strand, London WC2R 0EU. Tel: +44 (0)20 7836 4343.

The Palm Court at The Langham was actually the first hotel in London to start the tradition of serving afternoon tea to the public over 140 years ago. So expect to experience the timeless elegance of a good old fashioned custom. The Langham serves Afternoon Tea with delightful gourmet finger sandwiches, and contemporary versions of classic British desserts such as Victoria sponge, strawberry meringue and and of course – the essential ingredient – home baked scones. Enjoy it all in the beautiful Winter Garden to the sounds of a heavenly harpist in the background. This Afternoon Tea was highly recommended by some of our website visitors!
Prices from £44* per person 
Palm Court at The Langham, 1c Portland Place, Regent Street, London W1B 1JA. Tel: +44 (0)20 77965 0195. 

Famous for hosting the late night wedding reception of the Duke & Duchess of Cambridge (that's Wills and Kate to you and I), The Goring is positioned very close to Buckingham Palace so it's a top spot for finishing off a day of sightseeing. It was awarded the title of Top London Afternoon Tea 2013 by the prestigious Tea Guild last year, so you can be assured they know how to serve Britain's most famous afternoon snack. In the summer, Afternoon Tea is served in a beautiful garden, making it one of the few places to offer outside teas in the capital – sometimes the weather is that good in Britain. In the winter you can enjoy sipping your tea by a roaring open fire. The menu consists of dainty cut sandwiches, homemade scones, a platter of handmade pastries and a wide selection of perfectly brewed teas. If it's good enough for Royalty, it's good enough for us!
Prices from £39* per person 
The Goring, 15 Beeston Place, London SW1W 0JW. Tel: +44 (0)20 7396 9000. 

The Dorchester is one of London's most iconic and elegant hotels – a favorite of celebrities, world leaders, royalty and high society. Its Afternoon Tea has been awarded 'The Tea Guild special Award of Excellence 2013' – the only London hotel to achieve this distinction four times. So your expectations here should be pretty high – and it won't disappoint.  Afternoon Tea is served to you in The Promenade – a lobby of marble columns punctuated by plush couches and pillows nestled discreetly amongst potted palms and towering fountains of flowering plants. Afternoon Tea includes savoury finger sandwiches filled with smoked salmon, egg, chicken, prawn and cucumber. Then comes the sweet plate of freshly baked warm scones glistening strawberry preserve and Devonshire clotted cream. Finally a platter of delicious french pastries that are simply irresistible to a mere mortal. The Dorchester offers a selection of themed Afternoon Tea options, each looks as delectable as the last.
Prices from £45* per person 
The Dorchester, Park Lane, London W1K 1QA. Tel: +44 (0)20 7629 8888.
Situated in fashionable Knightsbridge and named Prêt-à-Portea you will quickly note the effect of the fashion industry on Afternoon Tea at The Berkeley. Select from specially themed menus that are inspired by the fashion season, updated every season to stay in vogue. A shopper's delight, this afternoon tea might include a Burberry trench coat ginger biscuit, a Saint Laurent red duffle bag made from Victoria sponge and a mouth-watering Jean Paul Gaultier gold quilted banana and caramel crémeaux with passion fruit compote, presented on Paul Smith designed china. Add a little 'retail upgrade' to your Afternoon Tea with some champagne and do it like a fashion icon or perhaps a posh rock star.
Prices from £39* per person 
The Berkeley, Wilton Place, Knightsbridge, London SW1X 7RL. Tel: +44 (0)20 7235 6000. 
Whilst this is definitely a budget version of Afternoon Tea, it's not a bad option if you like the idea of the tradition, without the high price tag. Soho's Secret Tea Room is decorated like a retro tearoom (think 40s-style, post-war), complete with fine bone china and a rather soothing jazz and swing soundtrack via a gramophone. It's a rather quant retreat from the hustle and bustle of Soho below. The charm is in the styling and ambience rather the 'specialness' of afternoon tea itself. Here, quality loose leaf teas are served with finger sandwiches, baked scones a slice of sponge and a cupcake.  It's not five-star, but neither is the price and it certainly feels like the real deal.
Prices from £14.50* per person 
Soho's Secret Tea Room, Upstairs at The Coach & Horses, 29 Greek Street, London W1D 5DH. Tel: +44 (0)20 7437 5920. 

* It is common for London restaurants to add a 12.5% service fee to your bill – it will be clearly noted. You are not expected to add any additional tip to this amount.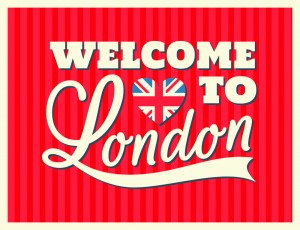 This article is part of our series of London Guides.