After my friend Kelly wrote a blog on Draisine rides – Trolley rides, near Kaiserslautern, I knew I would have to investigate the Stuttgart area to find something similar because it looked like way too much fun. Much to my delight, we do have something similar and it makes for a wonderful day trip. This past May, despite the sporadic good weather, we headed for the Swabian Alb to Kochertalerlebnis.
A Fun Day Trip With Friends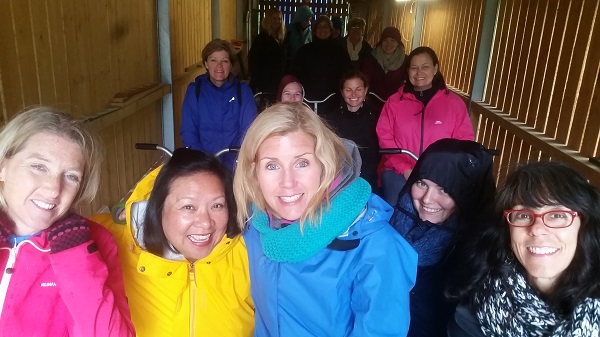 © Wendy Payne
With a group of 16, we stopped off to have a little lunch at Jauenstation Altenberg where the views of the surrounding valley were amazing. Unfortunately for us, it was a state federal holiday in Germany and almost everything was closed. Luckily, Hans was nice enough to offer us coffee and cake.
While we were warming up from the cold and wet rain, he told us about the Altenberg Turm (Tower). It is only a few kilometers from his beer garden where you can see even more views of the Swabian valley. There is just a €2 fee  for adults and €1 for children to walk to the top. I recommend of course, take a tour on a warmer day.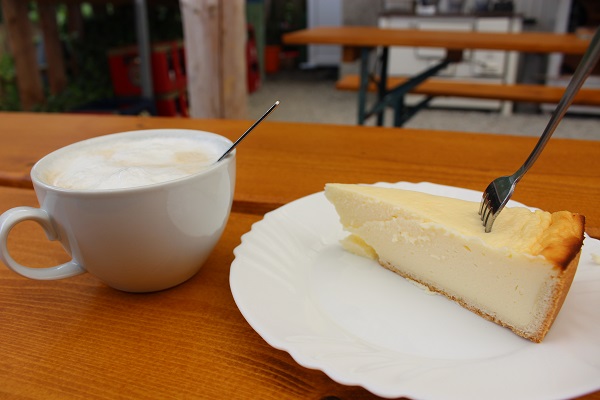 © Wendy Payne
We got back on the road to find another full-service restaurant, but we unfortunately struck out everywhere we stopped. Our reservations for our "trolley ride" were at 1 p.m., so finding a restaurant that could accommodate 16 and have us out in time was a bit challenging. However, we prevailed.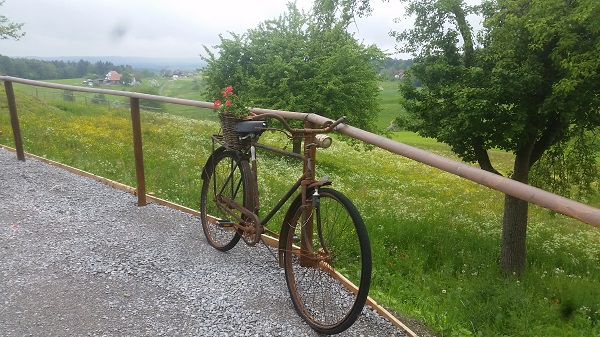 © Wendy Payne
A Bite to Eat
Luckily the youngest in the our group, my daughter Katy, had spotted Santorini Pizzeria located in the local soccer club house. Some of the BEST pizza I've had in Baden-Württemberg yet, we were so glad we stopped. Unfortunately because of the holiday and our time crunch, we could only get one pizza before we headed out to the test the bikes/trolley ride.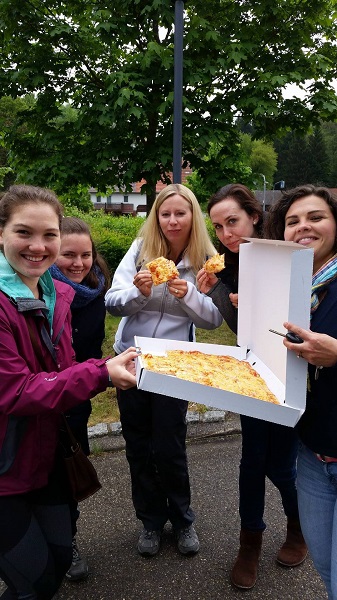 © Wendy Payne
Let the Trolley Fun Began!
We finally made it to Kochertalerlebnis even though the rain was pouring down and practically drowning all of us. We managed to make it on time for our reservation. Once directions and safety instructions were given, we were on our way.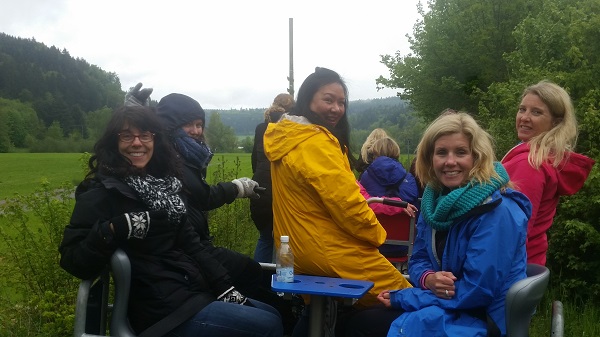 © Wendy Payne
The owner Alexander told us we would ride and bike for about 4 km and then turn around. It was somewhat of a slight uphill on the way out and an easy ride back in. He told us that when the weather is sunny and shiny people stop along on the rail line to hop off and have a picnic or enjoy some wine that brought on their journey. The bike/trolley has drink cups and a place for a small cooler.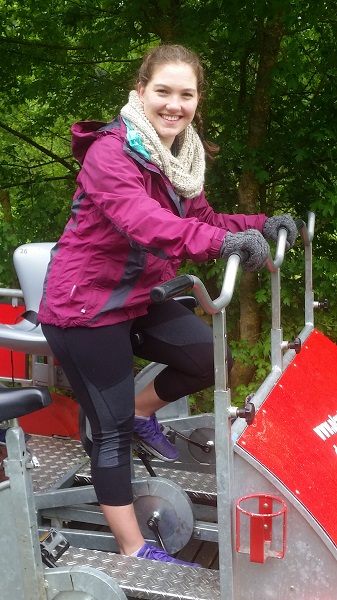 © Wendy Payne
Depending on the size of your group, there are spaces for a few bikers in front to steer and peddle. The rest of the crew on the bike enjoy being carted off along the rail, enjoying the view and the breeze. It never amazes me the ingenuity, inventive and creative ideas for re-purposing our German friends possess. Who would have thought that a retired rail line turned into an outdoor recreational activity would be so much fun for the whole family?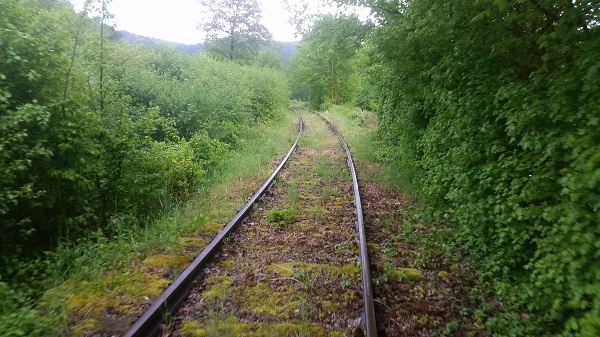 © Wendy Payne
It was such a popular trip we have another one planned this summer with another group. I am very excited to introduce this healthy, recreational different family-fun activity to a whole new set of people.
Details, Details, Details
*Make reservations – It is much better when you make reservations online for the trolley ride. They also have canoes available for rent! Working with Alexander has been incredible. Although he speaks very little English, I was able to Google translate everything he sent me. Also, don't forget to make reservations for any restaurant, cafe or beer garden if you have more than five in your party. It will make things go so much smoother and enjoyable for your day trip.
*Wear appropriate clothing -Shorts, pants and comfortable walking shoes are the best for this day trip! Don't for get to bring a bottle of water also.
If you are canoeing, consider wearing a swimsuit underneath. The last time I went canoeing, we had some splashy fun, with a lot of laughter.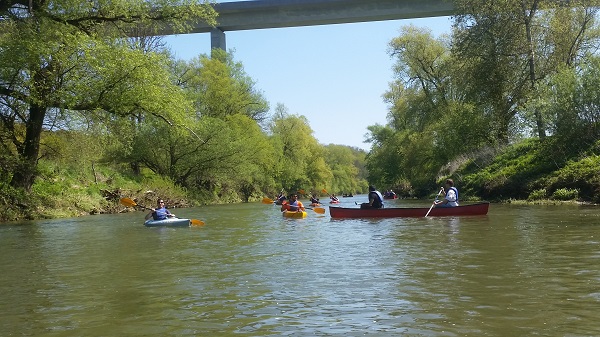 © Wendy Payne
*Don't forget sunscreen
*Perhaps an umbrella too! (I just keep mine in the car now.)
What a great day trip to take this summer with visiting family or just grab a few friends to join you. Trolley/bikes can be rented for four-six or even bigger groups. Don't forget to consider visiting the JauenAltenberg to see the tower and enjoy a beer in their garden.
How to Get There
Kochertalerlebnis address is the following:
Kochertal-Draisine
Herrengasse 8/1
74538 Rosengarten
The drive to the trolley ride is approximately 1 hour 15 minutes northeast of Stuttgart, 2 hours and 15 minutes southeast of Wiesbaden and 2 hours and 15 minutes east of Kaiserslautern.
Author's Profile: Wendy Payne is a military spouse and lives with her family in Stuttgart, Germany. She is a freelance writer, blogger and photographer. She also enjoys gardening, hiking, yoga and sharing Europe with people.
Featured Image Photo Credit:  © Wendy Payne