I have been a military wife for almost 23 years in which 18 of them active duty and the last few years as part of the GS system. Ironically, my husband has been deployed more as a GS Civilian than he ever was as a soldier. This is our second time in Germany, and it's as beautiful and as lovely as I remember it. It's been twenty years since we began our journey here. These are some tips that have helped me to connect as well as embrace and enjoy every duty station since then.
Connect
One thing you learn very quickly is that you need a support group and/or friend. Whether you need a friend to talk you off the ledge (when the kids drive you nuts) or you just want to go shopping for a bargain, you need that friend. I have been blessed to have found that girl at almost every duty station. You know who she is. She is that close friend you can rely on. You might've met her going through in-processing or on the playground at Panzer or she may be a friend of a friend you've known for years. Regardless, she's your go-to pal during your new duty station. You will find yourself wanting and needing to connect on many levels even if it's just a few times a week. However, you can make a lifelong friend in the end. CONNECT!
Heather (pictured right) is a friend of a friend I met 17 years ago playing Bunco in Ft. McClellan, AL who helped us connect here.
Embrace
Another little tip I have learned is to embrace and inhale. Basically you need to learn a juggling act that resembles something from the Barnum and Bailey Circus. Take as many free Morale, Welfare & Recreation (MWR) classes as you can and ask questions all the time. You can learn basic automotive, plumbing, electrical skills and much more. Knowing these tips will come in handy when your husband is deployed even if it's just for an overnight, which is when the other shoe usually drops. Ironically, all of our major "housing, vehicle, hitting a deer" issues have happened only when he is TDY/deployed. I learned some very interesting things about HVAC systems (air conditioning systems) in Alabama that would put an engineer student to shame. Joking aside, you will need to know your new duty station's contact numbers at least the very least when arriving. Here in Stuttgart you can to find that info in The Citizen Newspaper or on this site… BREATHE & EMBRACE!
Learn the Language and ENJOY!
I could truly write a whole blog about this point; seriously, I have thought about it. I'm not just talking about grammar either but about the community. Whether it was the Deep South or Leavenworth or DC, I jumped into the community to learn the language and rhythms of the people. Nelson Mandela once said, "When you speak a man's language, you speak to the heart." To me this is so true. At some point in my life I have had a Rhode Island accent, southern accent and now Deutsch (German). Take to heart though that it can still be frustrating when trying to communicate in German, even if you already know a little German, because of the different dialects. But my German friends tell me it really touches them when I at least try to sprechen (speak). Local Nationals know that learning German is tough, but at least I have tried to connect. For quick tips check out this super helpful article.
This year I am taking the USO German Level Courses, and I can't recommend them enough. My teacher is incredible, and I have made some friends too. If you have thought about taking a course and hesitated, don't.. just do it. You will probably love it. In my class we have laughed until we have cried. We have also take field trips to interesting places. Last semester we visited Leonberg in which our Lehrerin (teacher) personalized our whole trip including all the must shop shops. This year we wrapped up our Level C by going to Waldenbuch. To find out more information about the Stuttgart classes and so much more, visit the USO at Panzer, Bldg. 2915, 3rd Floor or call +49 (0) 7031) 15-3505. You can also LIKE their FaceBook page.
I also attend free Army Community Service (ACS), a MWR Program, an immersion class on Patch with Gudrun Kaper. She has been teaching this class for over 25+ years. Her wealth of knowledge on the history and customs of Germany is quite extensive. She also knows anything you've ever wanted to know about visiting churches, the reformation, using the transportation system, maps, etc. And she's a stickler for pronunciation, alles klar. She is now a part of my journey. Please consider joining one of her classes. Stuttgart ACS offers two classes on Monday nights at 6-8 p.m. and Wednesdays from 12-1:30 p.m. (Patch Barracks, Bldg 2332, Garrison Religious Ed Center, B 2332) Gudrun can be reached at email address kaper44@yahoo.de…. ENJOY!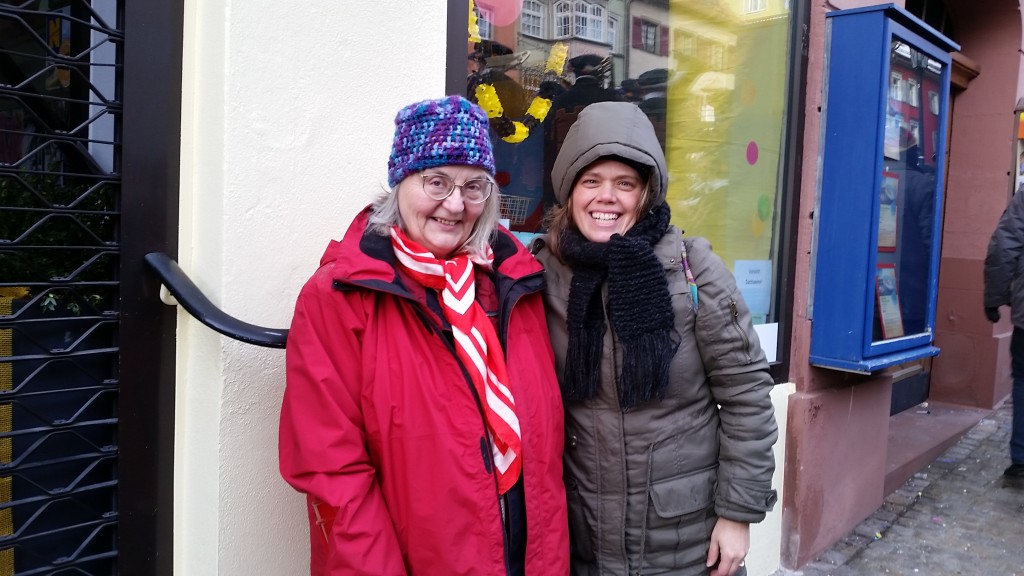 I know my little list does not even begin to wrap up the how-to's as you arrive to a new duty station. However it goes give some tips on how to connect, embrace and enjoy the community you are in. I promise these suggestions will help you get the most out of this military life.
Author Profile: Wendy is a military spouse and lives with her family in Stuttgart. She is a freelance writer, blogger and photographer. She also enjoys hiking, yoga and people.