Eltville, located in the Rheingau region, is surrounded by vineyards and the Rhein River. And this beautiful town celebrates with an annual Sekt Fest, which exudes beauty and class.
You may ask what is "sekt". Sekt is a German sparkling wine that has significant levels of carbon dioxide, which makes it fizzy. While some would call all sparkling wine "champagne," sekt is not "champagne." Champagne is a sparkling wine that comes exclusively from the Champagne region of France. Though sekt may not be classified as champagne, this sparkling wine will truly delight your taste buds.
This year's event will take place from June 29 to July 2.
Enjoyment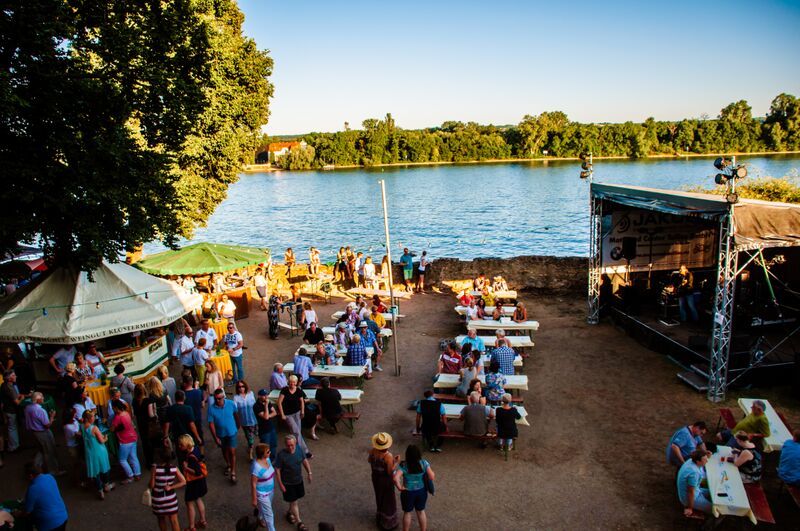 © Gemma
The Eltville Sekt Fest takes place on the banks of the Rhein River. You can sit and enjoy your sekt while watching the slow moving boats and soft wave of the river. This popular event overall has a very relaxing and charming feel to it. The fest goers truly sample and sip their sekt as well as they can enjoy a meal from one of the many food vendors. One of the main entrances to the fest is through the courtyard of the gorgeous Electoral Castle. You walk to the castle's rose garden and then enter to the main stage area of the fest.
Different Flavors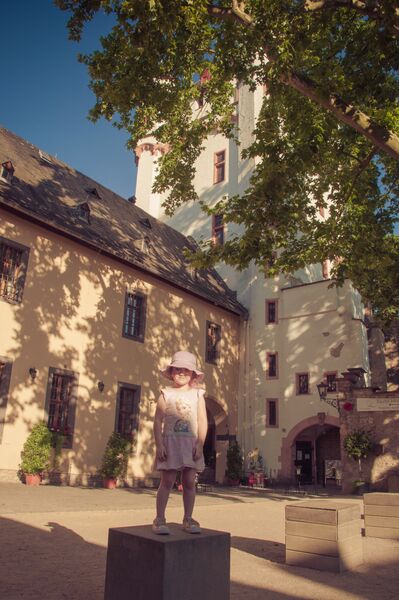 We started the fest in the main area. Because the main act was still setting up, we decided to wander more into the fest. Along the river there were various food stands with local specialties and international delights. And of course, the main attraction of the fest was sampling sekt from the different vendors! Each sekt producer has a unique taste to his or her drink, which made it really enjoyable to discover the different flavors.
Vendors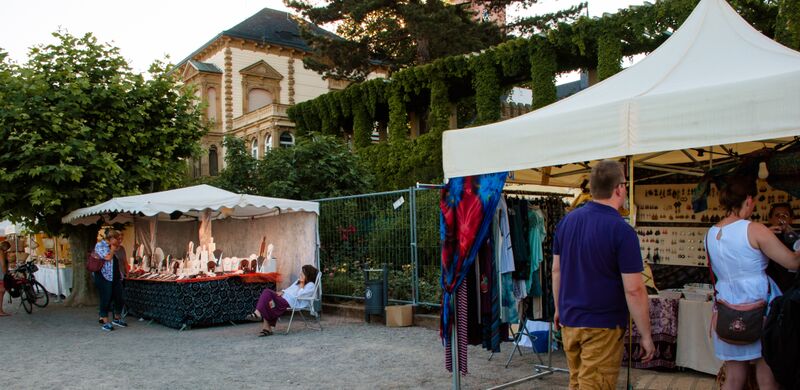 © Gemma
I was surprised by how many vendors there were and how many really nice items were for sale. There were stands that sold handmade jewelry, baskets and even clothing. The items for sale were a good reflection of the relaxing and artistic feel from the entire fest.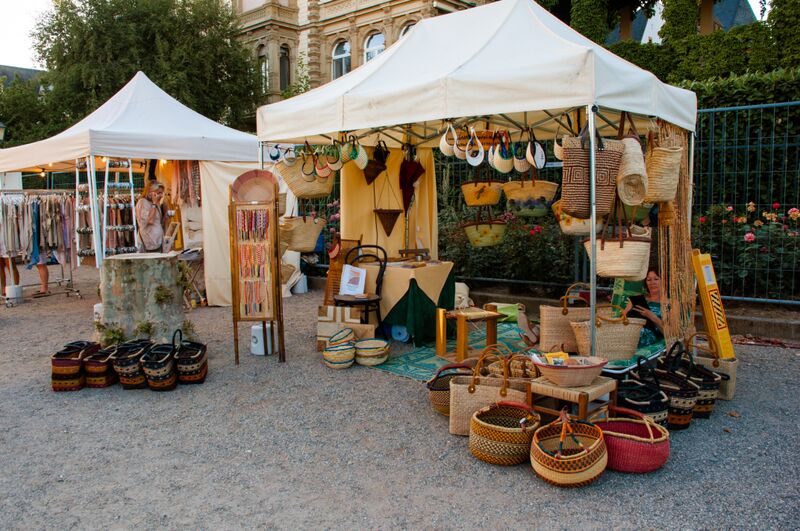 © Gemma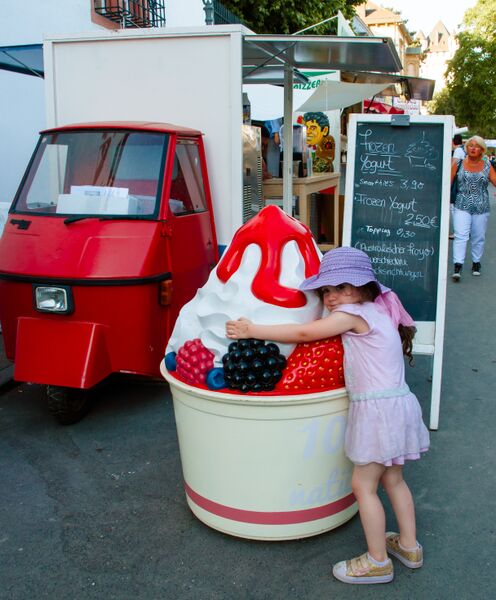 © Gemma
Live Entertainment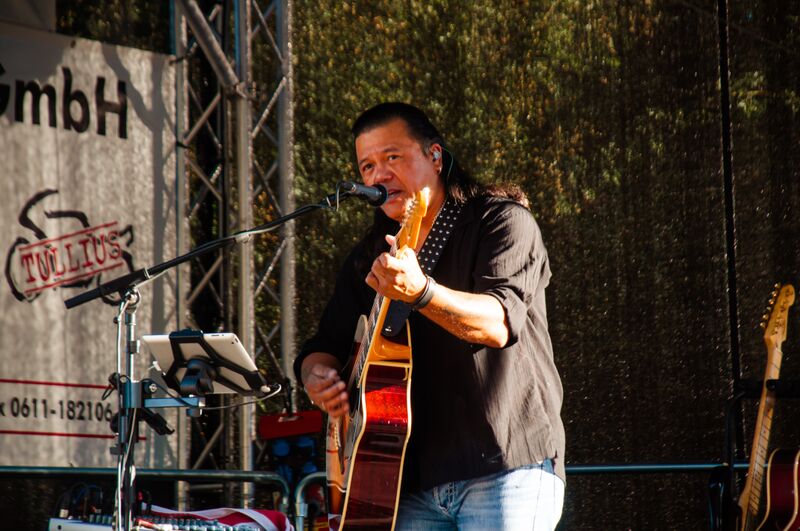 © Gemma
We saw three other stages but decided to head back to listen to the musician on the main stage. The performer was Rick Cheyenne, who is well known in the Rheingau and Wiesbaden area. Having seen him perform at downtown Wiesbaden's Café Lumen and other winery parties, I knew he would be great entertainment. He plays various genre of music including blues, soul, rock'n roll, country and pop. Rick Cheyenne plays quite a bit in this area and he is definitely worth checking out. You can find his tour dates here.
Hessen's Specialty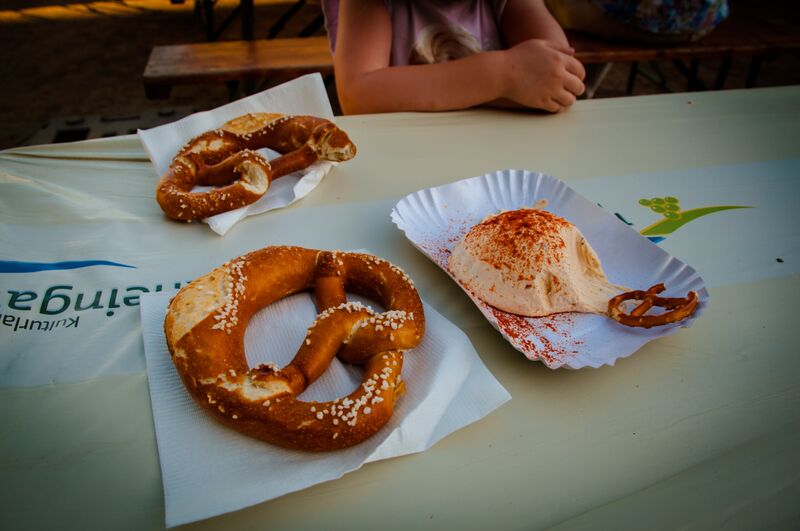 © Gemma
At the fest we bought one of the state of Hessen's specialty dips, Spundekäs. Spundekäs is so delicious with pretzels and often served along with grapes. This dip is also a great compliment to Rheingau wine and sekt! Spundekäs consists of cream cheese (German Quark), yogurt and seasoning including salt, pepper and sweet paprika. Check out the recipe below.
Spundekäs Recipe

Ingredients
500 grams (18 ounces) low-fat cream cheese (Magerquark) or substitute with Philadelphia (German Frischkäse)
250 grams (9 onces) plain yogurt or Crème Fraiche
1-2 onions (diced)
2-3 tablespoons paprika
1 teaspoon salt
Preparation
1) Mix all ingredients well together.
2) Serve with soft or hard pretzels.
Wonderful Experience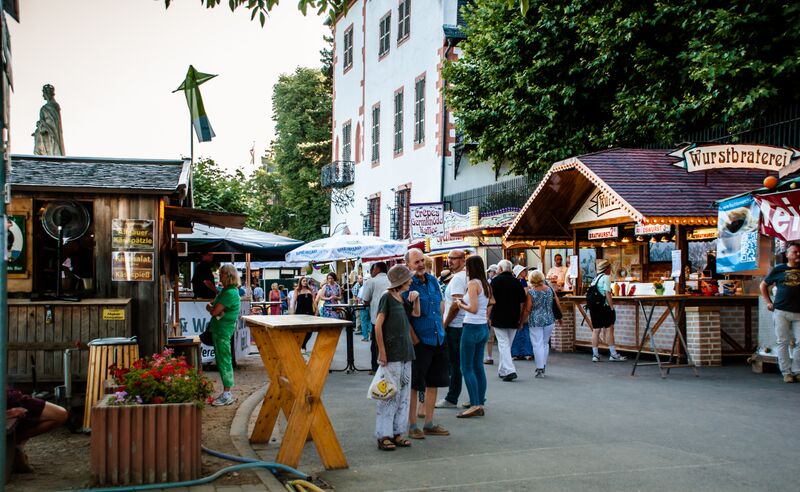 © Gemma
The Eltville Sekt Fest was truly a wonderful experience and definitely stands out from the other fests in the area with its relaxation, beauty and class. Eltville hosts its Sekt Fest each year during late June/ early of July, so mark your calendars!
How to Get There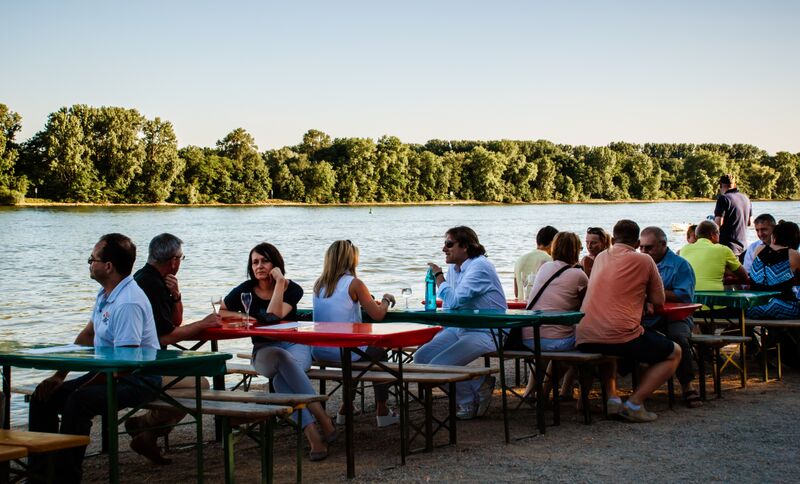 © Gemma
The Fest's address is the following:
Burgstraße 1
65343 Eltville am Rhein.
Eltville is approximately a 1 hour and 10 minutes drive from Kaiserslautern and 2 hours and 20 minutes from Stuttgart.  And for train information, click on DB Bahn.
Author's Profile: Gemma is a mom, a veteran and an Army civilian living in Wiesbaden, Germany. With New Jersey roots, she is enjoying her extended European vacation.
Featured Image Photo Credit: © Gemma