Story and photos by John Thompson
Living in central Germany puts you right in the middle of some of the best vineyards in the world. It would be a shame not to learn something about German wine during your stay. German white wine is as good or better than almost any others in the world, and it is generally very reasonably priced.
German wine law embodies strict rules on labeling wine. It is detailed enough to ensure that you almost always know what you are getting even before you taste the wine.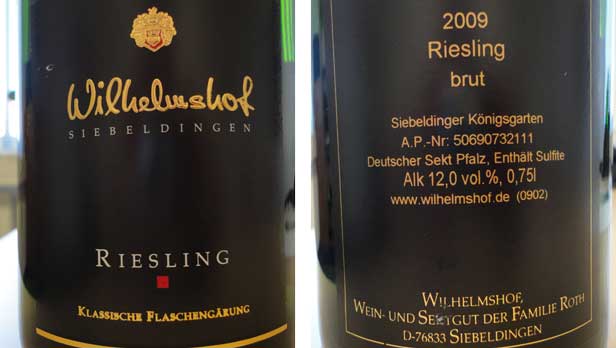 Here are a few tips to help you decipher German wine labels:
1) The winery/estate
This is easy to identify. On the label shown, the winery shown is Wilhelmshof, located in Siebeldingen, Germany.
2) Vintage
This wine was produced in 2009.
3) The Varietal/Type of Grape
The type of grape used to make this white wine is the "Riesling" a grape that's spread very widely across Germany and known for being very fine.
4) The Weight/Body of the Wine
This is a very important designation. If you have a basic familiarization with these terms, your chances of picking a wine that fits your taste and budget is good and, in my opinion, this information is critical to determining key qualities that help you understand what kind of wine you will get:
Tafelwein:
This is a light and simple table wine without any special attributes. If the label shows the type of grape, it must have at least 85% of this grape in the wine. If the label says "Deutscher Tafelwein," it is German. If it only says Tafelwein, it comes from some other country.
Landwein:
Also a light and simple wine ranging from trocken (dry) to halbtrocken (semi-dry), this wine is equivalent in quality to Tafelwein, but the grapes used to make Landwein must originate from one of the 15 German wine regions. Both Tafelwein and Landwein are normally quite inexpensive and often sold in bottles containing one liter. Many shy away from Tafelwein and Landwein thinking they are inferior, but you might often be surprised to find these wines fine for everyday use, and they go well with spicy foods like BBQ, and oriental or mexican foods.
5) QbA
This is the abbreviation for "Qualitätswein bestimmter Anbaugebiet" or "Quality Wine from a Specific Growing Region." These are often referred to simply as "Qualitätswein" for short (pronounced Qval-ee-TATES-vine). Because Americans have no idea what this means, you might see German labels in the states using "Estate Bottled" as an equivalent designation. These wines are almost always of a higher quality than Tafelwein or Landwein and are still normally very reasonably priced. If you are squeamish about drinking a Tafelwein or Landwein but are not sure about the other designations to be discussed next, a QbA or Qualitätswein might be an excellent choice. Qualitätswein is very flexible and can easily be enjoyed with casual foods and more sophisticated cuisine alike. You can get this wine in different levels of sweetness: dry, semi-dry, or fruity/sweet (see item 5. below). Bottles of Qualitätswein are normally either 1.0 Liter or 0.75 Liters (the latter is about 2/3 of a quart).
6) QmP
This is the abbreviation for "Qualitätswein mit Pradikät" or a "Quality Wine with a Special Attribute." The Special Attribute is directly related to the amount of sugar in the grape when harvested. It is important to note that the following designations do not tell you what the quality of the wine might be, although the tendency is for the price to rise as the sugar quantity increases. The following are the different categories of QmP wines starting with the lowest sugar content at harvest:
Kabinett (pronounced kah-bee-NET):
The first level of wines with a special attribute, the word originates from a reference to a special wine saved in a cabinet for some special occasion. Of the QmP levels of designation, Kabinett wine has the least amounts of sugar of the following categories. It is my opinion that the Kabinett wine is consistently the best wine for the price for most tastes. If you want a Kabinett, then the only other thing you need to decide is the varietal or type of grape, then if you want a dry, semi-dry, or sweet version of the Kabinett (see item 5. below). The Kabinett fits with almost any main course, even with foods that might be a little spicy, but this is a personal choice.
Spätlese (pronounced SHPATE-lay-zuh):
This literally means "Late Harvest" and, since the grapes harvested later will have less water content and will therefore contain slightly more concentrated grape flavors, there will be a slightly higher sugar content than in a Kabinett. These wines are some of the highest quality wines in Germany, and this is usually reflected in the price. But don't be intimidated by the price. We are not talking about prohibitively expensive wines – somewhere in the €8 to €15 range at a typial wine store, even less if you buy directly from the winery.
Auslese (pronounced AUS-lay-zuh):
This refers to a specially selected bunch of grapes, also harvested later than categories mentioned above. The sugar content on Auslese wines goes a notch higher, as does the price. Nonetheless, the sugar content at this level may not be optimum for many tastes which is why most wine drinkers do not have to pay more to get the quality they want. Although a "trocken Auslese" (or "dry" Auslese – see below) might not be too sweet, it would probably be more appropriate to serve this wine after a meal, perhaps with cheese or dessert. For many ladies, Eiswein (pronounced ICE-vine) is something sweet and something special. Normally sold in half bottles, this wine is made from grapes harvested during a light frost, enhancing the uniqueness of this wine.
Beerenauslese (pronounced BAYR-in-aus-lay-zuh):
This refers to individual grapes picked from the specially selected bunches of grapes. The intensity of focus on individual grapes is reflected in the price and, as before, the sugar content at harvest is even higher. Beerenauslese can also be found as an Eiswein and, in this case, would normally be bottled in smaller amounts (0.375 liters or about 40% of a quart). These wines would normally never be consumed with a main course, instead reserved for cheese or dessert, although they are often also served with fois gras.
Trockenbeerenauslese (pronounced TROH-kin-BAYR-in-aus-lay-zuh):
This is dried grapes picked from the specially selected bunches of grapes. These wines have the highest sugar content available. Also served in small, half bottles, these unique wines command a high price are sometimes so thick in viscosity and so sweet that some might not recognize them as wine. Strong honey and raisin tones are often detectable. Usually these wines would be enjoyed after a dinner and served on their own without food.
Dry or Sweet:
All of the German wines described herein will be designated either "Trocken" (pronounced TROH-kin) meaning dry; "halbtrocken" (pronounced HAHB-troh-kin) meaning semi-dry; or it will have no such designation which generally means the wine will be fruitier or sweeter. This designation,, if applicable, would always appear after the weight/body of the wine. Other related designations you might see are "Feinherb" (pronounced FINE-hairb) which is usually about equal to halbtrocken or semi-dry, but you might also see a wine described as "lieblich" (pronounced LEEB-lish) meaning medium sweet. Note: if you were to refer to a person as "lieblich" in German, it would mean lovely or delightful.
7) The Vineyard
Every winery has different vineyards with unique characteristics such as soil, the direction the vineyard faces (southerly, for example), and flat/hilly, etc. The vineyard shown on this label is Siebeldinger im Sonnenschein.
8) The Growing Region
You will always see the growing region listed. In the Kaiserslautern area, you will often see the "Pfalz" listed or "Mosel-Saar-Ruwer" (the latter being in the Eiffel, north of Kaiserslautern in the area around Spangdahlem). In Wiesbaden, you will often see local wines representing regions near the Rhein-Main area, such as "Hessen", "Rheingau" but also the "Nahe". In Stuttgart, you are close to the wine regions of "Württemberg" and "Baden."
9) The AP Nr
This is the "Amtliche Prüfungnummer" or "Official Approval Number". Portions of this number are specifically assigned separately to a certain village, estate and grower. This helps authorities track authenticity of the wine and the claims made on the label. Although this knowledge is not critical to your being able to select a good German wine, you can sure use it to impress your friends!
This might sound complicated, but it is really not hard to grasp, and a basic understanding of the contents of German wine labels can certainly add to your enjoyment of German wine. Of course, there are more details that could be shared about wine labels, but these guidelines should help you get a great start, especially items 4, Weight/Body of the Wine, and item 5, Dryness/Sweetness levels of the wine.
"Cheers!" or as the Germans say, "Zum Wohl!" (meaning "To your Health!" and pronounced "Tsoom VOHL!").