So you grew pumpkins this year. Or maybe you will buy some to decorate the house or yard. Don't throw them out; use them for baking. With pumpkin puree, you can make great baked goods from bread to pies to muffins. Sure you can buy canned pumpkin from the store but fresh is better, healthier, and you'll save money.
While we're biased toward fresh pumpkin, quite frankly, in many recipes we have a hard time telling the difference between fresh and canned. And we often use commercially canned pumpkin for the convenience.
Most recipes call for pumpkin puree but that's not the only way that you can use fresh pumpkin. You can grate fresh pumpkin and add it to your bread or muffins. It's even good in a casserole or in a soup. Grated pumpkin will give you attractive flecks of orange in your bread or muffins and a little chewier texture. But since most recipes call for puree, here's how to prepare it:
1. Cut a sugar or pie pumpkin in half. (Some thin-walled pumpkins are stringy and not as good for baking.) Remove the seeds. Place the halves in a baking pan, flesh side down with 3/4-inch of water in the pan. Bake for 1 1/2 hours at 350 degrees or until the flesh is tender. (For small quantities, you can cook the pumpkin in the microwave.)
2. After the pumpkin has cooled, scoop the flesh out, place it in a food blender, processor, or your food mill and process it until it is smooth. If stringy filaments remain, strain it.
3. Often, especially from smaller or immature pumpkins, the puree will not be thick enough—a spoon should stand upright in the puree. To thicken, place the puree in a saucepan and cook, stirring often, until the puree becomes thicker. Use as you would canned pumpkin. Extra puree freezes well.
If you are in a hurry, you can cook your pumpkin in the microwave or steam it on the stovetop. Cooked this way, it seems to have a higher water content than with baked. That's okay but you will need to cook it down on the stovetop to remove some of the water—at least for some recipes.
In some recipes, it doesn't matter whether the puree is thin. If you add a thin puree to a yeasted bread recipe, you'll have to add a little more flour to compensate. That's not a problem. If you are making pancakes, the thinner puree just means less water or milk to get the same consistency. On the other hand, if you are making cookies or scones or muffins, balance matters. You can add more flour or less liquid and it may turn out okay but you won't know without trying.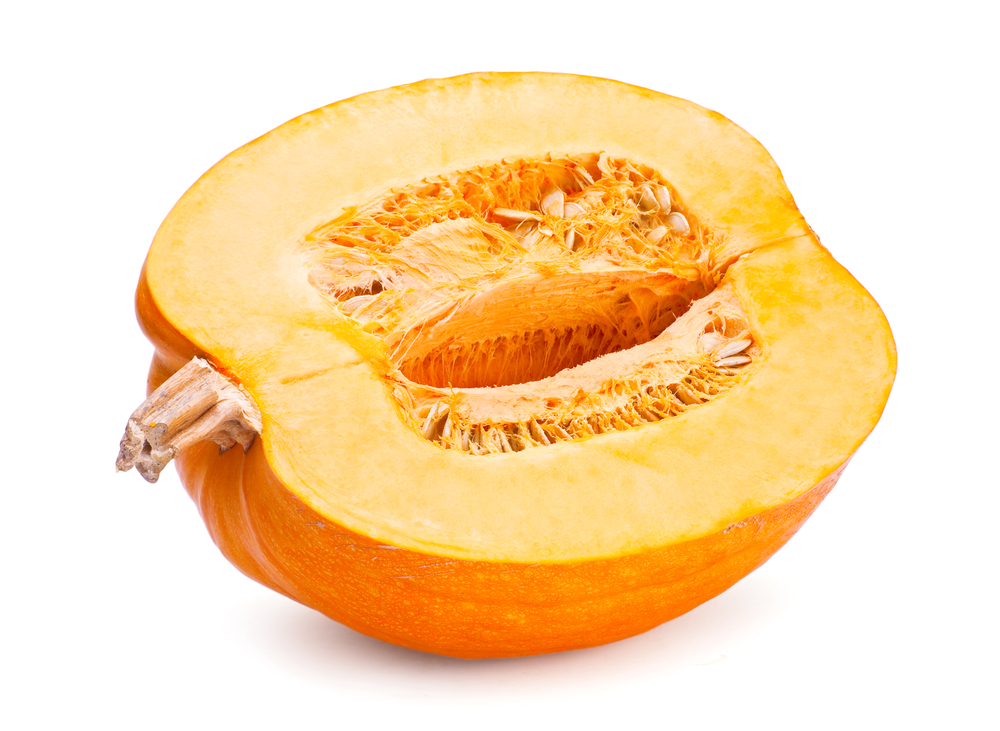 Lepas / shutterstock.com
In the following bread recipe, you may use a thinner puree. Just be prepared to adjust the amount of flour that you use to accommodate different moisture contents of the pumpkin purée.
Pumpkin Bread Recipe
This is a great pumpkin bread recipe! It has an attractive orange color, it's moist, and it's packed with nutrition and flavor. We usually make it with white bread flour but you can substitute whole wheat flour. (If you use all whole wheat, add several tablespoons of wheat gluten.) The recipe calls for raisins but walnuts make it a great pumpkin bread also.
This bread is not sweet like a dessert bread. You can add more sugar if you like. If you choose, add one cup of chopped walnuts. Incidentally, try this bread toasted with red current jelly. It is terrific!
Ingredients
5 1/2 to 6 1/2 cups white bread flour (you can substitute up to 3 cups whole wheat flour)
1/4 cup brown sugar
1 seven-gram packet of instant yeast
1 1/3 cup warm water, 110 degrees
1 tablespoon cinnamon
1/2 teaspoon ground cloves
1 teaspoon ground ginger
1 cup puréed pumpkin or canned pumpkin
1/2 tablespoon salt
6 tablespoons melted butter
1 1/2 cups raisins, golden raisins, or currents
Directions

1. Place half the bread flour, sugar, and yeast in the bowl of your stand-type mixer. Add the warm water and beat with a dough hook until it is partially mixes. (The purpose of this mix is to hydrate the yeast.)

2. Add the rest of the flour, the spices, the pumpkin, the salt, and the butter. Knead with the dough hook at medium speed for four minutes. When the dough comes together, add the raisins and continue beating for the remainder of the four minutes or until the gluten is developed. You will likely need to adjust the moisture level either by adding flour or water. Place the dough in a greased bowl, turn once, and cover. Set the bowl in a warm place and allow it to double in size.

3. Grease two 9 x 5-inch loaf pans. Form two loaves, cover them, and let them rise until doubled and puffy.

4. Bake at 350 degrees for 25 minutes or until done. The internal temperature should be at 190 to 200 degrees. Remove the loaves from the pans and let the bread cool on a wire rack.

Baker's Note: The pumpkin in this bread makes it very moist. Pumpkin has a very mild flavor and acts as background for the spices and this has a mild bread combination of spices. Add more spices if you prefer.

Cover Photo by Ildi Papp

Author profile: Dennis Weaver 

has written numerous books, articles, and recipes, including a guidebook for 

baking with pumpkin including recipes

. He is especially fond of pumpkin cheesecakes. (

See nearly 100 cheesecake recipes.

) He is the president of The Prepared Pantry, a seller of ingredients, kitchen tools, gourmet food, and baking mixes.

 

Original Article Source: http://www.articlesbase.com/food-and-beverage-articles/make-bread-pies-muffins-cookies-and-more-with-your-pumpkins-3647770.html

(Visited 887 times, 1 visits today)

Tags: