Germany in the wintertime is wunderbar! Fresh, cool, crisp winter weather –  oh yes, this is one cool place in wintertime, especially if you make the most of of some of the fabulous sights and opportunities on offer…
Garmisch-Partenkirchen
In a town about an hour from Munich you will discover Garmisch-Partenkirchen, you will find storybook houses, quaint bed and breakfasts, ski shops and ski hills. In this lovely town, you will meet friendly locals eager to greet you with "grüβe gott!", which means "god greets you", and share their charming Bavarian smiles with you.
In GAP, as it is locally known, you can test out the ski slopes that cater to the novice and avid skiers alike – head to Hausberg if you are a beginner where there are plenty of ski-schools. For those who are more adventurous try Alpspitz or the famous Zugspitz glacier (the top of Germany). You can also skate at the historic hockey rink or even try to learn curling. An experienced ski jumper will be thrilled to jump off the Olympic ski jump, but perhaps leave that for the experts and just take in the view instead.
Finish off your night with a lively meal at the famous, Gasthof-Fraundorfer (booking required).  All these attractions are within 10 minutes of each other. This twinned-town is the epitome of Southern Germany – if you have guests visiting from the USA for just a short time – head directly to Garmisch-Partenkirchen for the full Bavarian experience.
Neuschwanstein Castle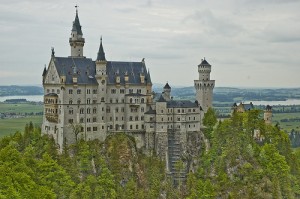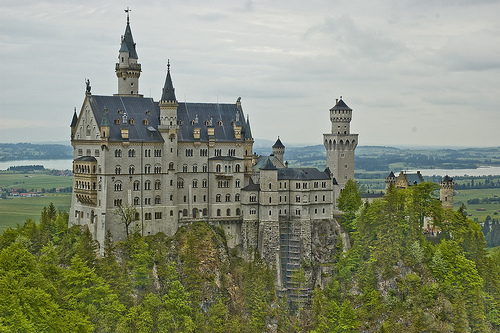 Ah, that beautiful masterpiece of architecture which inspired Walt Disney's Castle for Sleeping Beauty. Ascend the hills leading up to the castle for a truly breathtaking site. It is magnificent.
This castle was built by a shy King Ludwig II to escape public life. How ironic then that over 1.4 million visitors come here each year to marvel at the idyllic setting and unforgettable structure. A great tip is to buy your tickets for a tour in advance. Prices are €12 per adult. Children/young people under 18 years are free.
Schwarzwald, the Black Forest
When walking through the famous Black Forest it is hard not to imagine walking alongside characters from the famous takes of the brother's Grimm. If you enjoy nature, then you will simply fall in love with the Black Forest. The forest is more than 200 kilometres long and 60 kilometres wide, the Black Forest one of the biggest and best known holiday regions in Germany.
There are signposted walking trails of over 23,000 kilometres in the Black Forest and there is more than 8,000 kilometres of signposted cycle trails especially for mountain bikers.
But our tip is to find yourself a good slice of Black Forest gateau and enjoy the sites of the famous Bollenhut hats and cuckoo clocks from one of the many wonderful cafes and restaurants located in the numerous little towns and villages you will discover. The Black Forest embodies everything that one might expect of a German picture book holiday.
A Tropical Paradise in Berlin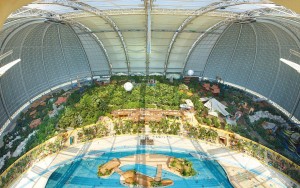 In case winter's chilly fingers have gotten to you already, head to berlin and surprise yourself in the tropics! About 60 km (37 miles) south of berlin, you will find a Tropical Island Resort in Krausnick. A former aircraft hangar has been transformed into Europe's largest tropical holiday paradise, including the world's largest indoor beach! Relax on the 'sun'-lounger as you sip cocktails whilst admiring the 50,000-plant forest – and enough space to fly a hot air balloon inside. Note: brace yourself for the reality of the weather before heading outside.
Cruising on the Rhine
If you happened to have been in Germany for a while, you may have already seen the cruise boats on the Rhine. Over New Year especially they offer a fireworks marvel you will not witness anywhere else. But thankfully its not just available over 'Silvester'. Board one of the many cruise liners along the Rhine and immerse yourself in a luxurious dinner and show. There are scheduled events that range from couples only to family-level of entertainment and varying four- to five-course dinner menus. Trips leave before dusk so your experience begins as you watch the sun set behind the hills of Sankt Goar and it only gets better from there.
Author profile:
This article was written on behalf of
No.1 Traveller
a well-known travel company who run airport lounges at airports around the UK as well as other pre-fly luxury options such as spas, bars and bedrooms.