If you talk to those who have traveled the world and checked off bucket list items like champions, you'll often hear a common theme: they've never explored the places they live. Their hometowns – whether in Germany, the U.S. or elsewhere – were often just places to hang hats until the next great adventure called.
And then COVID came along. Which makes the perfect exploration destination…your hometown?
Yes! Even if travel were not severely restricted, exploring your hometown (or city, or village, or hamlet) is a brilliant idea. You'll be amazed how much history, culture and adventure your little corner of the world might contain.

travelview/shutterstock.com
7 tips for making your hometown the perfect day trip (or day trips)
1. Do your research.
Germany has been continuously inhabited for more than two millennia. The net effect: pretty much every village, town and city has a surprisingly rich history. You can find Roman ruins, centuries-old churches, and incredible stories. So do a bit of homework. Start with the internet. Email tourist information offices. Act like the place you live is your dream destination. You'll be surprised what effort and a positive attitude will turn up.
2. Make your list of must-sees.
Reality check: the world only has a limited supply of leaning towers, pyramids, Brandenburg gates, and mountain peaks. But the sublime, absurd, sacred, and jaw-dropping can be found everywhere. Make a list of must-see destinations in your town. These can be anything: churches, trails, florists, streams, forests, museums, soccer fields, vineyards, ruins, pedestrian zones and gardens. Remember: the goal is to see your hometown in a whole new light.
3. Develop "theme" days.
The truth is, we may not be going anywhere distant for a while. And you're not restricted by hotels, road conditions or restaurant reservations with your hometown. So plan multiple day trips, each with its own theme. You could have a nature day. You could have a "see how many cool trees and flowers we can spot in our neighbors' yards" day. For those who live in larger cities, you could create walking routes that take you from park to park. Be creative. If you have children, this is a good time to involve them in the brainstorming process. They often see the world way differently than grown-ups do.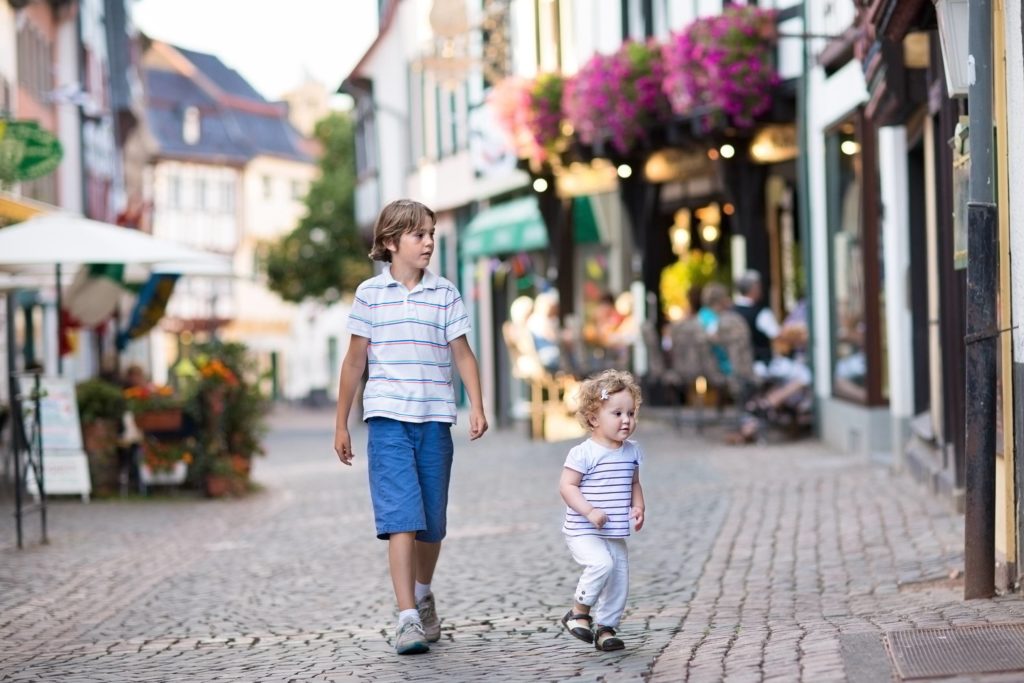 FamVeld/shutterstock.com
4. Build photo albums.
Photos are an excellent way to document your experiences as a hometown explorer. So snap photos as you "travel." Look for the best angles, and the best ways to see your hometown in a positive light. Post them to your social accounts if you want. Or create real or virtual photo albums. These mementos will become powerfully meaningful as time moves on – and especially after you leave Germany. It's often the little things that you miss the most, like walks in your neighborhood, the comfort of seeing your house as you come home, or the way the light looked in your hometown. Here's your chance to ensure you never forget.
5. Eat like a local.
This may not be the best time to take a foodie tour of every restaurant in your village, but you can sure learn to buy and cook like a local. Go to the butcher's shop and the bakery. Buy something German and unknown from your town's grocery store. Find German recipes and prepare them. Learn what it means to eat like your neighbors: you'll be surprised how much your taste buds and stomach can teach you about where you live.
6. Find the hidden gems.
One of the best parts about being a local is knowing where all the great stuff is in your hometown. So go find those things. Discover the beautiful forest trails, or the cute little neighborhoods no one knows about. Discover what specialties lurk in local shops. Delight in those things. More importantly, delight in the fact that you discovered them so near to where you live.
7. Explore other people's hometowns.
Now that you have a process for finding adventure in the unlikeliest of places, you can repeat it. Try the next village over. Or the local city. You don't have to travel hundreds or thousands of miles to be an explorer. You can do it on foot, today. The mysteries are out there, just waiting for you. Go unravel them!
Exploring your hometown
The best part? Even the most stringent travel restrictions usually allow you to leave your front door for a local walkabout. That said, make sure you adhere to all measures related to movement and hygiene as you explore your hometown.
For U.S. government employees, including service members, remember to always follow command regulations, which may be different than host nation policies when it comes to travel.