Something about Idar-Oberstein feels almost mythical. During the journey there, shadows and light dance through trees while two-lane roads wind through valleys and forests. When you arrive in the large town along the banks of the Nahe River, the mythic theme continues. Why? Because Idar-Oberstein made its name in much the same way as something from a Tolkien story: by mining precious minerals and sparkling stones.
And though the mining industry has long since stopped, Idar-Oberstein still manages to be shiny and profound all at the same time, and often in the same place.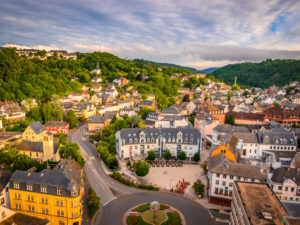 Olena Z/Shutterstock
A gem of a day trip
Idar-Oberstein is beautiful in many "standard" German ways, but it also is utterly rare in many other ways. As a bonus, the town is just the right size for seeing most everything you need to see in a day. Here are ideas for where to begin.
1. For people who love shiny things: Idar-Oberstein has two gemstone museums that are excellent for adults and children. Even if shiny stones aren't ordinarily your thing, give these a try. They will convert you. The German Mineral Museum offers precious stones from all over the world, while the Edelstein Museum offers gorgeous exhibits in a beautiful building that hosts one of the oldest museums in the Rhineland-Palatinate.
2. A church in the rocks. The Felsenkirche was carved into the side of a cliff more than 500 years ago. Even though access is temporarily restricted because of construction (a little upkeep every century or so doesn't hurt), it's still worth marveling at.
3. Not all who wander are lost. Idar-Oberstein is a treat for outdoor wanderers. Historic buildings abound, as do shopping and eating opportunities. Climb the hills. Check out the Schloss Oberstein, or pick out something precious (a stone or a ring, depending on your preference) as a gift or for yourself.
Dig it: the Steinkaulenberg Mines
To really appreciate the uniqueness of Idar-Oberstein, you have to see the Steinkaulenberg mines. This is the only gemstone mine of its kind in Europe that's open to visitors. You'll descend into a beautifully lighted, sparkling underground world, and it is a gorgeous experience.
There are plenty of opportunities for hands-on experiences, too. At the Weiherschleife workshop, located on-site, children can dig for precious stones, watch rock grinders work, or explore a beautiful outdoor area.
Due to the popularity of the Steinkaulenberg mines, reservations are highly recommended.
Getting there
By car, Idar-Oberstein is 20 minutes from Baumholder, slightly less than an hour from Kaiserslautern, about 1 hour, 15 minutes from Wiesbaden, and three hours from Stuttgart. Check the Deutsche Bahn website for train information.
For U.S. government employees, including service members, remember to always follow command regulations, which may be different than host nation policies, when it comes to travel.