Heidelberg is obvious and surprising all at the same time – which is one of the best combinations that travelers can hope for. Once you hit the city, its beauty is evident. Steep wooded hills rise from both sides of the Neckar River. A world-class castle ruin looms above an architecturally rich old town. The city center hums with youthful university-town energy.
And yet, Heidelberg only gets more rewarding as you start to explore it. Dig in, and you'll find journeys within journeys. For day trippers, this means a chance for incredible experiences in a short amount of time.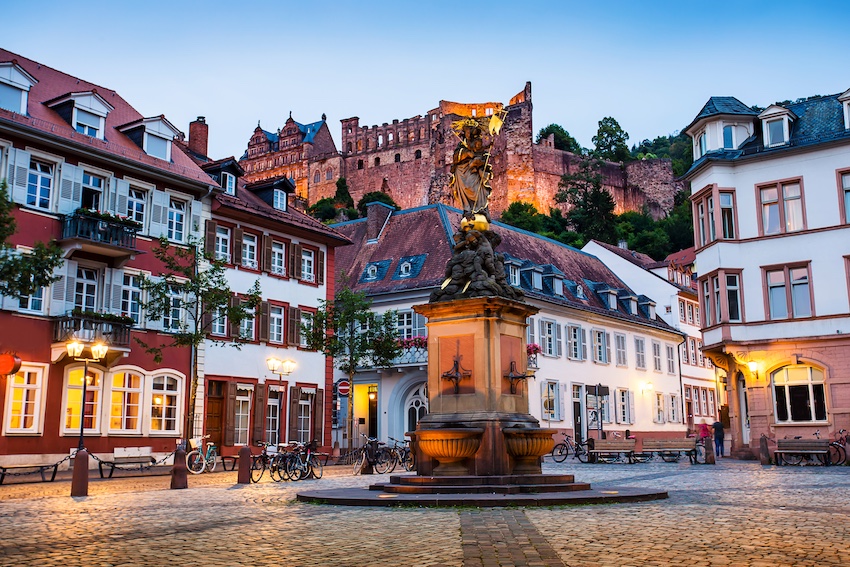 pim picShutterstock
Why Heidelberg?
Heidelberg is excellent for new arrivals to Germany and for grizzled travel veterans. In fact, it's a town that is perfectly suited for repeat day trips. Why? Let's count the ways.
Heidelberg Castle is Epic – especially if you choose to hike the steep stone ramp up to the entrance. Even if you take the steps or funicular, it still feels like you're conquering a mountain. Once inside the castle, the sense of largeness continues. There's a massive vat that was once used for collecting wine taxes, and there are long, dizzying drops over thick, sheer castle walls. Best of all, though, are the views found from the castle gardens.
Everything is Within Walking Distance. Deep breath. Heidelberg has museums, markets, shopping, restaurants, book stores, coffee shops, an amazing old bridge, reasonable parking, a river walk, historic churches, a lovely Jewish memorial, a thriving marktplatz, and a dizzying array of off-the-beaten-path photo ops. And you can walk to all of these things.
Seasons matter. Heidelberg looks and feels different depending on when you're there. Autumn means changing trees and university students treating a centuries-old town like it was young again. Winter means a sense of profound stillness once you push beyond the lively city center. Spring and summer bring riotous amounts of green and floral colors. Pick a season, then go. Then wait six months, and try it again. You won't be disappointed.
The One Thing You Have to See: Heidelberg Castle…from a distance
Heidelberg Castle is like a giant magnet that attracts visitors. You see it, and you can't help thinking, "I want to go there right this instant." And you should!

leoksShutterstock
But one of the rarest and best treats in Heidelberg is the view of the castle from the other side of the Neckar River. Leave the old town behind. Cross the famous Alte Brücke (Old Bridge), and begin to climb the famous Philosopher's Way as night falls. Move slowly up the steep path. Then stop, turn, and marvel at the castle (and the town) in all its well-lighted glory. Give yourself at least five minutes to bask in the view. And then you'll understand why the path you just walked was named for philosophers.
Getting There
By car, Heidelberg is about an hour from Kaiserslautern, just over an hour from Wiesbaden and approximately 90 minutes from Stuttgart. Check the DB website for train information.
For U.S. government employees, including service members, remember to always follow command regulations, which may be different than host nation policies, when it comes to travel.