Being a thrifty traveler, I always price out different planes, trains and automobiles. Most of the time you just can't beat the price of a Ryanair flight. If you are willing to give up a little comfort, then you will save! And to me, saving means more money for more trips!
What comforts are you losing?
You have to walk further to the terminal. But hey, this burns some of the calories that you are about to stuff yer face with on vacation.
You are not called into board the airplane in any order. Have you ever seen a Rugby Scrum?
The seats are harder than normal and they do not recline.
Don't plan on sleeping unless you can sit through the attendants selling stuff the whole time. Scratch cards, food, duty free and little baggies of hard alcohol.
Nothing is for free. Here you will have to buy your peanuts and tomato juice.
You will walk up and down the attachable stairs to the plane. Also you will either have to walk on the tarmac to the plane or take the bus out to the plane. (Perhaps packed like sardines, but that is normal on those buses.)
The baggage crew throws you your bags from the belly of the plane and you have to scream, "Mine! Mine!" to catch the right one. (Okay that one was a joke people!)
Here are 6 tips on booking a cheap Ryanair flight:
1. Parking: To save money, come very early and park at the parking lot as far away as possible then use their shuttle bus to get to the terminal. The farther away the spot, cheaper the parking costs.
2. Early Flights: Some flight are ungodly early and then when you add the 2 hours of being there before the flight it is now considered in the middle of the night to some. However these are normally really cheap! For example, out of the 3 flights that they have each day to London, the earliest one is the cheapest. Also to catch these flights and actually catch some zzz's before the flight you can stay right by the airport. Either stay at the airport directly at the terminal at B&B Hotel and roll out of bed into the check-in line. Know that the rooms are small, clean, very basic and the breakfast is expensive. Or you can stay right in town at a guest house and most let you leave your car there and they will drive you to the terminal in the morning. Bless their early waking hearts.
3. Fare Finder: The Fare Finder is a semi-new search option with Ryanair. A few years ago you had to manually check each variable of destinations and dates to find the cheapest flight. I am guessing due to the increasing amount of great flight searching websites like skyscanner, Ryanair had to step up their game. Here you can add your starting point and either chosen destination, or just check out whatever the cheapest flight is. When I had a free weekend, I use to just go to where the cheapest destination was. This is exciting because you really discover new places that you normally wouldn't have chosen.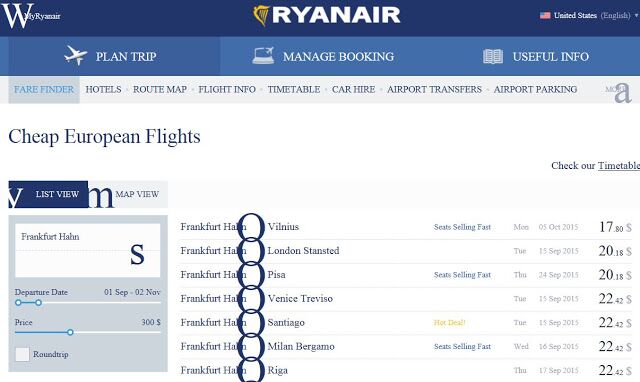 © Gemma
4. Debit Card: Once you found your cheap flight and you click "book", there are still ways to save. You receive a discount for selecting to use your debit card vs. your credit card. You save about 1 euro a person. It may not sound like a lot but it all will add up in the end, especially booking for a larger group.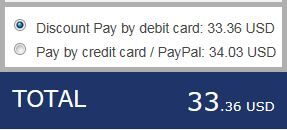 © Gemma
5. Extras: These are options you do not need: Reserved Seats, Checked Baggage and SMS Flight Details. They may look interesting but you will be charged for it. You will assigned a seat at the airport, so you do not need to reserve one. Pack all of your items into your 10 kilo carry on and then print your information instead of receiving a SMS. Adding those extras would have made my 33,36 euro roundtrip flight to 95,85 euro. A 62,49 euro difference!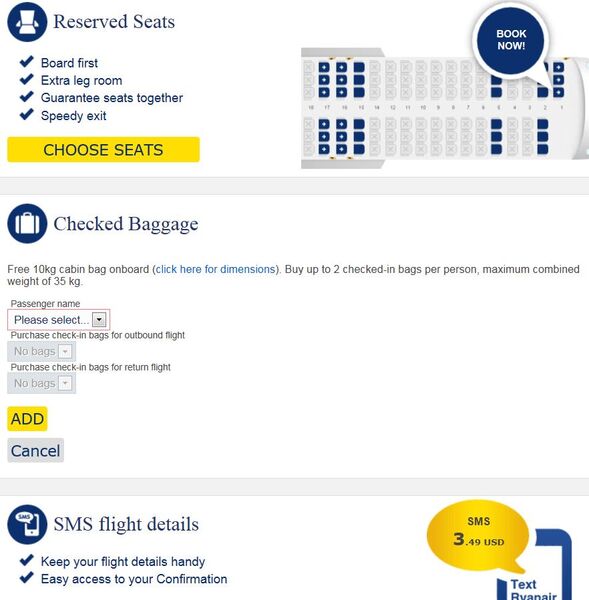 © Gemma
6. Follow the Rules: If you do not read the fine print you will be charged at the airport. Print out your boarding pass after you check-in from home! They will charge you for each page they print. Be there early! You cannot and will not be able to check into your flight any later than 40 mins before your flight is scheduled to take off. Even if it is delayed by an hour and you can see the people waiting on the other side… you will not get on. Finally, you have to pack light. To save you from throwing away your stuff (seen it/done it) or missing your flight, please pack very light. Think of this Ryanair journey as the new way to 'backpack through Europe'!
To learn more about this airline that we love to hate and then still always fly with them, check out the book: Ryanair: How a Small Irish Airline Conquered Europe.
About the author: Gemma is a mom, a veteran and an Army civilian living in Wiesbaden, Germany. With New Jersey roots, she is enjoying her extended European vacation.
Featured Image Photo Credit: © travellight/Shutterstock.com
Editor's note: I have arrived at the airport 5 minutes AFTER the gate supposedly closed and still had time to go through security and passport control before the first people had started boarding so don't sweat it but do try not to miss the highway exit (like I do every time, despite driving there many times a year). We lovingly call Hahn a bus stop and believe it's best to treat it that way rather than comparing it to an airport like Stuttgart or Frankfurt.