One of my favorite parts of summer is the opening of the beer gardens around Stuttgart. There are so many to choose from, it's hard to know where to begin. Most of us choose our favorite and may even have a "Stammtisch" (local table), but be sure not to sit at someone else's. That's a "BIG" no-no in Germany.
What's it all about?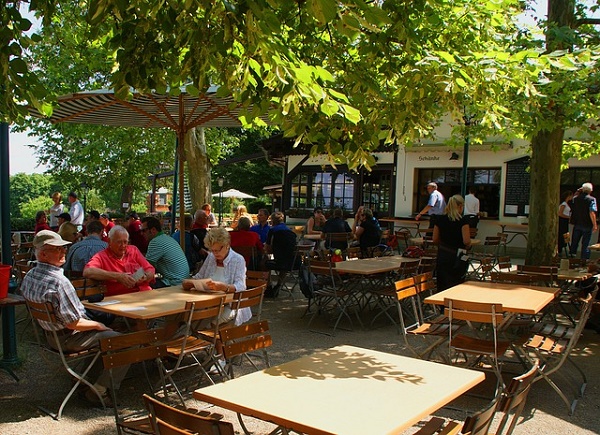 © Pixabay-ChorSpiegel
From the research I found, beer gardens began around the early part of the 19th century as part of the breweries from the Bavaria region to help promote their unique brew. They were competing with the local inns and taverns, so an ordinance was created that they could serve only beer but no food. People brought their own (similar to our "potluck" dinners in the States).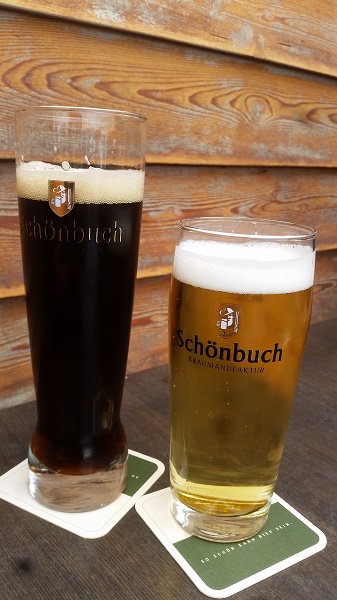 © Wendy Payne
Beer was kept in cellars under ice to keep from spoiling and then shared under the canopy of shady trees throughout the Bavarian region. The Augustinerkellar is the first recorded "Biergarten" in 1807. Here you can still enjoy a beer under the shade of chestnut trees in München.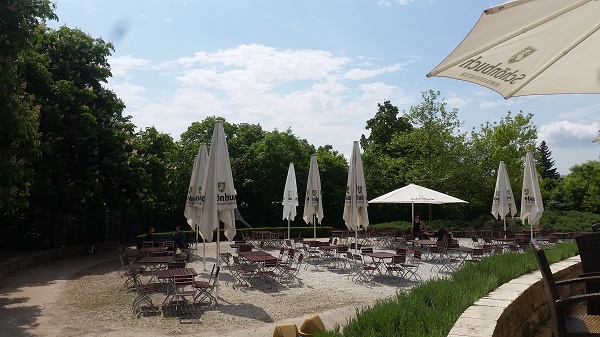 © Wendy Payne
What to Expect
Most beer gardens today have great menus with exceptional food choices. They usually have picnic tables or fest benches and are typically open only during the summer months.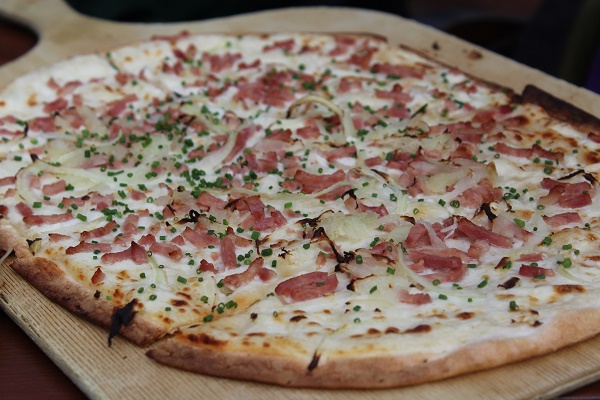 © Wendy Payne
Not all beer gardens are created equally; however, here are a few things you can expect.
*Many flavors of BEER
*Most seating is benches and fest tables with no backing to seats (you can bring a cushion)
*You MAY sit with strangers at your table (It's fun!)
*Some kind of music will be playing (sometimes a "live" band)
*Smoking is allowed at outside seating
*Informal attire, no white linen table cloths here
*Most do NOT take credit cards
Other things you may found:
*Playground
*Full-service restaurant (close by)
*Usually open late until  midnight or 1 a.m.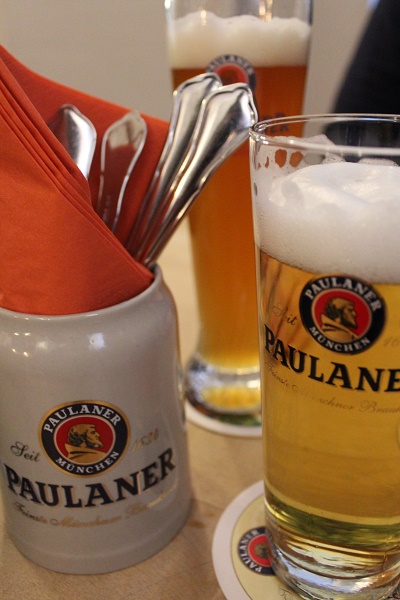 © Wendy Payne
The distinction between a beer garden in Germany and a terrace off of a restaurant is they are usually attached to a brewery. Although today, most restaurants that have the space do take advantage of the outdoor seating and sometimes still call it a "beer garden." Because after all, we are in Germany and they will be serving beer.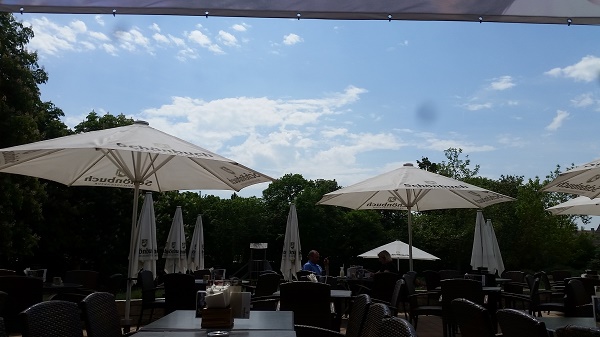 © Wendy Payne
What's on the menu?
Stuttgart is in Swabia (a dialect and cultural region of south central Germany.) Swabian beer gardens will typically have a combination of Swabian delicacies and Bavarian sticking with the roots of the beer garden.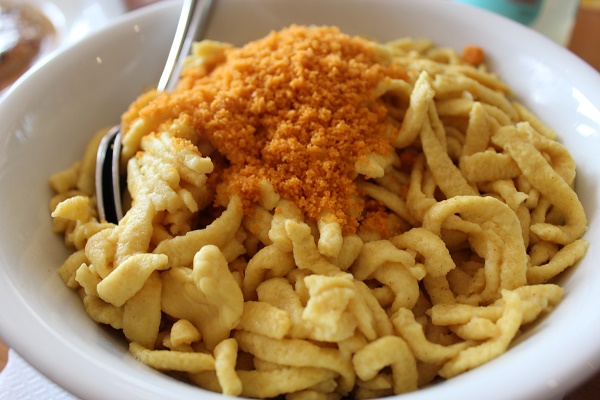 © Wendy Payne
I've seen everything from Maultaschen (noodles), sausages (for example, curry wurst or Nürnberger sausages), Obazda (a Bavarian delicacy of camembert, butter and cream cheese), pretzels and much more. Sometimes there are complete menus with Haxen (pork knuckle), Schnitzel (pounded pork/veal and breaded cutlet), Käsespatzle and Weißwürste (cheese noodle and white sausages).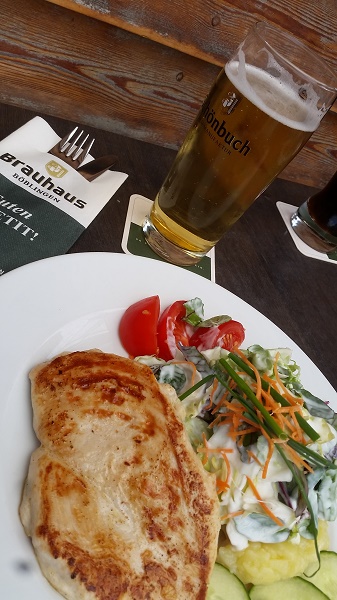 © Wendy Payne
Typically the beer gardens also have an extensive beer menu. They will have wine, but it's usually just one or two options (a red or a white). After all, it's all about the beer.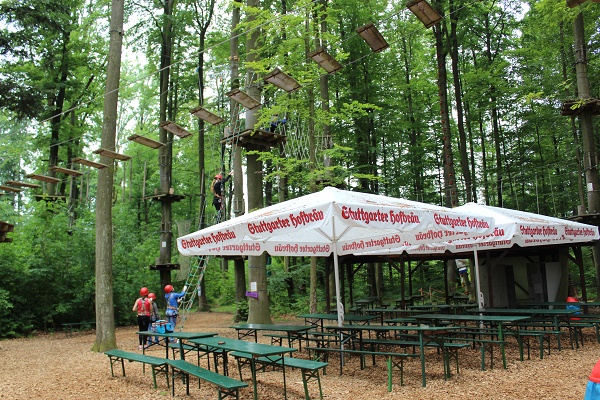 © Wendy Payne
Biergarten Around the Stuttgart Area
Here are a few of my favorites as well as some of my friends around Stuttgart and some from my friends. Thanks to those that chimed in on my social media quest to find the best ones of Stuttgart. Hope it helps!
Near Böblingen
Schönbuch Brauhaus: Great playground, full-service restaurant, beer tastings and great atmosphere
Near Möhringen
Echterdinger Waldheim Stuble: Great playground, at the edge of the woods and trails in Leinfelden-Echterdingen
Hasenheim Bonladen: Big umbrellas, great seating and playground, wonderful menu, does not take credit card
Cafe Linde: Great menu, tables close to the playground, all shady
Schwabengarten: Authentic Bavarian feel, MAKE reservations for a table, live bands (sometimes)
Near Vaihingen
Katzenbacher Hof: Wonderful location in the woods, large playground, great atmosphere, summer beer garden
Near Stuttgart
Tschechen & Sohne: Incredible views of the city, great beer selection, accessible by train, little bit of a walk
Hausbrauerei Mönchwasen: Brew their own beer, English menus available
Biergarten Stuttgart Schloß: Great location in downtown Stuttgart, easily accessible by train and for summer guests
This summer while the sun is out and the kids need to play, and let's face it, you might need a break too, why not join in the fun and try out one of these beer gardens. I have met some great people and had amazing conversations while watching my kids do flips on the monkey bars and swing out of control on the swings.
Author's Profile: Wendy Payne is a military spouse and lives with her family in Stuttgart, Germany. She is a freelance writer, blogger and photographer. She also enjoys gardening, hiking, yoga and sharing Europe with people.
Featured Image Photo Credit:  © Wendy Payne