The village of Wolfstein held its annual spring Kulinarische Wanderung, better known to us Americans as a culinary hike, on the 24th of April. This was the 4th annual hike in Wolfstein, which is a 6-kilometer "Panoramaweg" or "panorama path".
Fitness, Food and Wine
Having perhaps overindulged while living in Germany for the past three years, I have slowly noticed that my clothes are a bit tighter and I find myself leaning towards leggings with an elastic waistband far too often. The problem is that I love to eat. Oh, and I love wine. I believe I have found the perfect solution to my situation.
I have been trying to convince my husband that we need to take up hiking as a hobby. I have no idea why I think this is a good idea. He stares at me blankly when I ask if we can just try it one weekend. So, I decided to put a spin on it and convince him that a culinary hike on a "path" would be easy. Toss in food and wine every couple of kilometers and it is practically impossible to refuse! This was the tactic I used to get him to agree to the Wolfstein Culinary Hike. He was gracious and cooperated.
Unfortunately, the weather did not.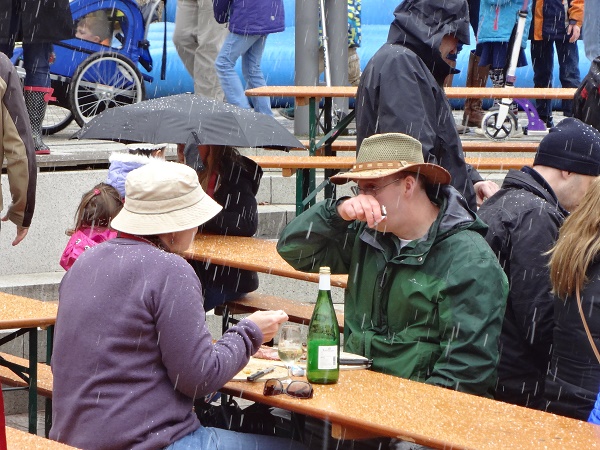 © Cheryl Koller
What To Expect at A Culinary Hike
We arrived at the starting point for check-in, which is at the Rathausplatz in the center of Wolfstein. We purchased two passes for 14 €, took our wine glasses and set off on our journey. There are six stations along the culinary hike and wine is available at each station for 1,50 €. They call this a "tasting", but the pour was really more of what I like to call a "Georgia pour".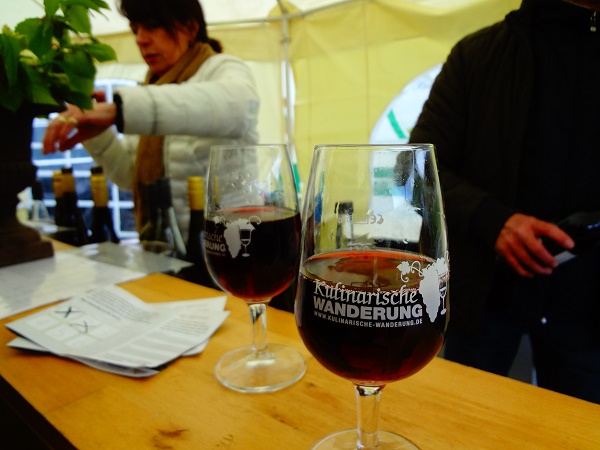 © Cheryl Koller
The welcome table provided a guide to all the stops, information on the wine and food offerings at each stop, and suggested pairings for those wines. They also provided each person participating in the tasting with a card to be stamped by each vintner. Those returning with a fully stamped card were awarded with a beer. How's that for motivation?
Each station had a different vintner with several selections. It was also possible to purchase other wines that were not on the tasting list for as little as 3,00 €.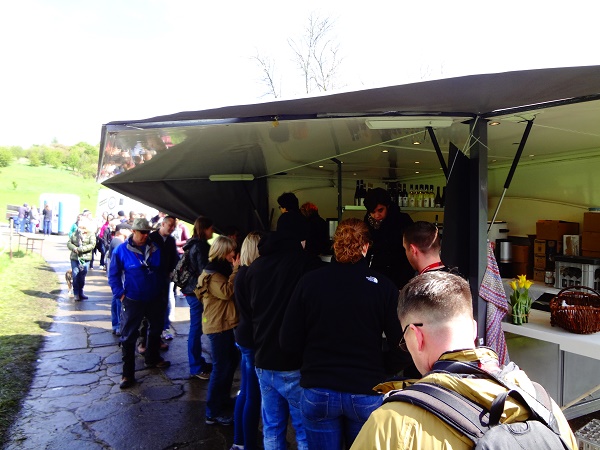 © Cheryl Koller
As I mentioned, the weather was a bit rough on us at the start. As soon as we started our hike, it began to rain and hail. Our outlook was not very good at this point. We decided to at least wait it out and see if we could get to the second station, try some wine, and enjoy some Mediterranean red wine meat. We made it under the tent with food and wine in hand, as the wind began to blow hard and the hail began to fall again.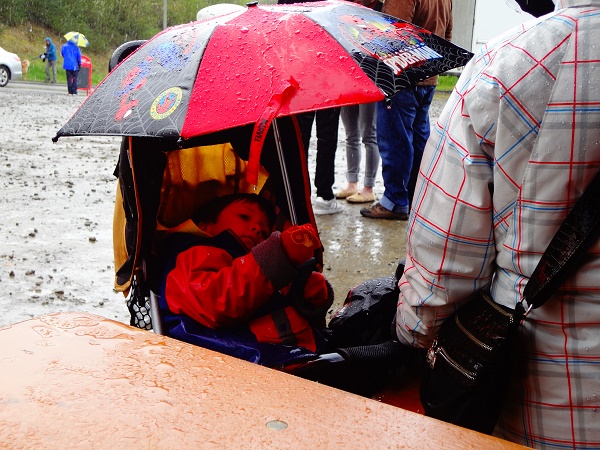 © Cheryl Koller
Fortunately, we brought our good attitudes and shortly after the hail stopped, the sun began to shine. No more rain for the rest of the hike!
The Beauty of a Culinary Hike
This scenic culinary hike takes you onto the Koenigsberg Mountain with an amazing view of the Lauter Valley below. Signs are strategically placed along the path so that no one gets lost and there were a few times when we were alone on the path.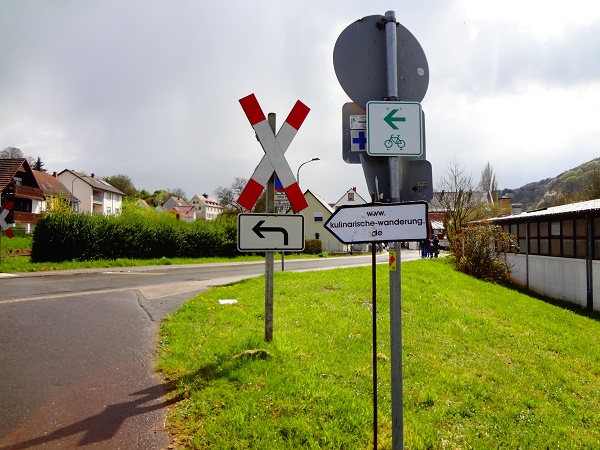 © Cheryl Koller
We even had to cross over a wooden bridge into a horse pasture, which was exciting and messy all at the same time. Being from Georgia, it sort of felt like home.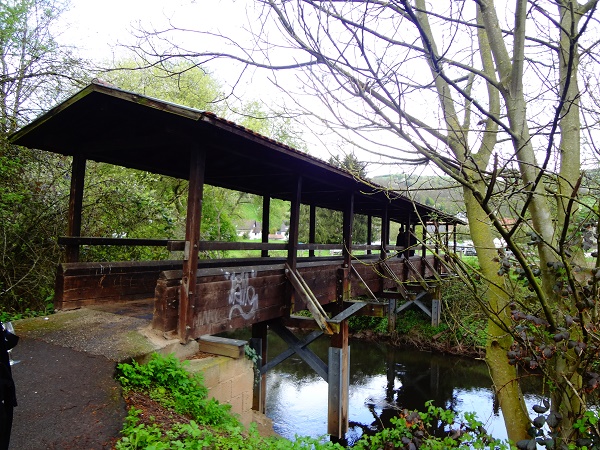 © Cheryl Koller
We did manage to stop at each station to get our "tasting". The busiest vendor by far was the vendor serving smoked salmon.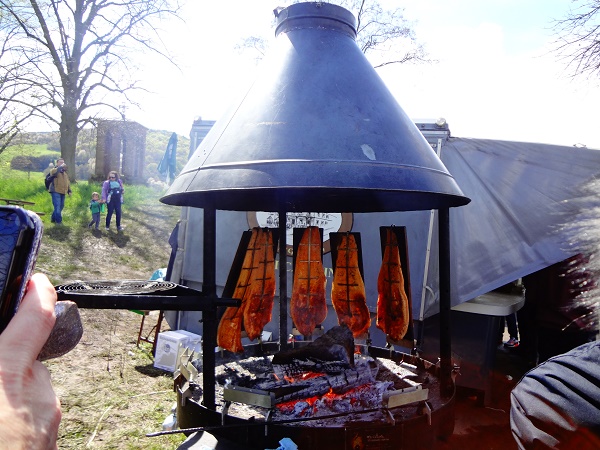 © Cheryl Koller
We would have loved to try it, but my lack of patience would not allow it. So, we sat on a bench overlooking the valley and enjoyed our wine.
© Cheryl Koller
This was pretty much the halfway point and some decisions had to be made. We could turn around and go back or continue up the mountain. I'm not sure if it was the wine, but I heard myself saying that I wanted to do the full 6 kilometers. I do realize that either way at this point would have been 6 kilometers; however, we were only halfway up the mountain with a lot more UP to go. I remember thinking at this time that I know why we do not hike. Perhaps if we added wine every time, I might be a little more excited.
Nearing the End
Coming up to the last station was a breathtaking view. The Rapeseed was in full bloom and that burst of yellow is just stunning. We decided to take a break here and take some pictures. The last station seemed more like a dessert stop with only sweet wines and strawberries with whipped cream. Kind of like a reward for making it to the top of the mountain.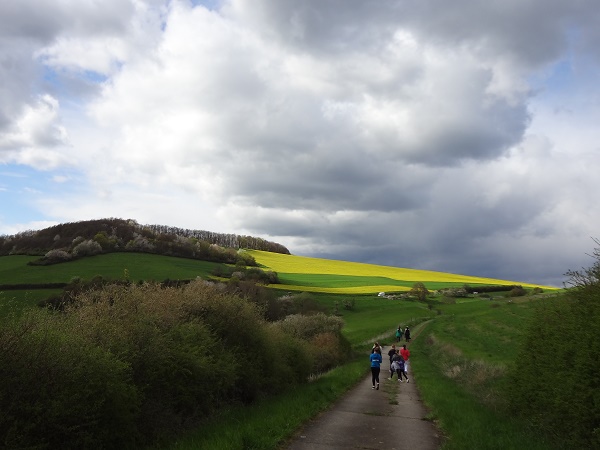 © Cheryl Koller
Family Friendly
Since this path was a paved path, it was easy for families to bring along strollers, kids to ride bikes or scooters, and for any pets to keep their paws out of the mud. The frequent stops meant that everyone could travel at their own pace, making it easy for kids to keep up and rest when needed. As any parent knows, keeping the kids happy makes the experience for the entire family much more enjoyable. There was a bouncy house at the end of the hike back at the main city center, so that the kids had something to look forward to and parents had something to use for motivation.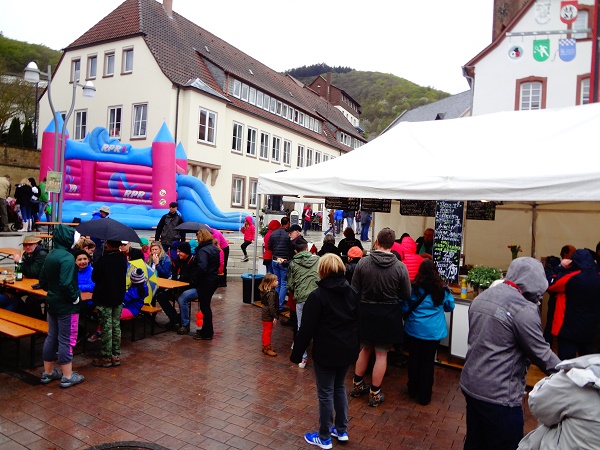 © Cheryl Koller
This was an experience that we will definitely want to repeat. I have already been searching for future culinary hikes in the area.
How to Get There
The drive to Wolfstein is approximately 35 minutes northwest of Kaiserslautern, 1 hour and 25 minutes southwest of Wiesbaden and 2 hours and 40 minutes northwest of Stuttgart. Click on DB Bahn for more information.
Author's Profile: Cheryl Koller is a native of Georgia. She is a DOD spouse, mom of 4 daughters (2 adults, 2 teens), thrill-seeker, avid traveler, and lover of food and wine. She is a self-proclaimed Freedom-Preneur and Blogger currently living in Ramstein with her family.
Featured Image Photo Credit: © Cheryl Koller