The highest ski resort in the immediate vicinity of Innsbruck, Axamer Lizum is playing to host to a ski tourers paradise right now. The frequent snow falls have covered the ski area and yet the lift system is still some 2 weeks from opening – enter the ski tourers. Over recent days the car park in Axamer Lizum was as full as you see it in peak winter with legions of ski tourers making their way up the slopes for a rendezvous with scores of fellow ski tourers and a closed restaurant at the summit of Hoadl, the top point of the lift accessed ski area. Snow in the upper sections was deep powder whilst skiing was possible right down to the base-station at 1560m. The skies have been sensational with a weather system sat over the Italian border that has been sending wispy high altitude clouds over the region.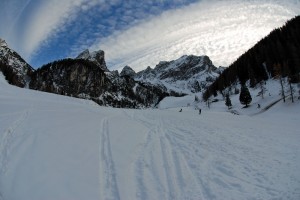 By the end of the month the paradise changes hands and those who make their way up the mountain by ski lift are set to claim the territory back. As well being the highest ski holiday resort around Innsbruck, Axamer Lizum offers some fantastic off-piste terrain and scenery not far removed from the Dolomites – the rock bowl in Lizum really is as dramatic as it gets.
Frequented mainly by Innsbruck locals the Axamer Lizum ski area offers a great run down to Goetzens or slightly further Mutters. There is still no lift back from these ski areas to Axamer Lizum so do this run earlier in the day to return by ski bus or make it the last run of the day. The route begins with a red piste flanked by some fantastic off-piste, a long traverse through wonderful forest and then the descents into Goetzens or Mutters. From either of these locations it is easy to get back down to Innsbruck after some base-station apres ski. Axamer Lizum is well worth a visit – just don't all descend on this area at once, it is my local hill and I rather like the untracked powder just as it is 🙂
More information on Axamer Lizum – http://www.skiingaustria.co.uk/axamer-lizum.html. Image © Skiing Austria.
Author profile:
Matt Brown
 is a director of Skiing Austria. The company has an office in Innsbruck, staff ski the Austrian Alps from September through to June and arrange group ski trips to all Austrian resorts. Skiing Austria can be reached through
info@skiingaustria.co.uk