"That wasn't a museum. That was an adventure" were my friend's first words when we left and it really was. Gondwana – Das Prähistorium sums up the history of the world in an action-packed and educational day trip that visitors of all ages will never forget. In a way it's like taking a trip around the world, except all inhabitants are.. well.. extinct.
The museum is basically a theme park. 10 thousand square metres of indoor ground invite you to dive into an experience you can not find anywhere else. The round tour is separated into three different eras: pre-dinosaurs, dinosaurs and post dinosaurs, to say it simply (with me not being a scientist and all). There is a 3D or 4D movie for each section and you will be astounded by their elaborate set decorations. Have you ever been to a cave, including an animated aquarium, a canyon, including an actual waterfall, a tropical rainforest, a snowy winter wonderland, a desert and so much more in a single day? I hadn't either but now I can't remember my life PTT. Pre Time Travel. Duh? An English audio guide is available to translate every show and poster.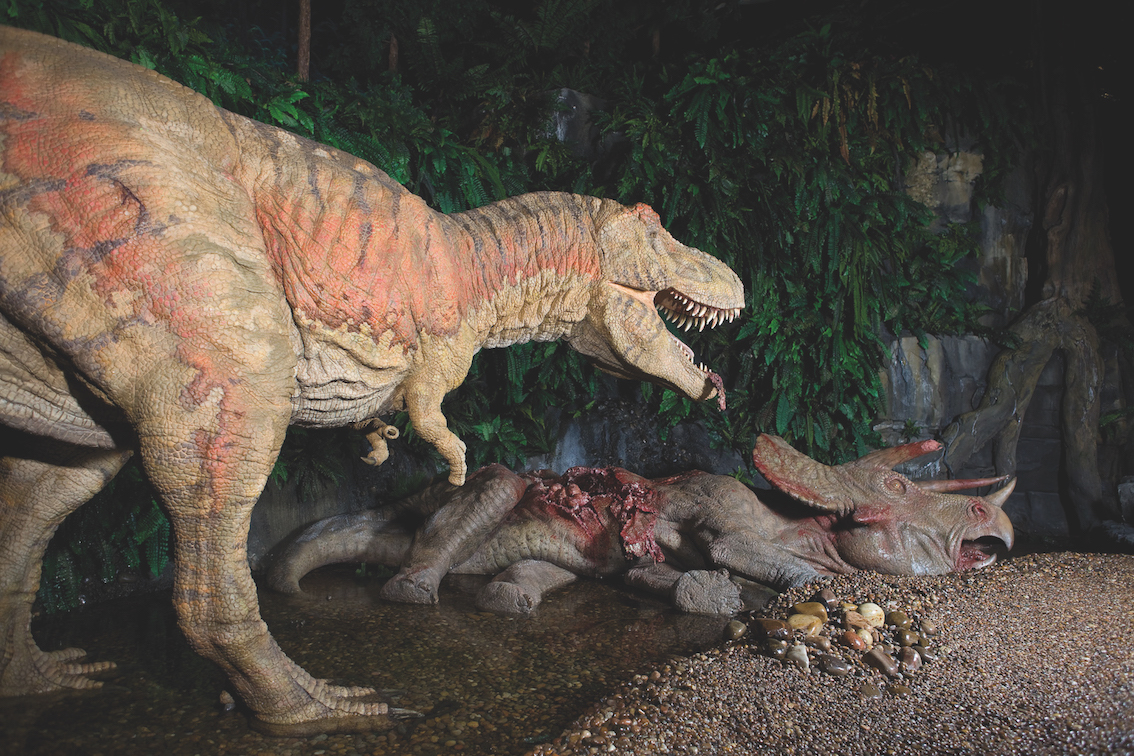 Gondwana - Das Prähistorium
Once you've made it to what I'd like to call a real-life Jurassic Park, you may need to have The Talk with your children. You know, the one where dinosaurs are actually dead because the life-sized animatronic figures look creepily real and I won't lie, the great T-Rex's roar triggered a few tears in little adventurers around us. A spectacular 4D movie concludes the gigantic creatures' astounding lives and unfortunate end.

Gondwana - Das Prähistorium
Coming up is my personal favorite: the journey through time. Thanks to a new time traveling device, visitors can get a glimpse at the complete history of humans. You start in a spaceship in 2005, make your way to an industrially revolutionised England, go on to South America around 1540, continue in medieval German misery, discover old Egyptian pharaohs, witness life during the early bronze age, encounter a frosty mammoth and walk all the way to when we still looked more like monkeys than humans, circa 47 million years B.C. Every hall is designed with attention to detail, educational posters give more information on the respective time zone you're standing in and photo ops make sure this trip does not remain undocumented in your family album.
"The world's biggest dino show" will have you on the edge of your tree trunk seat when a life-sized T-Rex confronts his enemy, which happens to be three times as big, trying to protect his little ones. Who will win? There's only one way to find out!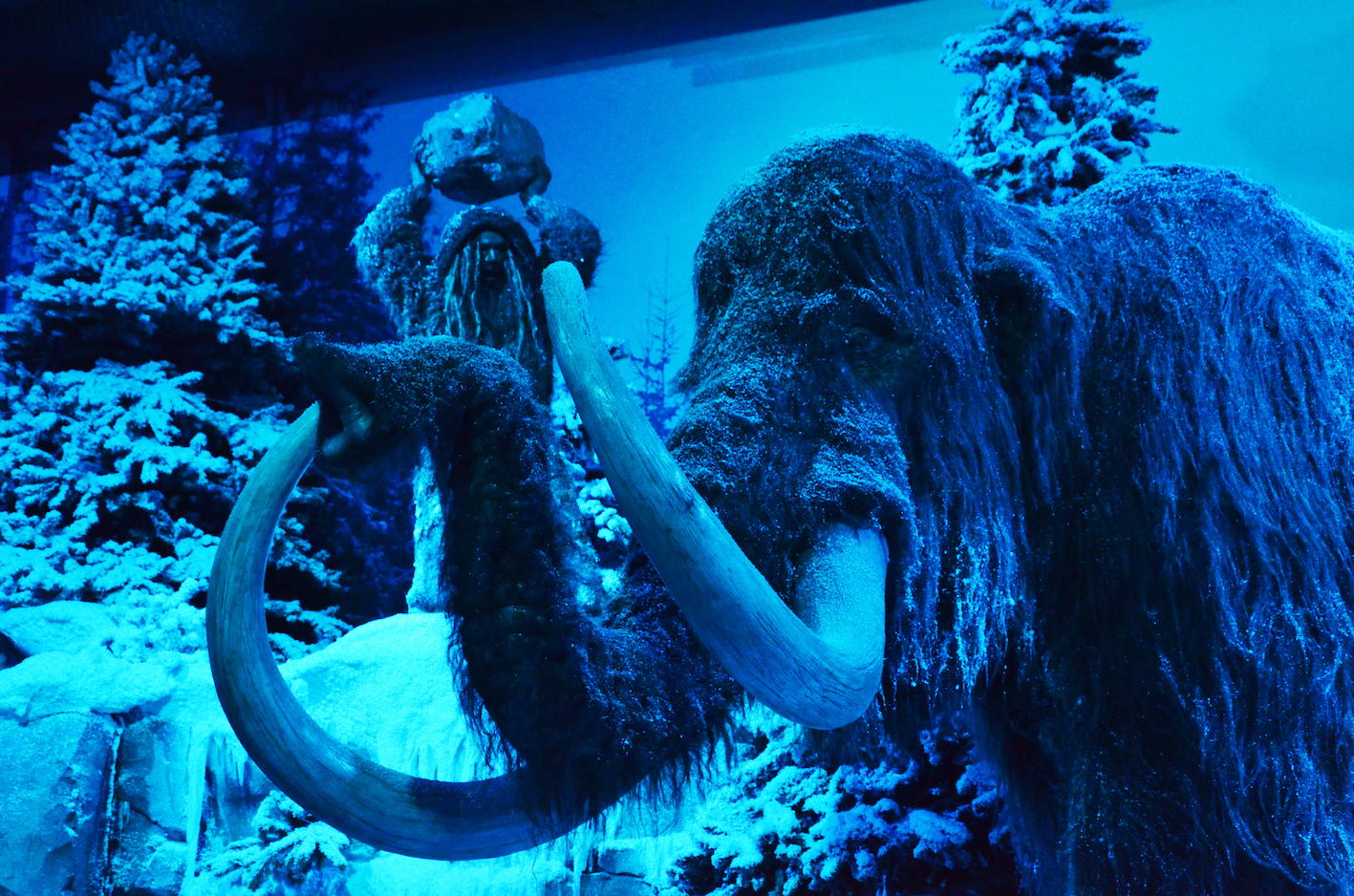 Gondwana - Das Prähistorium
We had no idea what to expect when we showed up there- two adults in a kids' museum?- but we absolutely loved it. There is much to learn and even more to discover. We would have probably spent the whole day there if we had tried to see every beautiful detail. The recommended age is 6+ and while I know younger ones will love the exhibition just as much, it is rather dark in there and the sound effects are quite realistic: terrifying. (In a good way, that is.) While there are a number of 'Achtung' signs upon entering each theme, all of which should be respected, I was happy to find that no actors or sorts jump out at you unannounced because I tend to scream very loudly and inconvenience my fellow visitors that way.
So if you don't know if you should spend your rainy/ sunny/ windy/ hot/ cold day at the zoo, museum, movie theatre, playground or across the globe: Godwana's got it all, regardless of the weather.
Adventure Playground
After your safari you can enjoy a cup of coffee or tea and a variety of snacks at their café while those that still can't get enough action discover the adventure playground. On days you don't want to do the whole tour, you can get a ticket for the playground for €4.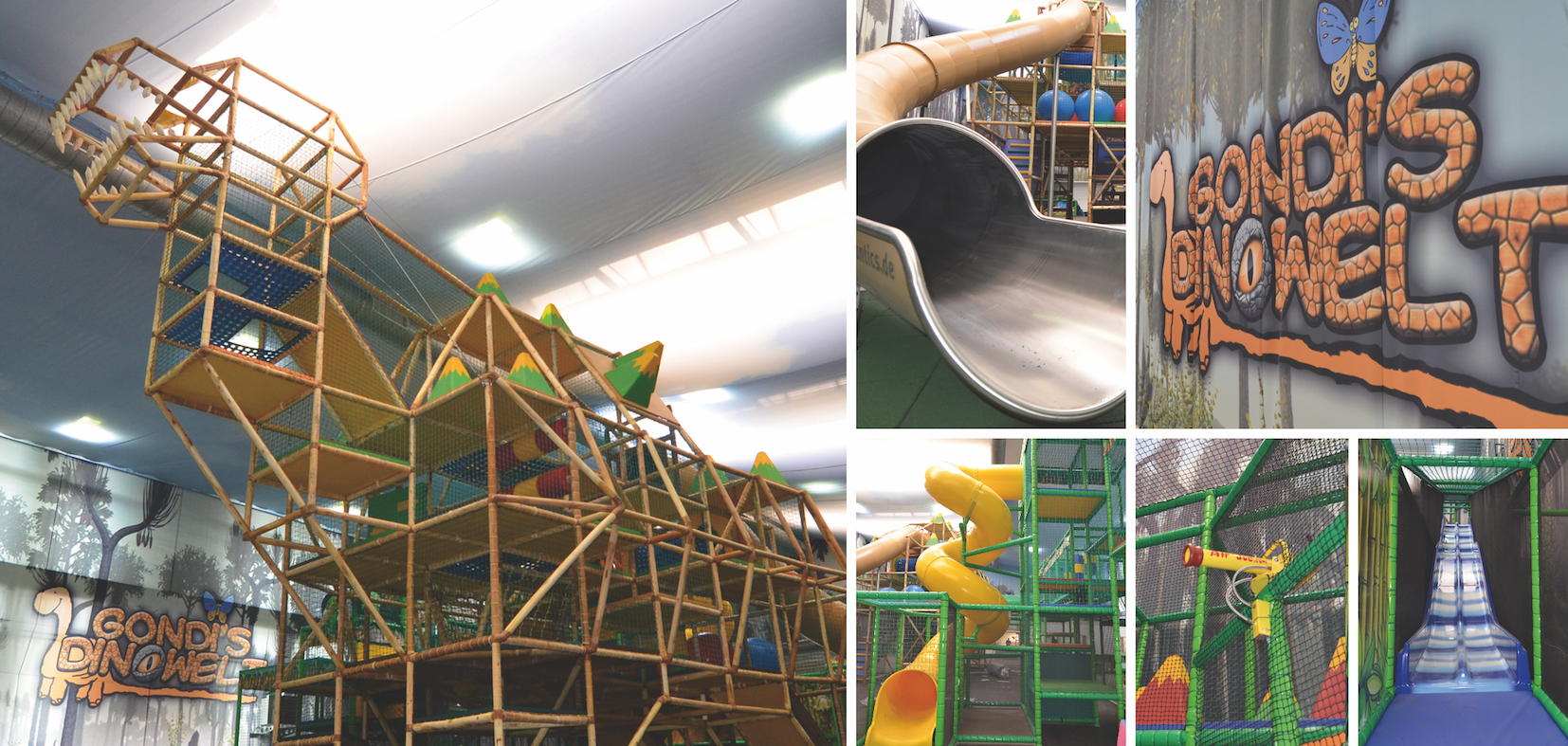 Gondwana - Das Prähistorium

Getting there

The museum is in Schiffweiler, less than a 40-minute drive from the KMC, c.a 1.5 hours from Wiesbaden and 2.5 hours from Stuttgart.

Admission costs €23 per adult, including all 3 movies. Kids and youth between 5 and 17 cost €17. Children under 4 get in for free. It's not cheap but definitely worth it given the broad variety of medias used to make history as interesting and touchable as possible.

Military ID holders receive a 10% discount on all tickets. Every first Friday of the month, there's a 20% discount on family tickets for military personnel families.

Free parking is available on site.

It's open every day of the week almost all through the year, please check their official website for more details.

Author's profile: Leonie is a poetry-loving literature student with a passion for small towns, road trips, and breakfast food that's being served at all hours of the day. When she isn't hopping from one bargain flight to the next, she is making sure you're hanging with the locals and staying updated on events in your area.

(Visited 647 times, 1 visits today)

Tags: