For many a road-tripper, traveling through Germany evokes images of storybook villages surrounded by lush forests, castles perched high on mountaintops, or mysterious Roman or Celtic artifacts in unsuspecting locations. Aside from having some of the best road conditions throughout Europe, Germany has taken a lot of the guess-work out of planning by naming routes that highlight particular interests. Would you like to see castles? Take a drive on the Burgenstrasse (German Castle Road). Want to travel in the footsteps of the Romans? Follow the Romantische Strasse (Romantic Road). Do you like medieval villages or timber-framed houses? If you answered, yes, then read on.
The Deutsche Fachwerkstrasse (German Timber-Frame Road) was created in 1990 by the Historische Fachwerkstadte e.V. or ARGE (Association of Historic Timber-Framed Towns). The ARGE connected historic villages from the northernmost part of Germany to the southernmost tip overlooking the Bodensee. The German Timber-Frame Road is approximately 3,000km long and is divided into seven sections and crosses through six states.
The process of timber-framing is one that has clearly stood the test of time. Many of the timber-framed villages in Germany are close to 1000 years old and some, older. Timber-framing involves building a structure with notched beams secured by wooden pegs. The gaps between the beams are called panels (Facher in German). The panels are filled with any of a variety of materials that contain insulating properties such as: brick, sticks, hay, or more commonly, wattle and daub. The coating of daub has many recipes, but generally was a mixture of clay and chalk with a binder such as grass or straw and water or urine. The panels were then covered with a type of plaster and sometimes painted, but the timber beams were left exposed, creating a stylistic effect.
In Germany, the timber structure usually sits on a base of concrete or brick so that the exposed timber beams begin well above ground level. These historical half-timbered structures are protected in Germany and should the owner of a historical timber-framed house want to renovate, they must first seek approval from the German government.
Many of the villages on the German Timber-Frame Road remain intact even after hundreds of years which only helps to draw tourists and increase their popularity. Below, is a list of ten of the most beautiful timber-frame villages in Germany, most of them, can be located along the Deutsche Fachwerkstrasse: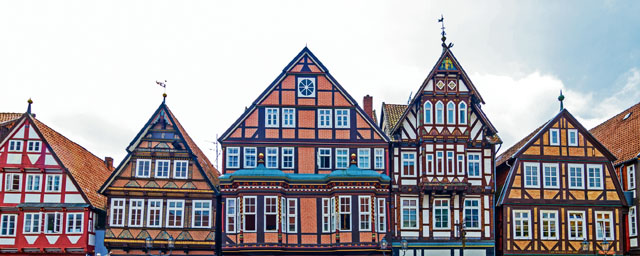 Raymond Thill / Shutterstock.com
Stade: Beginning at the northernmost tip of the German Timber-Frame Road, and about 45 km west of Hamburg (approximately 650k north of Kaiserslautern), is the village of Stade. Stade sits on the river Elbe, in Lower Saxony. The first mention of Stade was in 934, but traces of human settlers have been found in the area that date back to 30,000 BC. If you're planning a trip along the Deutsche Fachwerkstrasse, Stade is a good place to begin, especially if your trip is only going to be one-way. www.stade-tourismus.de
Quedlinburg: Southeast of Stade and slightly off the Deutsche Fachwerkstrasse, is the village of Quedlinburg. In 1994, UNESCO designated the village of Quedlinburg a World Heritage site. Even though it is not located on the Deutsche Fachwerkstrasse, the village of Quedlinburg deserves a mention and to be added to the list of the most beautiful German timber-frame villages. Like much of Germany, Quedlinburg suffered extensive damage during the 30 Years' War. However, the village was quickly able to begin rebuilding. During this period, it developed its own style of half-timbered construction. Diamond cuts at the ends of the horizontal beams and projecting bays mark the construction style of this period. In addition to being one of the three cities in Germany known for holding the most important collections of church treasures, Quedlinburg houses the tomb of the 10th Century German King Henry in the Church of St. Servatius. Quedlinburg is located approximately 500 km north of Kaiserslautern, direction Leipzig. www.quedlinburg.de
Part 2 is coming soon!
About the author: Ruth Cuevas is a freelance writer, Adjunct Professor and Yoga instructor who has lived in six countries in three continents since 2008. Her writing can be seen in ATOD Magazine www.atodmagazine.comand Elephant Journal www.elephantjournal.com. You can follow her travels on instagram at @mymotorcyclediaries. Her goal is to keep her blog updated www.mymotorcyclediaries.net.