Germans love a good summer barbecue as much as Americans do but what they put on their plates doesn't exactly resemble hot dogs, burgers and co. These recipes can easily be prepared in advance to make sure you can enjoy the evening with friends or family instead of being stuck in the kitchen while pit master and guests are already sipping rosé in the sun. Bonus: most of them can be modified to taste to help you include your favorite ingredients or get rid of whatever's left in the fridge. Feel free to substitute away!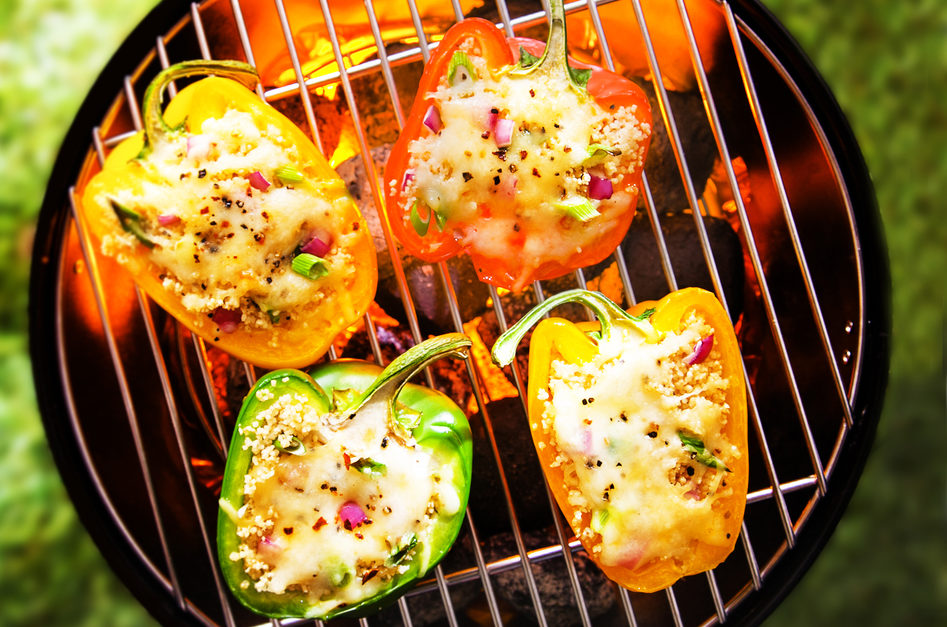 stockcreations / shutterstock.com

SIDE DISH
Stuffed bell pepper
Here's a staple on German dinner tables that is often made in the oven but works perfectly on a grill as well. Many recipes call for whole peppers but this way they are done much quicker and you bear a lower risk of burning the edges. Try to look for symmetric bell peppers when shopping to make sure they don't fall over on the tray.
Start to finish: 15 minutes (+25 on grill)
Servings: 6
3 bell peppers
10 oz (300g) feta cheese
10 oz (300g) cherry tomatoes
4 oz (130g) spring onions
1 oz (20g) chives
2 tbsp soy sauce
2 tbsp olive oil
half a clove of garlic, crushed
salt, pepper, chili flakes
shredded cheese of choice
Preheat grill to lowest flame.
Cube feta, tomatoes, onions and put them in a bowl.
Season with soy sauce, olive oil and and spices.
Mix well.
Scoop out the washed and halved bell peppers' insides.
Stuff them and sprinkle shredded cheese on top.
Put on an aluminium tray and close the grill's lid.
Broil for 25-30 minutes.
Check frequently to make sure the edges don't burn.
Tip: Add minced meat to use it as a main dish.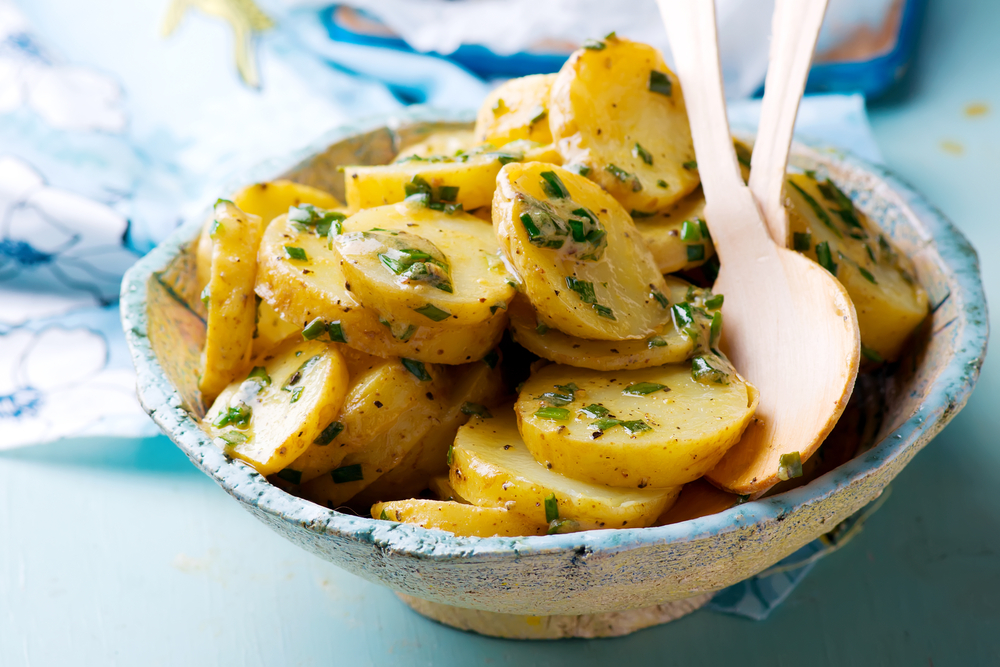 zoryanchik / shutterstock.com
SIDE DISH
Hessian Potato Salad
Every German will tell you how you're preparing your potato salad is wrong. It's not personal. It's regional. Using mayonnaise is a classic way to go but not summer-friendly. In fact, most German schools and preschools prohibit dishes containing mayonnaise at official gatherings. So here's the Hessian way. The only way, if you ask my grandmother: simple, hearty and safe to sit in the sun.
Start to finish: 10 minutes (+30 to boil potatoes)
Servings: 4
2lbs (1kg) potatoes (any waxy kind will do, e.g. Annabelle / Galatiner)
1 cup vegetable- or beef broth
7 tbsp. vinegar
1 onion
1 tbsp. mustard (optional)
chives, parsley, salt, pepper
4 tbsp. vegetable oil (e.g. rapeseed- or sunflower oil)
Boil the potatoes (a day in advance, if possible) and store at room temperature.
Sauté the finely chopped onions.
Dissolve the mustard in broth; let cool.
Thinly slice the potatoes.
Fold the potatoes in the broth-, vinegar-, oil- and spice mixture before adding onions, chives and parsley.
Tip: my grandma serves it with crispy strips of bacon and cherry tomatoes on top.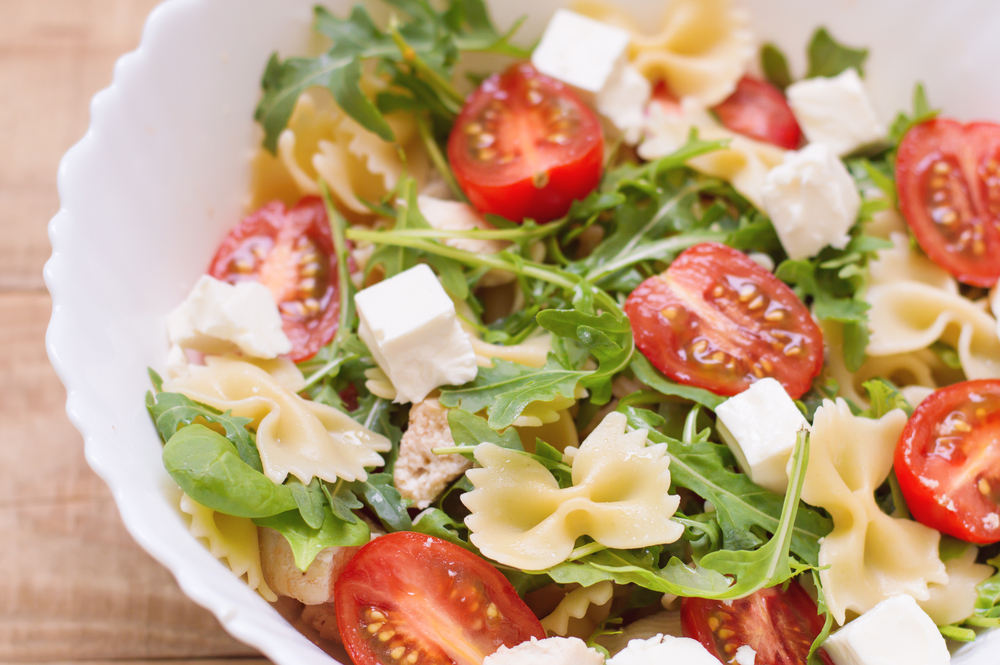 shutterstock.com / VeronikaSmirnaya
SIDE DISH
Arugula and Pasta Salad
Pasta salad can probably be found at every single BBQ buffet in Germany. Why? Because it's delicious, nutritious and quick to make. Experiment with different vegetables, meat, cheese and more to find your personal favorite.
Start to finish: (+10 to boil pasta)
Servings: 4
10 oz (300g) pasta
10 oz (300g) arugula
20 cherry tomatoes
15 dried tomatoes
1.5 bell peppers
3 oz (80g) nuts or seeds of choice
7 oz (200g) soft goat or feta cheese
8 tbsp. balsamic vinegar
2 tsp. mustard
4 tbsp. honey
6 tbsp. vegetable oil
Salt, pepper, chili flakes, cumin, turmeric
Boil the pasta according to its package and let cool.
Dice the vegetables.
Roast the nuts in a hot, oil-free pan. This only takes a few seconds so make sure not to take your eyes off it.
Mix the dressing (season to liking) and pour over the noodles and vegetables.
Sprinkle cheese and seeds on top.
Tip: Perfect to take on the go. Store it in Tupperware and off you go to picnics, parties, school or work.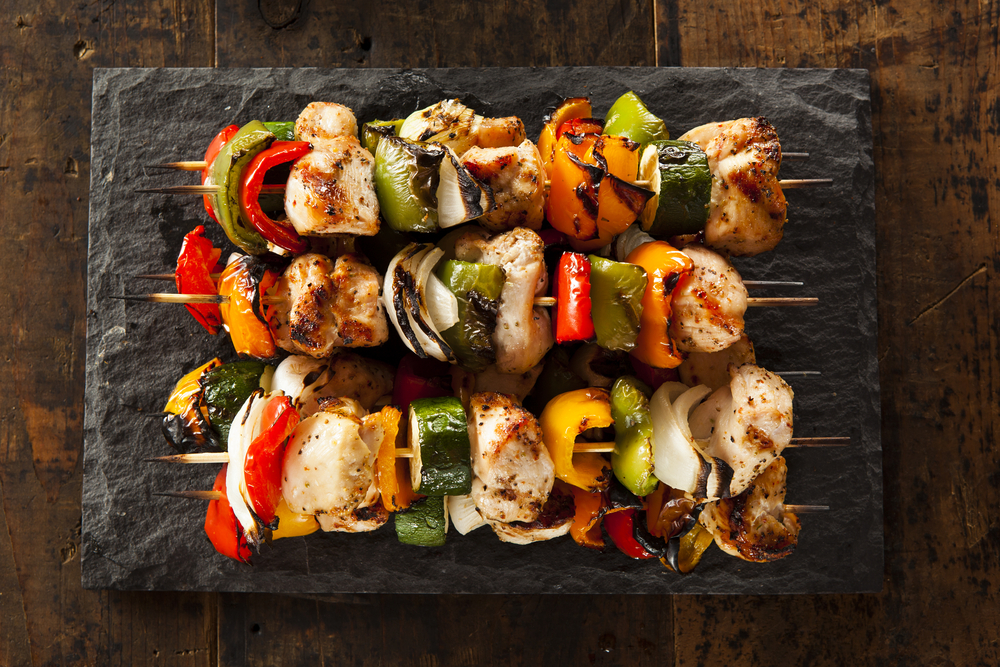 Hofacker / shutterstock.com
MAIN DISH
Shashlik kebabs
Voilà, another easy dish that bursts with flavor, protein and vitamins. Children can help with the assembly and choose their favorite vegetables to make sure everyone is happy. Feel free to experiment  with fruit like pineapple or papaya to find out what you like best.
Start to finish: 15 minutes (+ time on grill)
Servings: 4
18 oz (500g) chicken
5 tbsp. olive oil
1 bell pepper
10 mushrooms
1 zucchini
1 eggplant
5 oz (150g) cherry tomatoes
salt, pepper, oregano, paprika, turmeric, thyme to taste
16 wooden shashlik sticks
Wash, dry and cube or slice the chicken and vegetables.
Mix olive oil and spices in a bowl before coating the chicken.
Alternate between meat and vegetables when assembling your masterpiece on the sticks.
Grill on all sides until well done.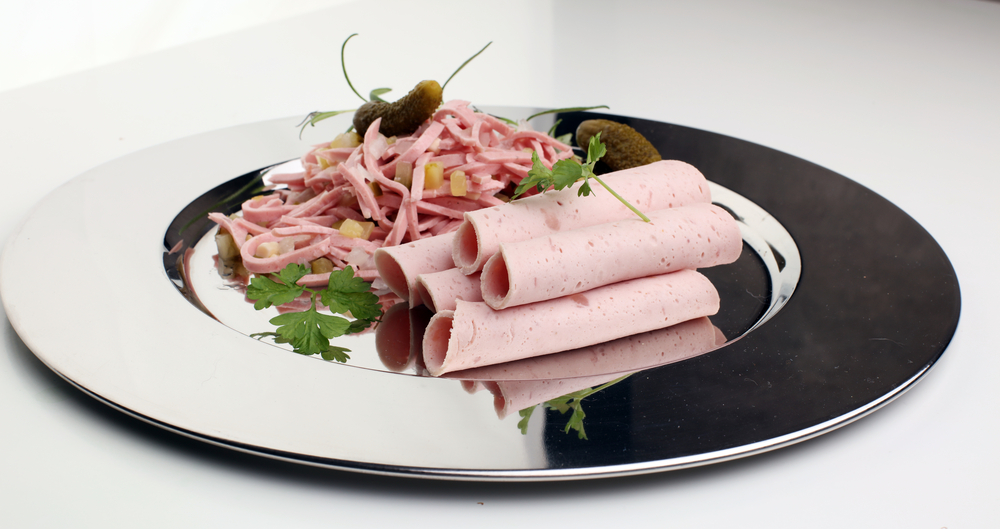 beats1 / shutterstock.com
MAIN DISH
Wurstsalat
The idea of turning sausages into a salad might just be the most German one yet. Yup, no green stuff, just sausage. This can serve as a main dish or sandwich topping. Popular sides include fried potatoes, fries and black bread.
Start to finish: 20 minutes
Servings: 4
9 oz (250g) Bologna (preferably thinly sliced)
7 oz (200g) gouda (or any other kind of hard cheese)
1 medium sized onion
5 large pickles
3 tbsp vinegar
6 tbsp vegetable oil
Salt and pepper to taste
optional: 1 tbsp mustard, chives and radishes
Cut everything into very thin strips.
Mix with the vinegar, oil and mustard.
Let it sit in the fridge for a few hours.
Tip: Serve it on a toasted or grilled slice of bread with plenty of garlic or herb butter.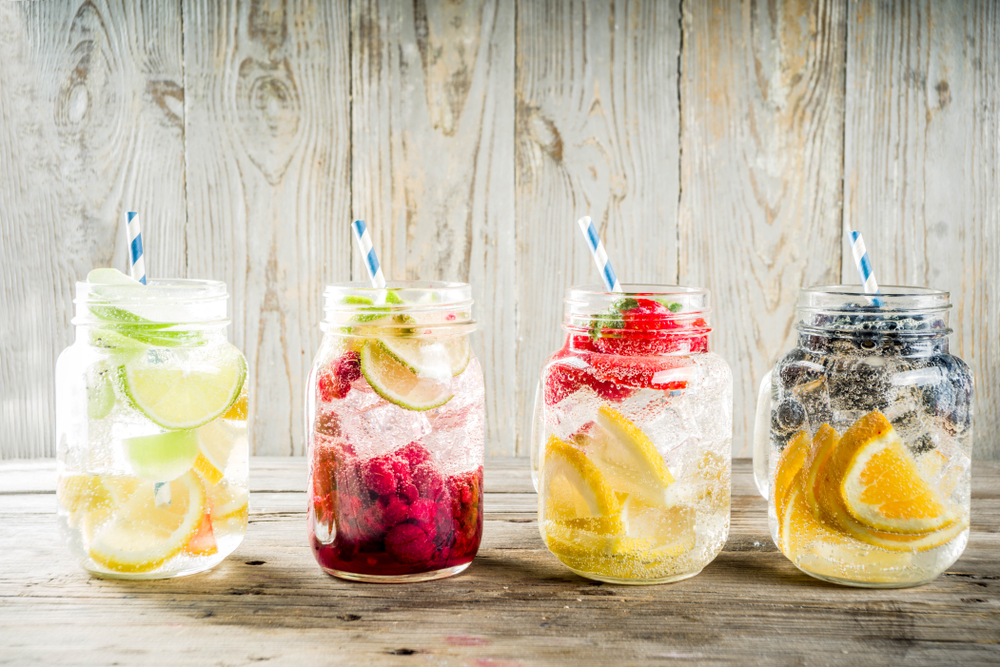 Rimma Bondarenko / shutterstock.com
DRINK
Flavored Water
Fruity water is the perfect alternative to soda since it is just as tasty, less sticky and a lot healthier. So here are 6 super easy, yet exotic, ways to stay hydrated this summer without sacrificing any of the flavor you're used to.
Start to finish: 5-10 minutes
Servings: 4
1 lime, 1 lemon, 1 orange
2 cup blackberries, 1 sprig of sage
2 cup watermelon, 1 sprig of rosemary
2 cup pineapple, 1 sprig of mint
2 cup raspberries, 1 lime
1/3 cucumber, 3 sprigs of lavender and 2 sprigs of mint
Mix/mash a sliced or cubed selection of these ingredients in a jar or pitcher and add 32oz/ 1l of flat or sparkling water.
Let it sit in the fridge for at least one hour.
Finish the look with some ice cubes.
Almost all fruits, vegetables and herbs (fresh and frozen) can be used, so get creative!
Some combinations may seem odd at first but don't hesitate to try your way through them.
Tip: If you want it to be sweeter, you can add a little honey or agave syrup.
(Recipe by www.theyummylife.com) 
Featured image credit: TORWAISTUDIO