Alive with music, food, drink, culture, parks, and water, Bremen is a brilliant place to visit. It has the vital energy of a Northern German city, but is much easier to navigate than Hamburg or Berlin. Worth a weekend, Bremen will surprise and delight you.
Begin in the Marktplatz
The Bremer Markplatz is the ideal spot to commence any Bremen exploration. It's a vibrant, massive, sprawling, cobblestoned plaza that is surrounded by gorgeous buildings.
One of those buildings is the legendary Rathaus, or City Hall. A UNESCO World Heritage Site, the Rathaus is an architectural marvel. The best part? The Rathaus hosts an amazing restaurant – the Bremen Ratskeller – in the basement. It's more than six centuries old, contains hundreds of types of German wine, has vaulted ceilings and ornate wood carvings, and the food is good.
St. Peter's Cathedral also anchors the Marktplatz. Host to hundreds of thousands of visitors each year, this is no ordinary church. Visitors can climb the huge towers (be forewarned: steps are involved), visit the cathedral museum, or see the special 'mummies' in the basement.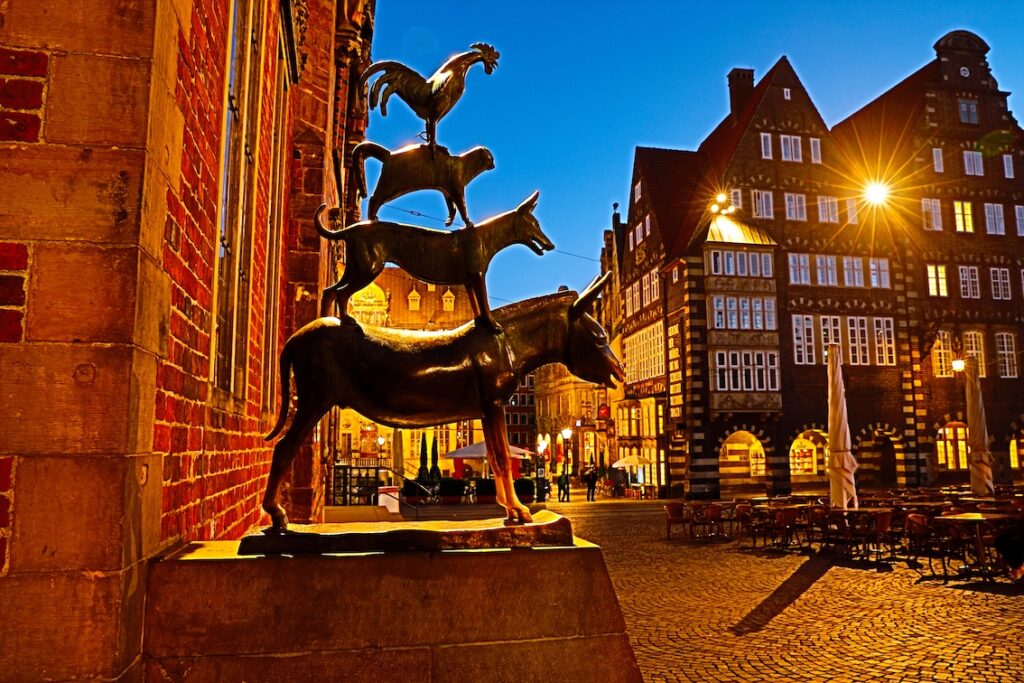 Czech Evgenia / Shutterstock.com
No visit to the Marktplatz would be complete without a quick look at the statue of the Bremen Town Musicians, the famous characters from the Grimm Brothers' tale. Legend has it that gripping the donkey's two front legs brings good luck!
Quarters and more
If you leave the Marktplatz and wander toward the Weser River, you will find yourself smack-dab in the middle of the Schnoor quarter. It's like walking back in time. Schnoor is packed with winding, narrow cobblestone lanes, beautiful shops with hanging signs that seem straight from a Harry Potter movie, and incredible half-timbered houses. Even in a country where medieval chic seems commonplace, the Schnoor quarter will amaze you.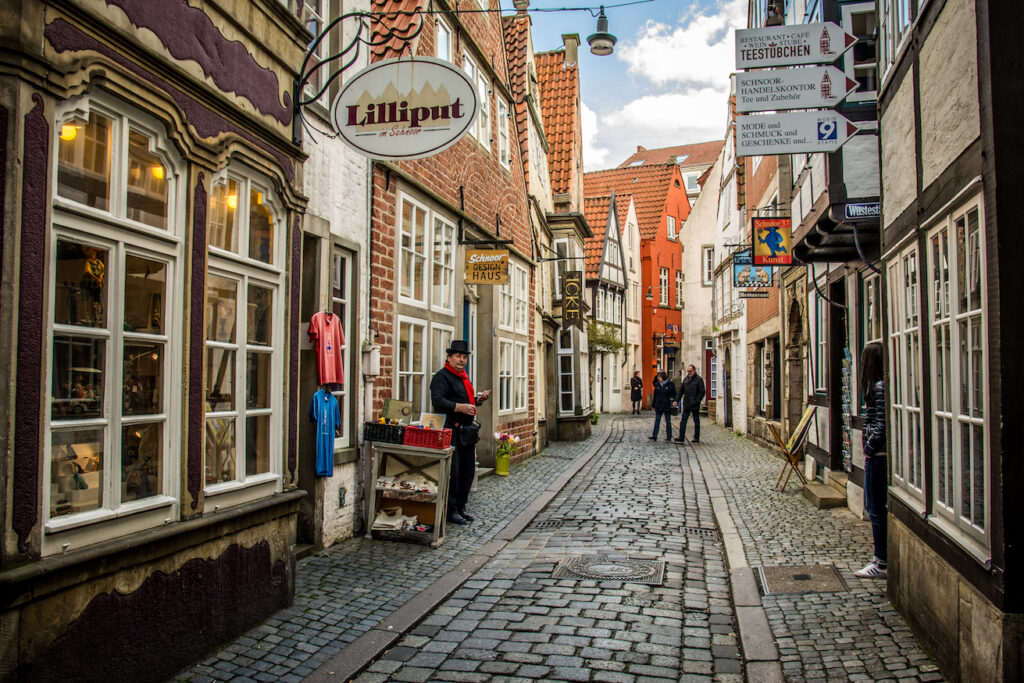 Jon Chica / Shutterstock.com
While you're there, don't miss the Böttcherstrasse. Derived from the German name for cooper (böttcher, or one who makes barrels), it's one of the best little streets in Bremen, and is home to many crafts shops and art studios.
The Viertel (which literally means 'the Quarter') is also outstanding, and has a completely different feel than the old city center. This is where the modern city comes alive – all with a very 'Bremen' feel. The Viertel has restaurants, pubs, coffee shops, and a large variety of independent stores. And there is music. So much music. Because, after all, music is one of the things that makes Bremen famous.
A city of culture
While in the Viertel, visitors can find all the culture they want. The city's Kunsthalle is a smashing art museum, and very accessible. It contains works from modern artists like Munch and Picasso, classic paintings from Dürer and Rubens, and many, many others.
The Gerhard Marcks House is also well worth a visit. It's a sculpture museum, and a very beautiful one at that. The museum takes its name from Marcks, who was a famous 20th century German sculptor, and it houses hundreds of his works. But it also contains other fascinating pieces from across the world.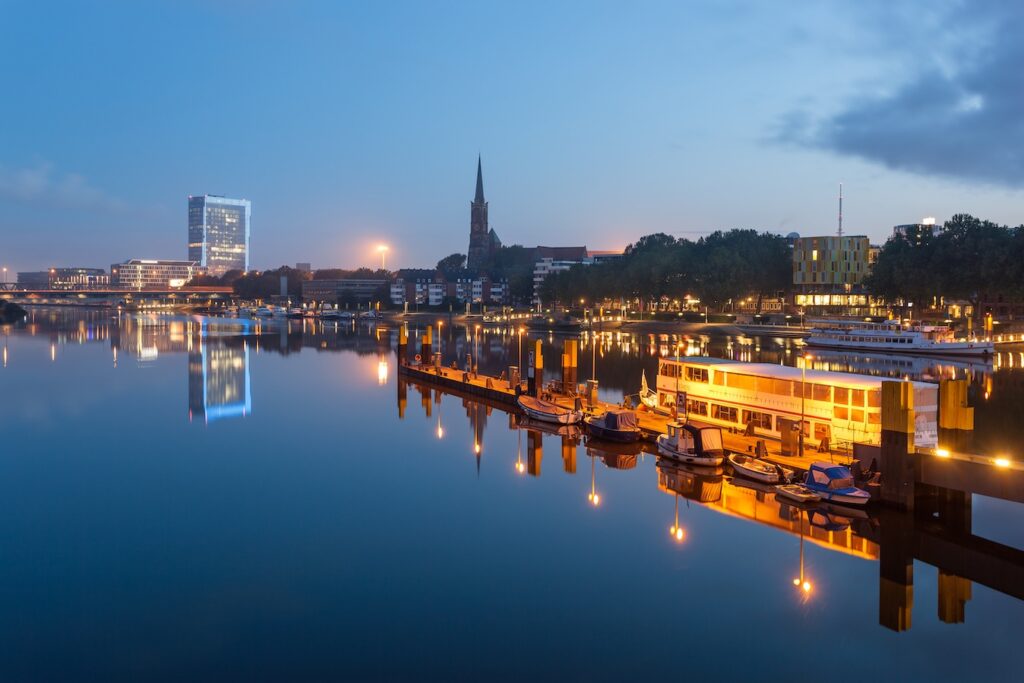 SAKhanPhotography / Shutterstock.com
Location, location, location
Bremen was once a member of the famous Hanseatic League, and its maritime past (and past wealth) is evident even today. Bremen's location also means that visitors are just a short trip away from the North Sea coast, which can be particularly lovely during spring, summer, and autumn.
The city is also ideally located for a number of other attractions – including amusement parks. For families, Bremen is close to both Magic Park Verden (ideal for younger children) and the Heide Park Resort (which is awesome for thrill seekers of all ages).
Getting there
By car, Bremen is approximately 5 hours from Kaiserslautern or Wiesbaden, and 6.5 hours from Stuttgart. Please check with Deutsche Bahn for train options.