Enjoy an Enchanting Christmas Atmosphere in Braunschweig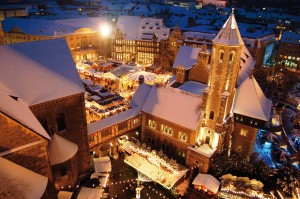 Braunschweig (Brunswick) is the second largest city in Lower Saxony, a city with an impressive, lively cultural scene and attractive shopping opportunities. During the Christmas season, one of the most beautiful Christmas markets in all of northern Germany enchants great numbers of tourists and Braunschweig citizens every year.
Between 26 November and 29 December, 2014, the squares around the Lion statue will once again sparkle and shine, featuring more than 140 stalls offering a wide selection of arts and crafts articles and culinary specialties of the region. Starting 14 December, festive concerts at the St. Blaise's Cathedral will further complement the enchanting atmosphere in the city.
A guided tour of the Christmas Market answers to many questions all about the 300-year Christmas Market tradition. Choirs, drama groups and musical ensembles create a colorful cultural program. Fairy tale readings, a puppet theatre and the Christmas workshop are highlights for every child.
Braunschweig Christmas Market Opening times
26 November – 29 December | Mon – Sat 10:00 – 21:00 | Sun & holidays 11:00 – 21:00
Closed on December 24 and 25 | On the occasion of the event "mondlichtkaufen" (moonlightshopping) on November 30 open until 23:00.
www.braunschweig.de/christmasmarket
Images © Braunschweig Stadtmarketing GmbH/b² werbung & design/Daniel Möller Fotografie.