Wolfstein is only half an hour from Kaiserslautern, Ramstein and Landstuhl and the home to one of the best one-day hikes in Germany.
The first stage of the Pfälzer Höhenweg, around the town of Wolfstein in the northwest of the region, allows you to enjoy a small but scenic part of the 100km long trail.
"It was, quite simply, the best one-day hiking trip we had ever done." states Michael, blogger at Easyhiker.co.uk
The loop around town, at a length of just under 12 km, is neither too exhausting nor so short that it would deny you the feeling of accomplishment (which then entitles you to an extra large serving at the dinner table).
The trail leads you clockwise around the town – imagine Wolfstein on the "12" – and provides a surprising degree of variety. In the beginning, in particular, you will get splendid views over the hills around you, but there is a lot of forest, too, all rounded off with a couple of castle ruins near the end.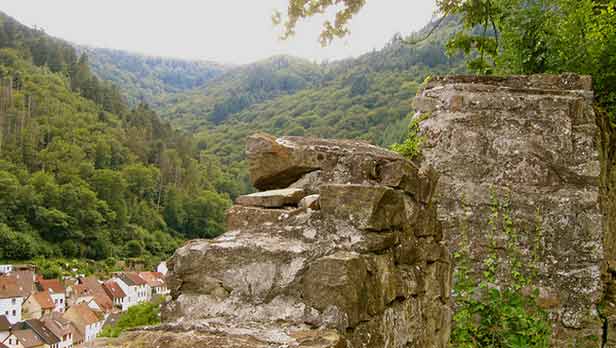 The trail is easy to find and very well marked.
Simply turn left out of the hotel and follow the markers to the Youth Hostel (the "Jugendherberge") – you are now on a "feeder route" of the Höhenweg – on a fairly steep climb uphill and just continue straight – into the Höhenweg trail proper – when the hostel appears on your right hand side.
From then on, just follow the trail markers – until the very end when you can already see the town from above. Which is when you must descend rather than continue uphill, which will be so obvious you can't miss it!
Before, however, there were a few close calls. None closer than 2 km from the end when you must take a steep right turn off the path on the ridge. The sign on the trunk that leads the way is not just a "reassurance" sign that has been put, for whatever reason, a little further back into the 2nd row of trees (of which there have been quite a few till then): you really have to descend down the slope here.
What really confused us was the total absence of any further sign until the end of the descent  – we had already been here and returned half way down to continue further up on the ridge (wrongly) before we realized that this appeared to lead us nowhere.
Just be on your guard throughout, and remember: if you have not spotted a "reassurance marker" for a few hundred meters, this is normally an indication that you have gone wrong. Better to return and to establish where you have made an error than to continue in the hope that, as long as your "general direction" is right, you will be fine.
Something else that is good about one-day hikes: if you have selected your hotel in advance (and with a certain degree of care), you will have a good dinner waiting for you, and this can put a spring in your step, too. The restaurant of the Landgasthof Hotel Königsberg is run by Christian Schneider who has trained with 3-star chefs across Germany but returned to his native town to serve as the chef de cuisine in his parents' hotel. Christian is well aware of what is possible and what is not in a hotel that caters mainly for locals and weary hikers: he does not intend to run a "fancy" place but is determined to demonstrate that high-quality cooking and a strong emphasis on local specialties do not rule each other out – expect to find nothing but local and seasonal ingredients on your plate.
Enjoy your hike!
Like this article?  You might like these ones too:
Hiking in Kaiserslautern & Ramstein
Hiking in Switzerland
Author profile:
Story and photos by
Michael
, blogger at
Easyhiker.co.uk