One of the most difficult aspects of moving to a new area, especially an entirely new country and continent, is figuring out the "usual" or "favorite" spots. The places that the locals and residential veterans know but a recently PCS-ed person or family has yet to find.
The good thing is, there are a ton of amazing places near the KMC that are excellent for food, entertainment, and adventure. The only bad part is that you might not get to visit all of these amazing places prior to your next PCS. That being said, the options introduced in this piece are just a small selection of the "good finds" in the KMC area. Your best bet is to ask your neighbor or work associate for suggestions. That's how I found most of these gems.
Food
If you're a creature of habit and prefer to stay on post or base, there are just a few options available to you – Chili's, Macaroni Grill, etc. But if you're ready to eat some of the best food of your life, go – go now to these places!
Safari Restaurant
What can I say about this place? Everything. If you look on Trip Advisor for the best restaurants in Kaiserslautern, Safari is number 2 (some days it is number 1). Safari is a family-owned and operated Ethiopian restaurant in downtown Kaiserslautern. If you're looking for an adventure and something to wake up your taste buds, Safari is the place. With a variety of meal options from lamb to chicken to vegetarian, and vegan, Safari also offers interesting drink choices from their incredibly strong coffee (served in a thimble-sized cup) to the Dju Dju Beer that comes in Banana, Mango, and Pineapple flavors. All meals are served with injera (a sourdough-risen flatbread with a slightly spongy texture) as a form of utensil. Don't worry, though, they do offer regular utensils if you prefer not to eat with your hands.
The staff is incredibly kind and welcoming. The atmosphere is designed to bring you to Africa with a slideshow of pictures from the continent. A typical meal for two can cost anywhere between 25 Euro to 40 Euro, depending on what is ordered. Reservations are encouraged, as they get incredibly busy. Try to call a few days ahead of the desired date. Or you can always press your luck at the tiki shaped bar where it's first come first served.
Bonus: If you enjoy the food (I have a hard time believing you won't) and you enjoy cooking, you are in luck! Just down the street, Greenland Afro & Asia Shop sells most of the ingredients and spices you'll need to cook your own Ethiopian cuisine. It's guaranteed you'll find what you're looking for because Greenland is owned and operated by the mother of the Safari Restaurant's owner.
Mr. Lian
If you have a hankering for sushi, the majority of people will probably tell you to go to Mr. Lian. Now in two locations (downtown Kaiserslautern and Einsiedlerhof), these restaurants are usually packed! Open seven days a week, it is recommended to call for a reservation on the weekend. Serving the traditional to extravagant, the sushi is always fresh and if you're lucky, your plate will come with a dry-ice volcano! If you prefer your food cooked, Mr Lian offers several hot dishes as well as traditional Pho. Carnivores and herbivores have many menu options.
Aside from the creative food displays, be sure to try the freshly made lemonades that include but are not limited to Thai-basil, apple, and ginger flavoring.
A typical meal will cost two people anywhere from 30 Euro to 60 Euro, depending on drinks and appetizers. The atmosphere is dark and cozy. It can get rather warm, so be sure to dress in layers. As the weather gets warmer, the Einseedlerhof location offers outdoor seating on their porch.
Mythos von Delphi Greek restaurant
Besides Mr. Lian and Safari, Mythos is a must-visit restaurant. A hidden gem, literally – Mythos is tucked away on a side street from Sankt Martin's Platz. Just off the main fussgangerzone, or walking street, Mythos Von Delphi is an incredible, family-owned Greek restaurant. From the greeter (who is also the owner) to the cook, everyone that works there is family.
Their pièce de résistance is the mushrooms. The stuffed mushrooms are on the menu as an appetizer but can take the place of an entire meal. Stuffed with your choice of shrimp, lamb, or just cheese – these are an absolute must-try! A simple description does these incredible pillows of tastiness no justice. Go and experience them for yourself. You will not regret it.
Of course, there are plenty of other options on their menu. As it is a Greek restaurant, lamb and beef are very prominent. And if you can save some room for dessert, the Baklava is hand-made and out of this world.
A typical meal for two will cost between 25 Euro and 50 Euro, depending on drinks and dessert.
Spinnraedl
As delicious as the aforementioned restaurants are, maybe you want to experience traditional German food. While there are hundreds of options to choose from, it's usually best to go where it's busy and the locals go. Open seven days a week, Spinnraedl is a great place for anyone and everyone from couples to singles to families. Known for its friendly service and Oma-style (grandmother-style) cooking, it's no wonder this place is always busy.
Offering German classics such as liver dumplings and juicy rump steaks, every week there is a new menu of specials. Palates of all kinds will be pleased with the variety of large portions – from spinach dumplings to the traditional schnitzel and fried potatoes. Spinnraedl is located in downtown Kaiserslautern near the Stiftskirche.
A meal for two will cost anywhere from 40 Euro to 60 Euro, depending on drinks, appetizers, and desserts.
Entertainment
One of the great things about living in the KMC area is there are plenty of activities and experiences to be had. Conversely, figuring out how to partake in said activities can be difficult and overwhelming. That being said, the following options are just a smattering of what the KMC has to offer its newest residents.
1.FCK – Football Club Kaiserslautern
Due to the time difference, it can be pretty tough to keep up with your favorite sports team back home. What about adopting another? 1.FCK or 1st Fussball Club Kaiserslautern is the local soccer team. Their home games are played at Fritz-Walter-Stadion on the cusp of downtown Kaiserslautern. Although their season started in August, there are still plenty of home games to attend through May. Fun for the whole family and tickets are pretty inexpensive.
For more information on match dates and times, visit their website at www.fck.de.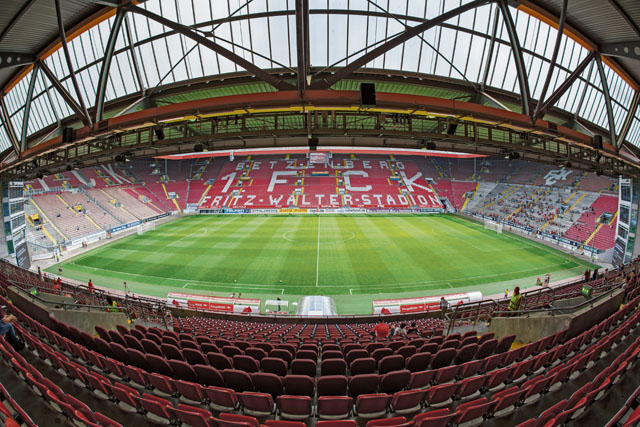 Oleksandr Osipov / Shutterstock.com
FSZ Saar (Sky diving)
Skydiving season begins April 1. For those that are looking to kick it up a notch, just about an hour away from the KMC area is the FSZ Saar Skydiving Center. Take the biggest leap of your life from 4,000 meters (just over 13,000 feet)! Tandem jumps are required for all newbies. All tandem instructors and jumpers have had at least 500 jumps of experience and most of the staff are former German paratroopers. Knowing that you're safe isn't even the best part – it's jumping out a plane and being able to see both Germany and France all at once. Appointments are required for jump planning purposes.
For more information, check out their website at www.fsz-saar.de.
The German Wine Road
Germany has some of the best wine and a large portion of that wine comes from right here in Rheinland-Pfalz. The German Wine Road is the country's oldest scenic drive, spanning 50 miles. One of the most charming parts of the experience is the cute old towns and villages you'll drive through. Towns like Bad Duerkheim, where in September the largest wine festival in the world is hosted, and small villages like Rhodt unter Rietburg, known for being the world's oldest vineyard (more than 400 years and still producing fruit), are just a few gems along the way. Bonus Tip: Every last Sunday in August, the wine route is closed for traffic and only open to walkers, hikers, bikers, and in-line skaters who can visit the open-air wine bars on the way.
For more information visit www.germanwineroute.com
Gartenschau Kaiserslautern
Families and singles are sure to enjoy the Gartenschau, located close to the center of Kaiserslautern, offering something for everyone! Kids of all ages will enjoy the sports areas that include a skate park, beach volleyball area, basketball courts, miniature golf, a soccer field, playgrounds and a variety of children's programs. As the temperature heats up, there's even a water playground to cool off on a hot day.
If you're more interested in a stroll and to literally stop and smell the flowers, Neumuehle Park is right up your alley. Located in Gartenschau are these well-kept walking trails surrounded by beautiful flowers, cacti, and dinosaur replicas. When you're ready for a break, there are plenty of shady areas to rest as well as a beer garden. In warmer months, you can often find open-air theater and free classical concerts on the weekends.
For more information on opening times and ticket prices, visit their website at
www.gartenschau-kl.de.
About the author: Katie F. Boltuch teaches English Language Arts at Kaiserslautern High School. She is an avid runner, reader, and writer.  In her free time she spends as much time as possible with her husband and newborn daughter.