One of the many great aspects about being in Germany in the summer is being able to dine outside in the fresh air and sunshine. After living overseas, it is a pastime that I have acquired. It also seems to me that the Germans have perfected the science of creating a wonderful outdoor dining ambiance. Here are my top 4 places to dine outdoors in Wiesbaden.
4. Scotch N Soda Pub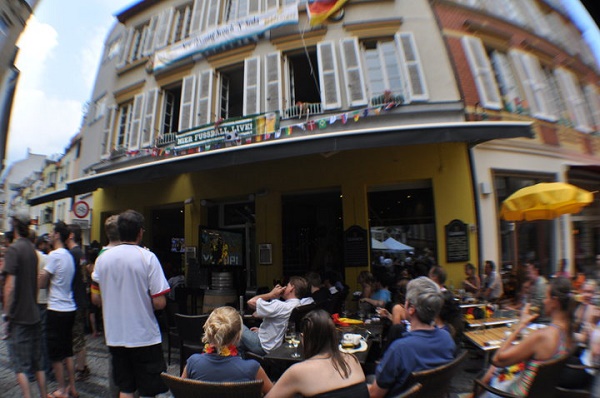 © Gemma
Where several small cobblestone streets come together, there is the oasis of Scotch N Soda. Here you will find décor of Scottish charm, flowing drinks and delicious food! The owners are extremely personable and will treat you like an old friend. You can sit outside and people watch while enjoying your whisky and 'The Fat Man' burger all afternoon.
Address: Goldgasse 9 65183 Wiesbaden
3. Brauhaus Castel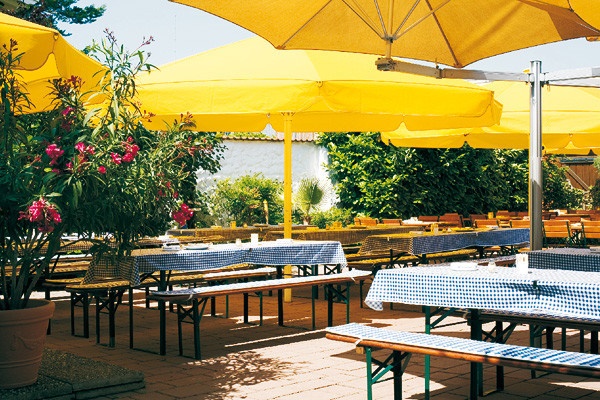 © Gemma
Step into little Bavaria at the Brauhaus Castel. Here they have a large beer garden with fest tables to enjoy a big Maß (big stein) of beer and a Bavarian Pork Knuckle. Hey, why not really get into it and make your own Oktoberfest and start singing and dancing on the tables? I am sure they won't mind, and perhaps they will join in! Also a bonus for families, there is a playground in the beer garden for kids to have fun as well.
Address: Otto-Suhr-Ring 27, 55252 Wiesbaden
2. 60/40 Schlachthof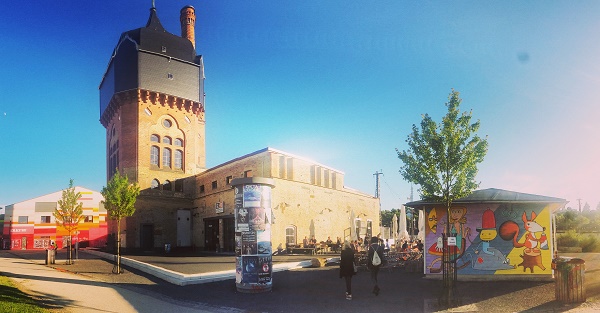 © Gemma
I love the cool vibes of the culture center Wiesbaden Schlachthof, including its restaurant called 60/40. You can sit there all afternoon and watch the trains coming into Wiesbaden; people playing sports, juggling, tightrope walking or skateboard; or just checking out the graffiti art. At this very laid back place, you can really enjoy your drinks and food. I suggest getting the custom pizza where you add all the toppings you like!
Address: Murnaustraße 1, 65189 Wiesbaden
1. Wagner im Opelbad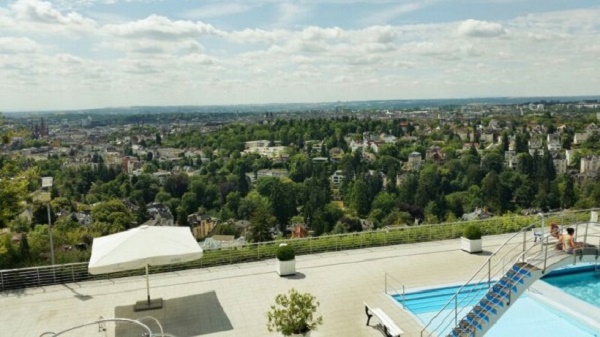 © Gemma
High on its throne (literally and also on this list), Wagner is the ultimate view of Wiesbaden because you dine high above the city! Dine outside with amazing views of Wiesbaden until you see the rolling hills on the horizon. Perhaps you can even find your house!
Address: auf dem Neroberg 2, 65193 Wiesbaden
You might want to try one or all five of the Wiesbaden restaurants listed above! Whatever you do decide, enjoy eating outside in the sun while you still can!
Author's Profile: Gemma is a Jersey Broad Abroad living in Wiesbaden, Germany, and she is enjoying her extended European vacation.
Featured Image Photo Credit: © Gemma