Food trucks are among the hottest trends in the restaurant industry. You could take it a step further to say they've moved beyond trendy and are now just as much a restaurant concept as family-style dining or fast food. You may have even seen, and eaten from, a few of them on and around base.
The concept of selling food on the go is definitely not a new one. In fact, the custom of mobile dining dates back to ancient Greece, Rome, and China. Street vendors and the concept of selling food eventually evolved in to what we now know as food trucks. Although they've been around for a while in other cultures, they're relatively new (since the late 17th century) in the U.S. And similar to ancient times, street food is most often associated with a cheap way to satiate your appetite.
What we are familiar with as the modern food truck is somewhat new in Germany. Their concept of street food originally came in the form of ice cream trucks and sausage sellers, but it was not until 2008 that the trend for more exotic foods and good lunch on the go became popular. Since then, it has been possible to quickly and easily attract large numbers of customers to the current location of the food truck via social media. Food trucks in Germany are sometimes parked in front of companies during the lunch hour or at busy spots in large German cities. And, of course, they can also be found at street food markets.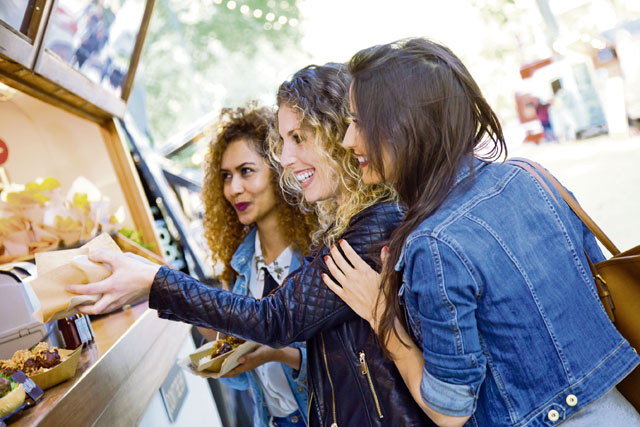 nenetus / Shutterstock.com
While most food truck markets can be found in and around university cities, targeting their main customer, there are several cities host a "Food Truck Day." Offering a range of food for every kind of eater — vegan to barbeque to burgers to currywurst — even the pickiest of eaters is sure to find something to fill their belly.
If you've been in the KMC since last fall, you may have attended the most recent local Street Food Festival in Kaiserslautern. Held just after Labor Day, in the parking lot of the Fritz-Walter-Stadion (the arena where Football Club Kaiserslautern plays), the festival offered more than 100 different dishes from close to 20 countries. And, bonus – admission was free!
For more information about the locations and dates of upcoming Food Truck Festivals, check out their website at http://streetfood-tour.de/. And be sure to follow Street Food Festival Kaiserslautern on Facebook for updates on the dates for the next event!
About the author: Katie teaches English Language Arts at Kaiserslautern High School. She is an avid runner, reader, and writer.  In her free time she spends as much time as possible with her husband and newborn daughter.
Upcoming Street Food Markets:
Reutlingen, April 13-15, Festplatz Bösmannsäcker
Villingen-Schwenningen, April 20-22, Muslenplatz
Germersheim, May 11-13, Rheinvorland
Koblenz, May 18-21, Deutsches Eck Koblenz
Offenburg, September 7-9, Messeplatz