Rome is like no other place in the world. It's a modern city that also contains some of the most ancient – and well-preserved – buildings on the planet. The streets never sleep, and the traffic can sometimes seem straight out of Dante's Inferno. But Rome will win visitors over with the lights, food, coffee, culture, history, and a brilliant restless spirit that makes it easy to understand why Rome is called the Eternal City.
There is so much to see and do in and around Rome. Here are four great places to begin.
Must-see: The Colosseum
The Roman Colosseum is so iconic that, ironically, some visitors are ready to give it a pass. Don't be one of them. The Colosseum is a must-see.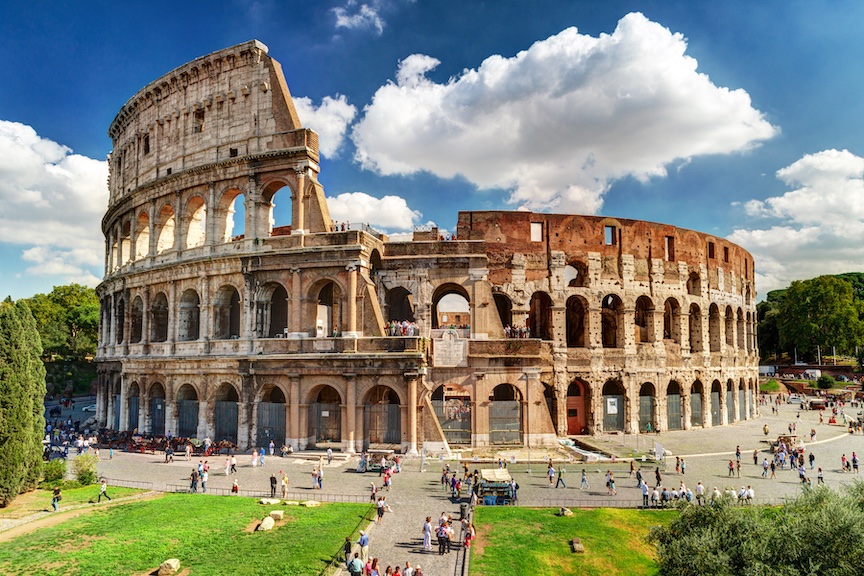 Viacheslav Lopatin / Shutterstock.com
Why? For starters, the size of the place will stir your imagination. For Americans, and especially for football fans, it is staggering to think that the place could have hosted a bowl game with put 80,000 fans in the seats. With 80 entrances, it was the largest arena in the Roman Empire.
It also didn't look like a sun-bleached ruin when it was built (which is easy to forget). The Colosseum was detailed in bright color. It also originally had a roof that provided spectators with relief from the Italian sun.
Standing inside the Colosseum is also an essential experience, mostly because it's so much easier to imagine everything that once happened there. There were gladiator fights, wild animal hunts, naval battles on the flooded floor, and a hundred other events, both good and truly awful. And all of it lasted for more than 500 years after the Emperor Vespasian ordered the building built in the first century AD.
A country within a city: The Vatican
So, technically, the Vatican is a country (the smallest in the world!) within a city. That said, it is an essential part of the Rome experience. Much of Europe's history was shaped from the Vatican, where powerful popes allied with (or plotted against) emperors and kings to shape the political face of the continent.
Even if those days are gone, the Vatican remains exceptional. It is filled with priceless artwork and incredible architecture. The Sistine Chapel, with its Michelangelo-painted ceiling, is rightfully famous. But visitors need to see the other astounding works of art, like that in the Raphael Rooms, or the Gallery of Maps inside the Vatican Museum.
Adventure can still be had in the Vatican, too, especially for those who are willing to climb to the top of St. Peter's Basilica (where you'll be rewarded with an amazing view of Rome), or for those who are lucky enough to get tickets to visit St. Peter's tomb.
Off the beaten path: Capuchin Crypts
If you're looking for a well-kept secret in Rome, this place might be it. Rome has catacombs, which contain the bones of around 4,000 Capuchin (a Roman Catholic religious order) Friars.
A bit like the famous Parisian catacombs (though much smaller), the crypt was built in the 1600s. It contains six rooms, a wall of bones in the shape of a church, and a slightly creepy atmosphere.
The crypt is also well located, despite being off the beaten path. It's only a short walk from Rome's famous Trevi Fountain, for example. So after the bones, head to the fountain and buy a gelato. Because life is short, right?
Great side trip: Villa Adriana
The Villa Adriana, or Hadrian's Villa, is located in Tivoli, roughly 30 minutes outside of Rome. The villa is special for a lot of reasons, not the least of which is that it looks really good for a place that was built almost 2,000 years ago.
It's an ideal spot for a break from the speed and noise of Rome. There are beautiful pools, elaborate fountains, lush gardens, walking paths, and room to breathe. Some of the sycamore trees are centuries old. At Villa Adriana, it's very easy to imagine Roman emperors strolling around. Even though it is outside of Rome, the place feels just as eternal.
Getting there
Direct flights to Rome from major German airports are easily and frequently available. By car, Rome is just over 12 hours from Kaiserslautern and Wiesbaden, and just over 11 hours from Stuttgart. Check with Deutsche Bahn for train information.