May 10, 2020
As the number of people who are fully vaccinated against COVID-19 continues to rise, European countries are returning to the question of how to re-open for "normal" life. This includes welcoming visitors from the U.S., and opening borders for intra-European travel.
For Americans living in Germany, policies put in place by the EU or individual countries are only one part of the planning puzzle. Command guidance, is of course, the primary consideration.
However, as summer approaches and travel restrictions possibly begin to loosen, it will be helpful to know what else is happening out there.
"Re-open EU"
For those who are itching to get out and see Europe again, the EU has a very helpful resource which can be one part of your planning toolkit.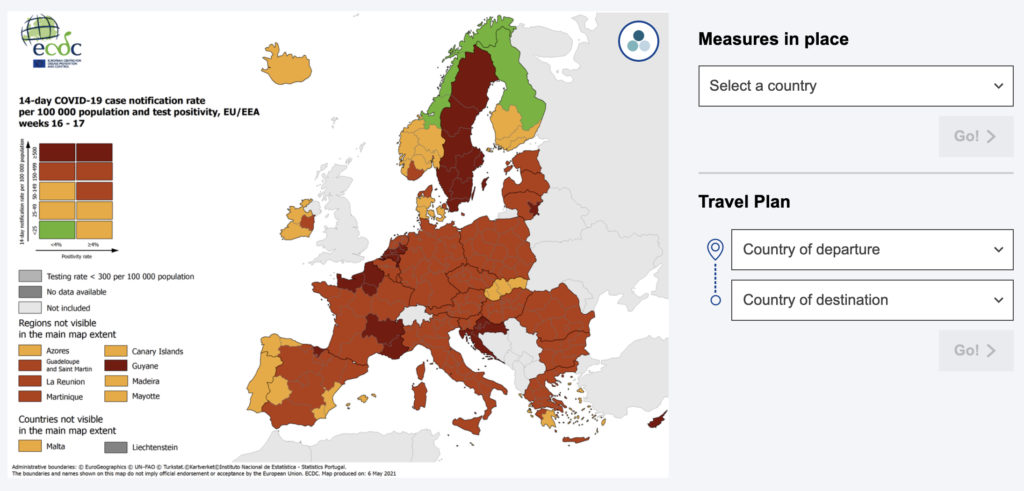 Source: reopen.europe
On their "Re-open EU" website, the European Union offers an interactive tool (shown above) that allows users to see the following:
An overarching map of COVID incidence rates in EU countries.
A drop-down menu that shows visitors what regulatory/mitigation measures are in place within EU countries.
A "travel plan" menu that allows users to see what measures are in place when planning travel from one EU country to another.
For U.S. government employees, including service members, remember to always follow command regulations, which may be different than host nation or EU policies. More information is available from Ramstein Air Base, USAG Bavaria, USAG Rheinland-Pfalz, USAG Stuttgart, and USAG Wiesbaden.