If you enjoy puzzles and they have taken over an entire area of your house on occasion, you will definitely enjoy the city of Ravensburg, which you may have heard of in combination with just about every second German board game- and puzzle. Still, you will quickly see that there is so much more to this beautiful town than puzzles. It was once considered a trading center for gems, spices, oils, tapestries and leather, managing much of the barter industry between Barcelona and Italy.
Our Tour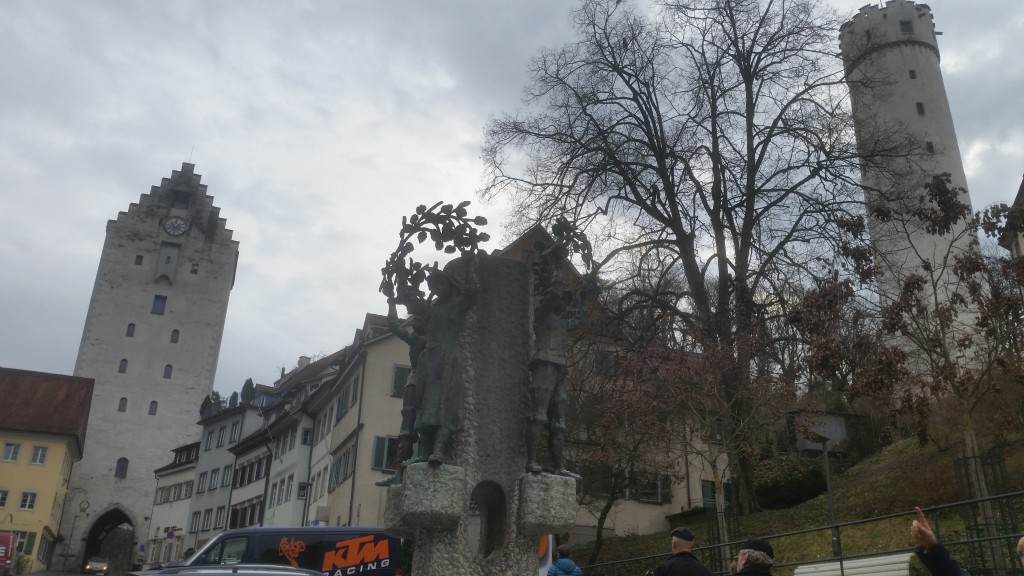 © Wendy Payne
For a day trip we scheduled an English tour that I ordered online through the town's Tourism office,which cost €90 for up to 25 people and takes circa 90 minutes. Though there were only eight of us, it was still a great deal and definitely worth it!
We met our tour guide Sabina at the Tourism Information Center, which was conveniently located in the center of town. Though Sabina grew up in Ravensburg, she lived various places in the world and shared her stories of exotic places like Spain, the French islands and parts of Italy that are hard to travel through. However, her knowledge of Ravensburg was unparalleled. You could see the pride in her eyes as she shared her heritage.
Puzzles – Puzzles – Puzzles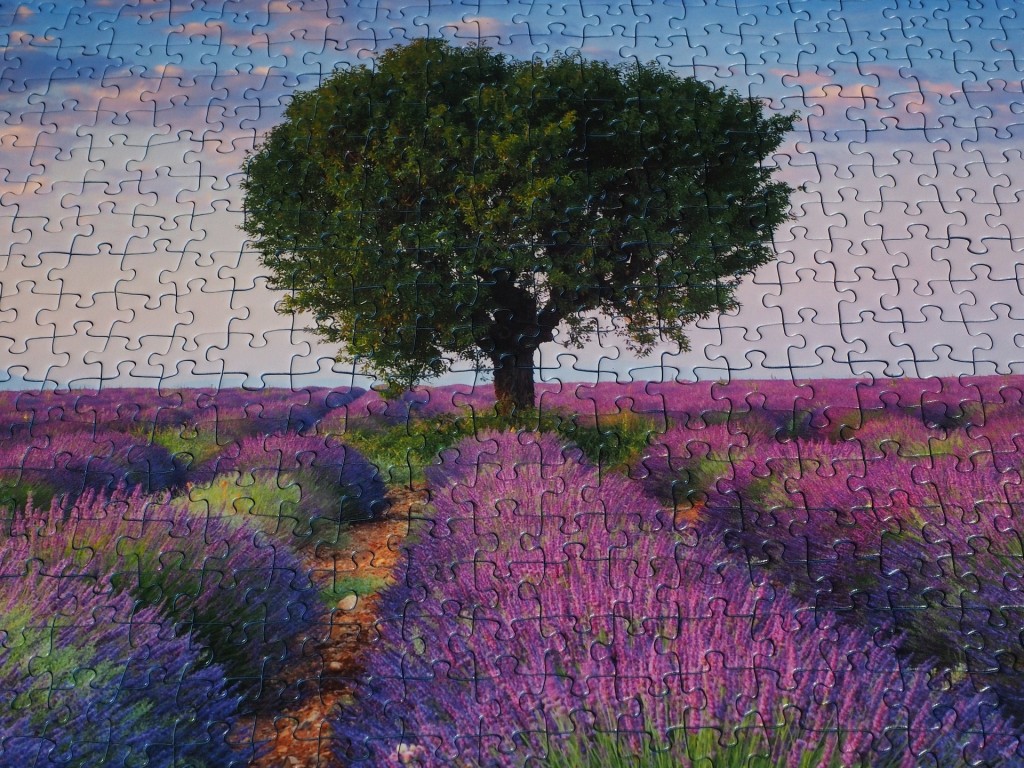 © Pixabay- Hans
Though I worked and worked puzzles all the time as a child, it never dawned on me to see where and who made it. It's quite likely that we have all completed a Ravensburg puzzle at one time or another, whether we were aware of it or not.
On the day of our visit, we ran out of time to tour the whole Museum (Puzzle) Ravenburger, although I had to stop in the gift shop to pick up yet another puzzle challenge. This time I selected the lavender fields of Provence for my upcoming trip in June.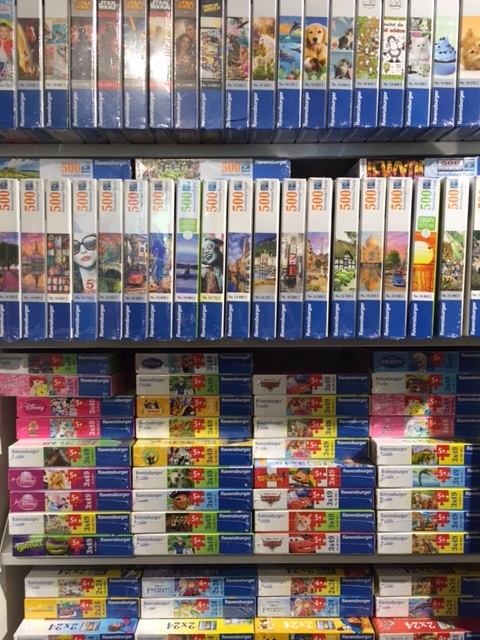 © Wendy Payne
Whether it's a 3-D puzzle or a themed Star Wars puzzle, you can find it here. The founder and creator of the Ravenburger puzzle company, Otto Maier, got into the business by way of being a bookseller and created games to understand books. His first game "Voyage Around the World"was created to correspond with Jules Vernes' greatest book "Around the World in 80 Days." Otto's first success was then followed by many games and arts and craft kits for all ages.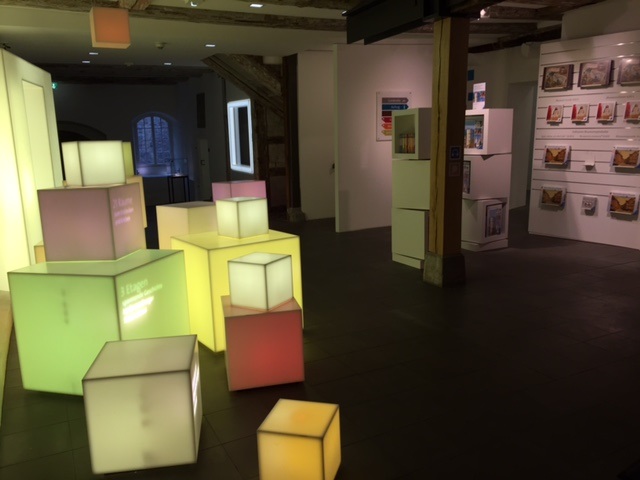 © Wendy Payne
Located on the major walkway of Ravenburg, the museum is not difficult to find. It is within eyesight of the two most famous of the twelve towers that dot this quaint town.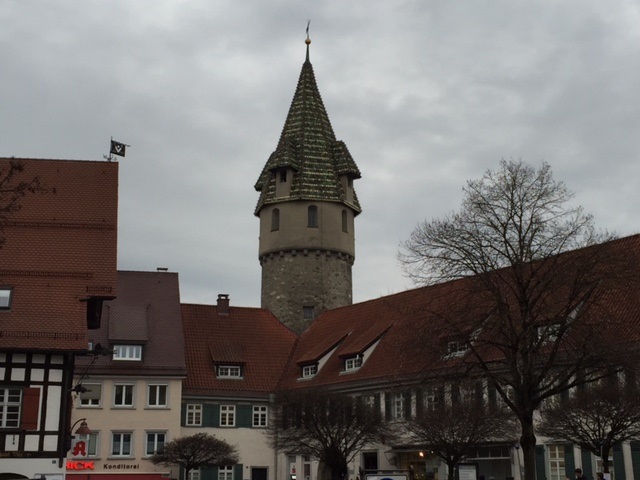 © Wendy Payne
Be careful when using GPS to find the Ravensburger Puzzle Museum. The correct address is the following:
Museum Ravensburger
Marktstraße 26
88212 Ravensburg
The Ravensburger Company is the number-one selling company for puzzles in Europe and Germany's leader in youth games. Ravensburger Books is also one of the nation's leading publishing companies in the children's and youth books division.
The Democratic City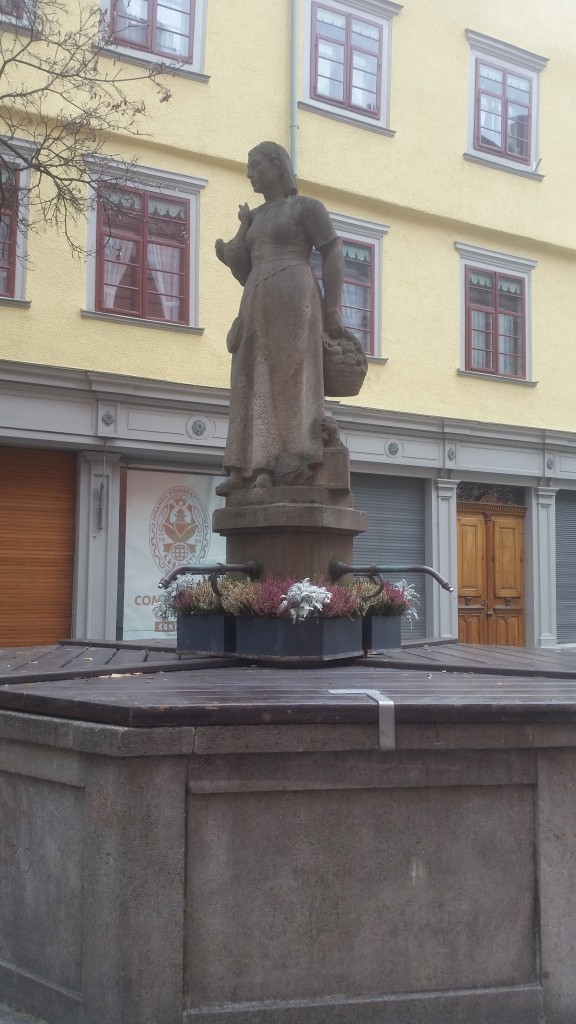 © Wendy Payne
The history of Ravensburg is like a puzzle, too. You will see a complicated and detailed image coming together like a tapestry or painting. One of the first and longest standing democratic states in Germany, the city of Ravensburg elected their own officials for over 500 years. From 1276 to 1802, it was considered a free imperial city.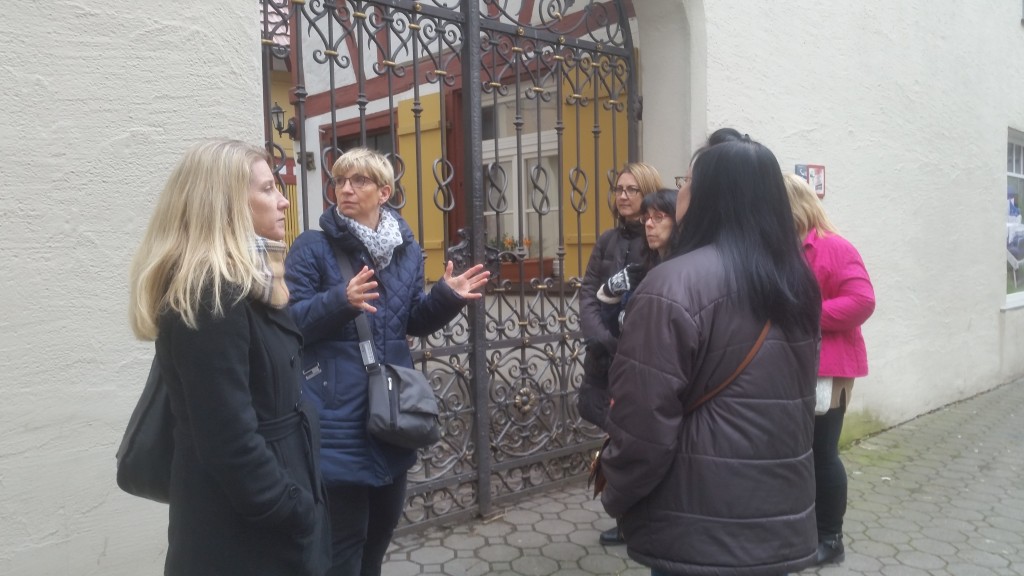 © Wendy Payne
With no king or governor ruling over them, the town had a council composed of noblemen, clergy, tradesman and some farmers. Sabina told us the people of Ravensburg were always free and self-determined.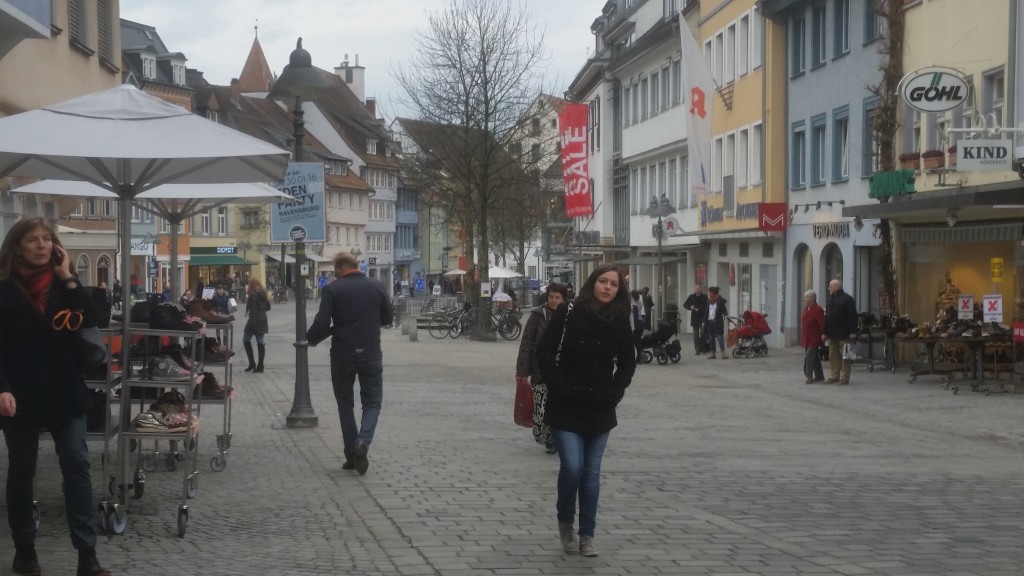 © Wendy Payne
We were taken through the famous tannery section of Ravensburg where quality shoes were made, sold and traded. Walking through this area, you will see several shoe stores selling their wares. Sabina shared an interesting story about children as young as 12 walking from Switzerland, Italy and Austria during the summer months to work in Ravensburg for trade jobs.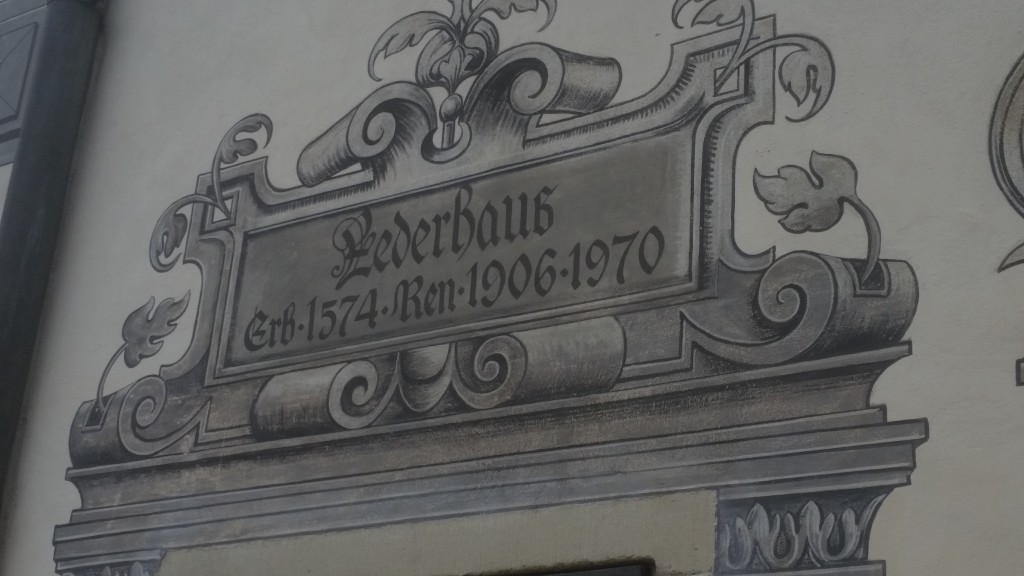 © Wendy Payne
There is a famous Waghaus (or weighing house) that was used to measure goods. Traders from Nürnberg to Lake Constanz and Milan would travel to the Waghaus for scales of every form for items such as pepper and spices, fish, yarn and gold.
It's worth noting that even today Ravensburg still hosts each Saturday a market in the Marienplatz featuring local trades, foods and goods.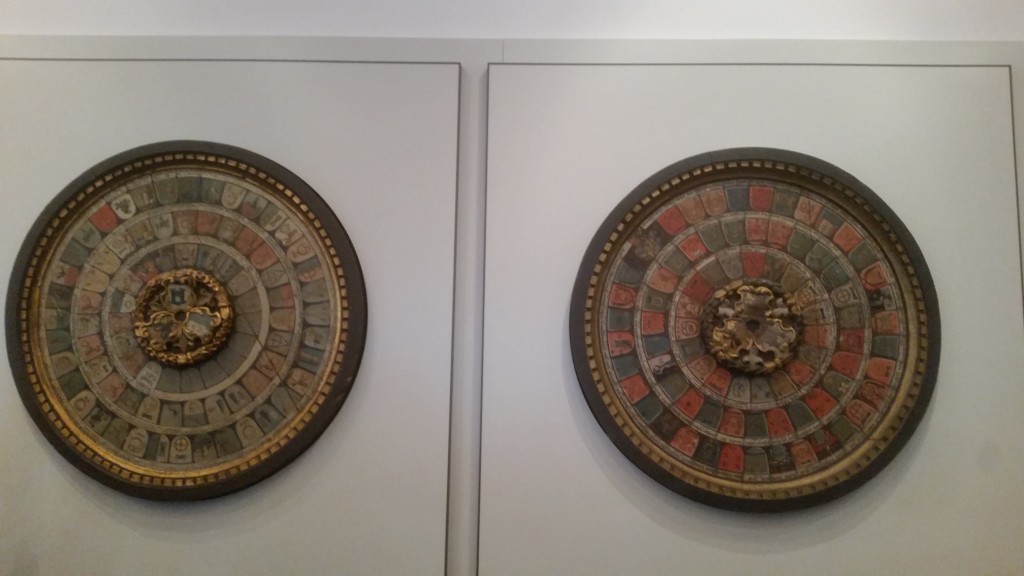 © Wendy Payne
In the Altstadt (Old Town) near the Marienplatz, you can visit the beautiful and well-preserved town hall, in which we saw some of the most amazing guild panels. These circular panels were decorated with the master tradesman crest in honor of exemplary work in pretzel baking, wineries, miller, etc.
In this main board room, the Mayor still meets with the city council at a huge round table similar to King Arthur's table. When entering this imposing building, you instantly notice the historical architecture and ancient wood paneling.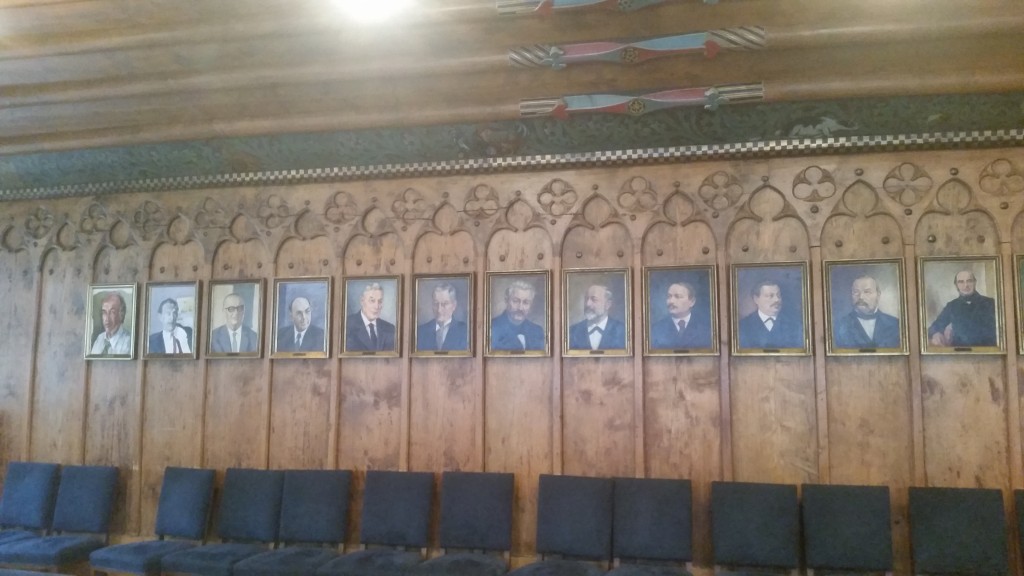 © Wendy Payne
After Napoleon came through in 1802, Ravensburg unfortunately suffered turbulent times and went through many upheavals. The town's trade route was dissolved, making it not convenient for major trade in Europe.
Today the town has approximately 50,000 citizens. With three large German universities very close to each other, Ravensburg has many college students. The University of Applied Sciences and the University of Cooperative Extension specialize in engineering and business sciences. The third college, Medien Design, focuses on media and publicity.
I felt like I was a college student in Providence, Rhode Island again, but this time I now have a few more wrinkles and find myself hanging with a cool group of older friends.
Lots to See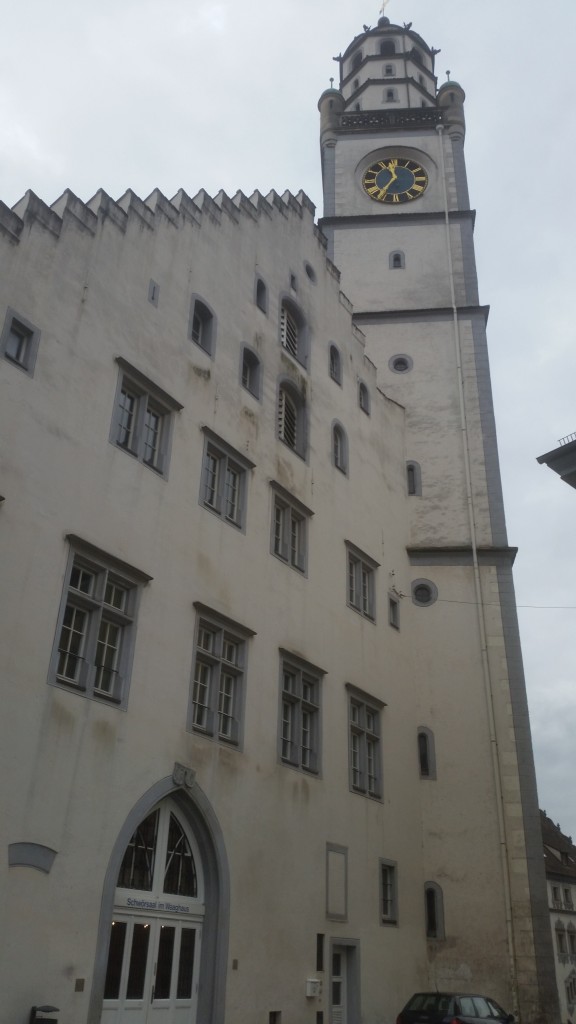 © Wendy Payne
Considering there is so much to see, it would be a good idea to include Ravensburg in a regional tour when visiting Bavaria or the Lake Constanz. We missed a chance to climb a tower with 212 steps, because it was too windy and cold. Sabina did promise though that the views are astounding in the spring and summer.
The 51 meter Blazer Turm (Tower) was where a watchman would alarm the city with trumpets in case there was a fire within the city walls. Sabina also told us that the Blazer rang every day at 4 a.m., 12 p.m. and 9 p.m. right up until the 1970s. It will reopen for the season on April 1.
This great town has a museum district, a shopping district, 12 towers and surrounding vineyards. I would be remiss if I didn't mention the cathedrals. Around 1555, the Pope sent monks to Ravensburg to help the Catholic movement. In fact, even today, 60 percent of Ravensburgers are Catholics.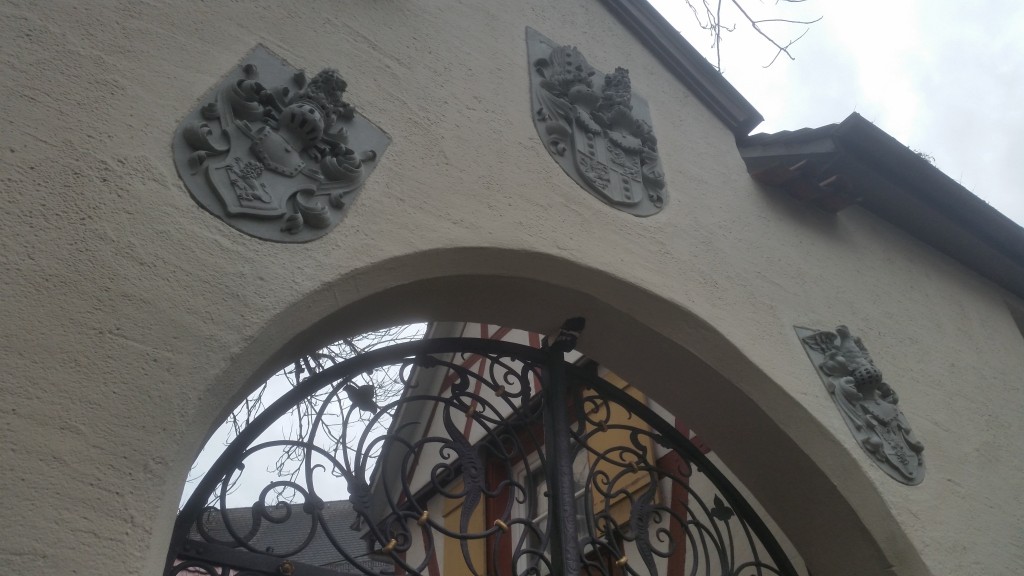 © Wendy Payne
Most of the wealthy trading families lived in what is known as "upper town." As you walk the cobblestone streets of this merchant town, you will notice the distinct changes between the smaller merchants and the more affluent larger homes. Look for the coat of arms that frame the entrances to these large houses as they typically have closed private courtyards and exquisite architectural details.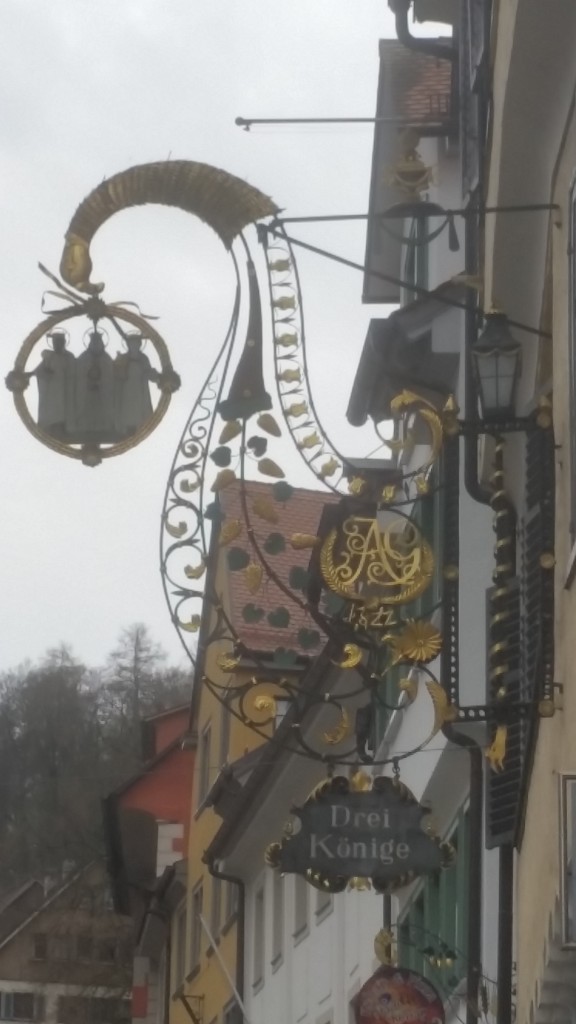 © Wendy Payne
One of the fests that Sabina told us about is a very eccentric fest called "Ruten Fest." This fest occurs at the end of the school year when the teachers parade out the arched gate into the surrounding woods to find new switches for the next year's children. She told us it's a fun fest and then smiled as I am sure it is all "tongue and cheek" today. This year's fest will take place from July 20 to 24, 2018.
If you haven't visited the puzzle town of Ravensburg, it definitely warrants your visit!  And it would be the ideal stop on your way to Bavaria or the Black Forest. 
How to Get There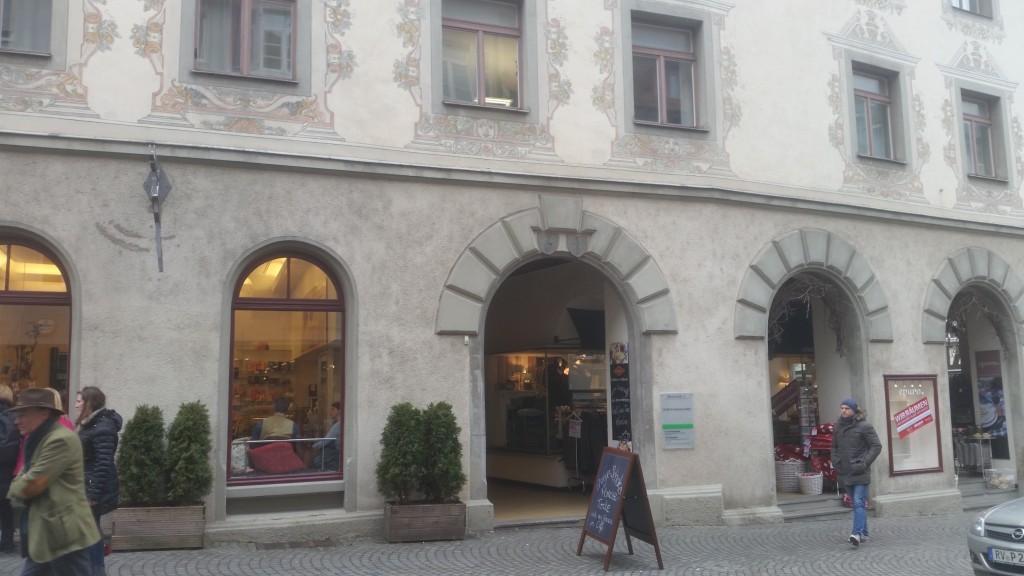 © Wendy Payne
By car Ravensburg is approximately 2 hours and 15 minutes south of Stuttgart, 4 hours and 10 minutes south of Wiesbaden and just under 4 hours south of Kaiserslautern. Click on DB Bahn for train information.
Author's Profile: Wendy Payne is a military spouse and lives with her family in Stuttgart, Germany. She is a freelance writer, blogger and photographer. She also enjoys gardening, hiking, yoga and sharing Europe with people.
Featured Image Photo Credit:  © Wendy Payne