Thanksgiving is one of the best holidays with the family every year. It's a great time to count your blessings, spend time with the people who matter most and relax over delicious Thanksgiving dishes. It's a special day for most—but can be stressful for the cook!
In charge of the Thanksgiving feast this year?
Take a lesson from the original Pilgrims and Native Americans ― you don't have to make every single item you serve! Trust family and friends sharing your table to bring a dish. For those Thanksgiving recipes you want to make (Thanksgiving just wouldn't feel right without Aunt Pauline's pomegranate punch) prepare as much as possible a day or two ahead. You can always dice veggies and put together casseroles before the big day—they taste better anyway after flavors have a chance to blend. Look for easy Thanksgiving recipes that don't require dozens of ingredients to make shopping, storage and preparation easier.
The Perfect Turkey
Thanksgiving just wouldn't be Thanksgiving without the Turkey!
1 (18 pound) whole turkey, neck and giblets removed
2 cups kosher salt
1/2 cup butter, melted
2 large onions, peeled and chopped
4 carrots, peeled and chopped
4 stalks celery, chopped
2 sprigs fresh thyme
1 bay leaf
1 cup dry white wine
Directions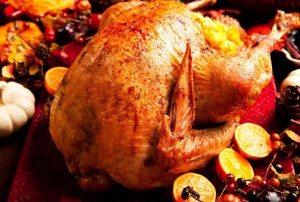 1. Rub the turkey inside and out with the kosher salt. Place the bird in a large stock pot, and cover with cold water. Place in the refrigerator, and allow the turkey to soak in the salt and water mixture 12 hours, or overnight.
2. Preheat oven to 350 degrees F (175 degrees C). Thoroughly rinse the turkey, and discard the brine mixture.
3. Brush the turkey with 1/2 the melted butter. Place breast side down on a roasting rack in a shallow roasting pan. Stuff the turkey cavity with 1 onion, 1/2 the carrots, 1/2 the celery, 1 sprig of thyme, and the bay leaf. Scatter the remaining vegetables and thyme around the bottom of the roasting pan, and cover with the white wine.
4. Roast uncovered 3 1/2 to 4 hours in the preheated oven, until the internal temperature of the thigh reaches 180 degrees F (85 degrees C). Carefully turn the turkey breast side up about 2/3 through the roasting time, and brush with the remaining butter. Allow the bird to stand about 30 minutes before carving.
There is a really good video of how to cook your first Turkey here.
Make-Ahead Turkey Gravy
1 large onion, chopped
2 carrots, chopped
2 ribs celery, chopped
2 teaspoons vegetable oil
2 large turkey wings
2 tablespoons cold water
10 cups cold water
4 sprigs fresh thyme
2 cloves garlic (optional)
3 tablespoons butter
1/2 cup all-purpose flour
salt and ground black pepper to taste
1 pinch cayenne pepper
Directions
1. Preheat oven to 400 degrees F (200 degrees C).
2. Combine onion, carrots, celery, and vegetable oil in a large roasting pan and toss to coat. Place turkey wings on top of vegetables
3. Place roasting pan in the preheated oven and cook until the turkey wings are browned and vegetables are caramelized and softened, 45 to 60 minutes.
4. Transfer turkey wings and vegetables to a large stockpot. Place the roasting pan over a stovetop burner on medium heat. Pour 2 tablespoons cold water into the pan and bring to a boil, scraping up any browned bits. Transfer mixture to the stockpot and add 10 cups cold water, thyme, and garlic.
5. Bring turkey wing mixture to a boil. Reduce heat to low and simmer, uncovered, until meat falls off the bone, about 3 hours. Skim off turkey fat throughout the process and set aside 2 tablespoons.
6. Strain turkey stock and reserve 6 cups of stock; discard all the solids.
7. Heat butter and 2 tablespoons reserved turkey fat in a large saucepan over medium heat. Sprinkle in flour and cook, whisking continuously, until it begins to smell like cooked pie crust, 2 to 3 minutes. Slowly pour in turkey stock, whisking continuously. Increase heat to high and simmer until thick and warmed through, about 5 minutes. Season with salt, black pepper, and cayenne pepper to taste.
Golden Sweet Cornbread
1 cup all-purpose flour
1 cup yellow cornmeal
2/3 cup white sugar
1 teaspoon salt
3 1/2 teaspoons baking powder
1 egg
1 cup milk
1/3 cup vegetable oil
Directions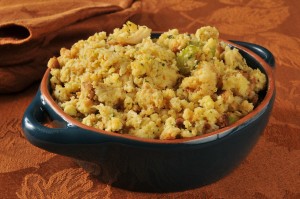 1. Preheat oven to 400 degrees F (200 degrees C). Spray or lightly grease a 9 inch round cake pan.
2. In a large bowl, combine flour, cornmeal, sugar, salt and baking powder. Stir in egg, milk and vegetable oil until well combined. Pour batter into prepared pan.
3. Bake in preheated oven for 20 to 25 minutes, or until a toothpick inserted into the center of the loaf comes out clean.