Milan has a mystical status in the world of style and luxury and in the soccer world evokes awe. With Milan being the powerhouse of Italian industry and finance and it being the world's capital for style and fashion it is no wonder that Milan has a huge reputation. It is the HQ of Gucci, Armani, D&G and Versace. When you put this with some of the most successful soccer teams in Europe based in a truly historical city then you have a place that is a pleasure to spend a few days in. One thing you will notice when in Milan is not the industry or soccer stadium but the beautiful buildings from the superb Duomo in its heart to the small century old churches that adorn its narrow streets. When you sip some coffee in one of the many cafes watching the flash cars and city rush around you will see why Milan is up there with the other great European cities of London, Madrid, Munich and Paris.
From my time there here are my favourite things to do in Milan: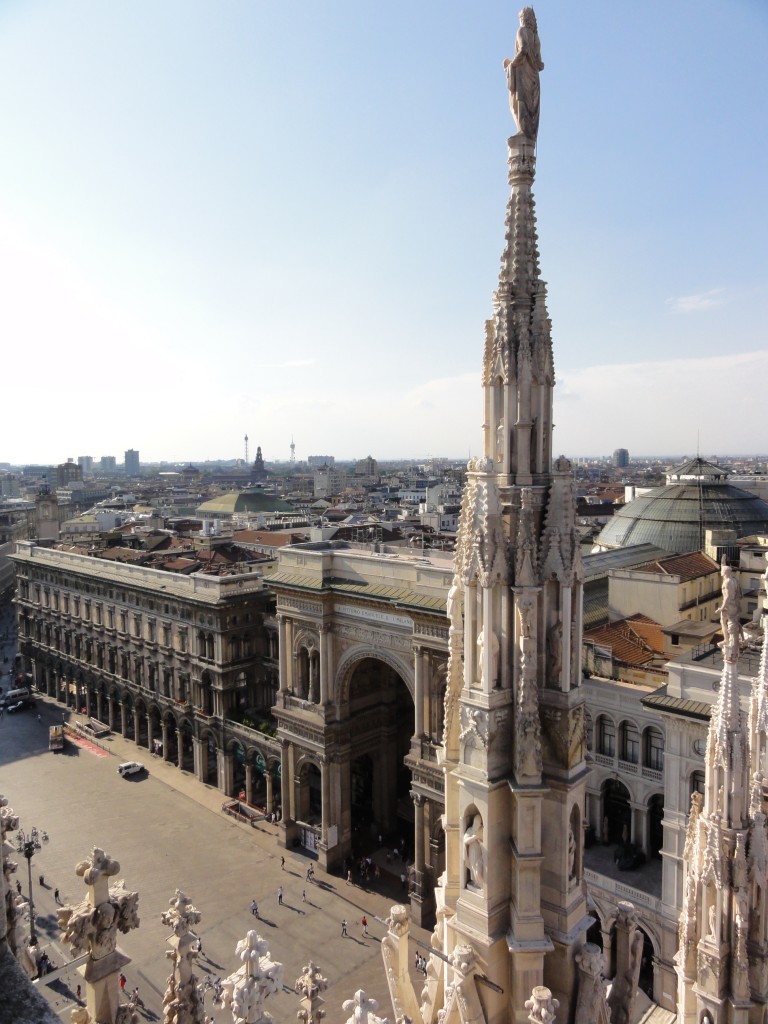 1. El Duomo and the Piazza
El Duomo is one of the most spectacular sights in Europe and is the world's third largest church. It is the centre piece of Milan and the piazza (square) in front only adds to the grandeur. This huge cathedral is full of spires as if trying to puncture the sky, 135 of them to be exact! The 14th century cathedral took over 500years to complete and with over 3,500 statues it is no wonder. Every nook and cranny has some strange looking gargoyle or saint looking back at you. As impressive as it is from the piazza out front, it is even more impressive when you take a walk up to the roof and see the spires, gargoyles and even the Alps on a clear day.
2. Galleria Vittorio Emanuele II and La Scala Opera
One of the oldest shopping malls in the world is located beside one of the oldest operas. This is only a stone's throw from El Duomo and is why the centre of Milan one of the most pleasant cities to walk around. The Gallery was opened in 1867 and is a beautiful mixture of glass and metal and today houses some of the world's most exclusive stores. Unless you own your own boat you probably won't be able to afford to buy anything in the shops or a ridiculously priced coffee but it is still worth a browse through to see how the other half live. Just out one of the exits of La Galleria is Piazza della Scala which has a statue of Leonardo Da Vinci and of course Teatro La Scala. This famous theatre is over 200years old and still is one of the world's premier theatres.
3. The Last Supper
You more than likely know the painting of Jesus with his twelve disciples at his last supper when he reveals that one of them will betray him? Well this iconic painting by Leonardo da Vinci is in Milan in the Santa Maria della Grazie church. Arguably the greatest painting of the Renaissance is a huge piece of work measuring 4.6mt x 8.8mt (15ft x 29ft) and has survived being used as target practice, being part of a military barracks and World War II (where the other half of the church got blown up). How it is still around is a miracle in itself. To see the painting you need to book one of the 15minute viewing times at the church which is easiest when incorporated into a city tour.
4. Castello Sforzesco
This behemoth of a 14th century castle is another architectural wonder. This red bricked citadel today houses 8 different museums including Michelangelo's last sculpture and Da Vinci's 'Codex Trivulzianus' manuscript. The scale of the castle is breathtaking with a now dry moat, 70mtr high towers and walls that are nearly 3km long, 31mtrs high and 4mtrs thick. Even if you don't head into Piazza d'Armi then you can enjoy the surrounding park of Parco Sempione.
5. The San Siro
As mentioned above, Milan is the powerhouse of Italian industry and football. As heading to a factory might not be that interesting, heading to a football match most certainly is. Italy is one of the world's best soccer nations and in the 85,000 seater stadium of the San Siro they have the home of both AC-Milan and Inter Milan (Internazionale) which are some of Italy's and Europe's top clubs. They have both won the European Cup (Europe's best club competition) multiple times. The season runs from September to May each year and with both of them playing at home on alternate weekends there is always a game to go to. If you can get your hands on tickets to the Milan derby between the two you are in for one rousing evening.
Author Profile
I'm
Ross
and love travelling and experiencing different sites, cultures and languages. I am currently working for 'the man' while making time to travel whenever I can. I try to share my experiences of 70+ countries so that others can enjoy their holidays a little better.