In the wee hours of Sunday mornings in the City of Hamburg, there are preparations for an event that will attract around 70,000 visitors EVERY SUNDAY. Along the Elbe River, the historic Hamburg Fischmarkt makes for an interestingly insane morning ritual. The open-air market is located next to the fish auction hall at the Hamburg harbor, the second busiest port in Europe.
Fish Market and More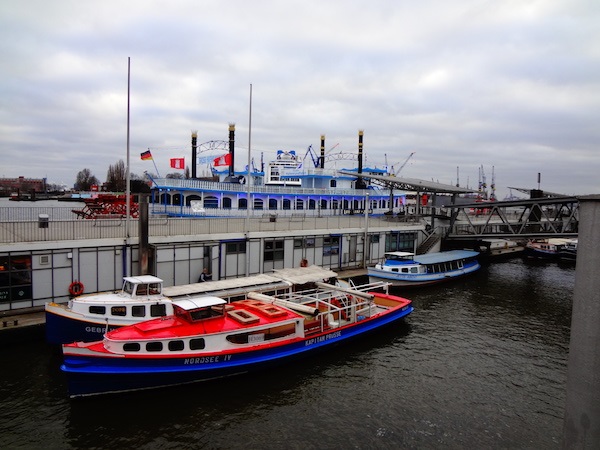 © Cheryl Koller
We were in Hamburg for a concert on a Friday night and decided to stay through the weekend just so we could experience this market. Technically, it is a "Fish Market" and it boasts of the best, freshest fish from the North and Baltic Seas. However, you can also purchase fruits and vegetables, flowers and souvenirs.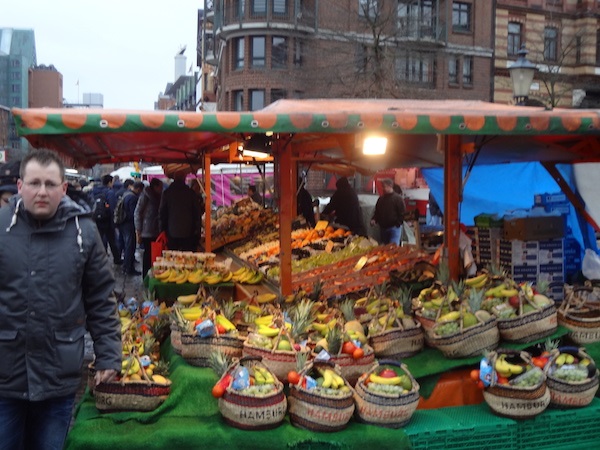 © Cheryl Koller
The vendors obviously arrive during the early morning hours (I'm guessing 3 a.m.?) to set everything up. They have a system that seems to work in order to get that many vendors into such a small and narrow area.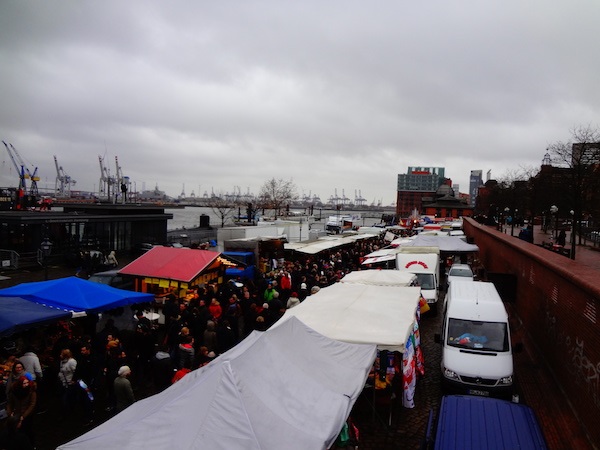 © Cheryl Koller
Add in 70,000 people in the span of 2 ½ hours and it becomes quite apparent that there is no such thing as "personal space".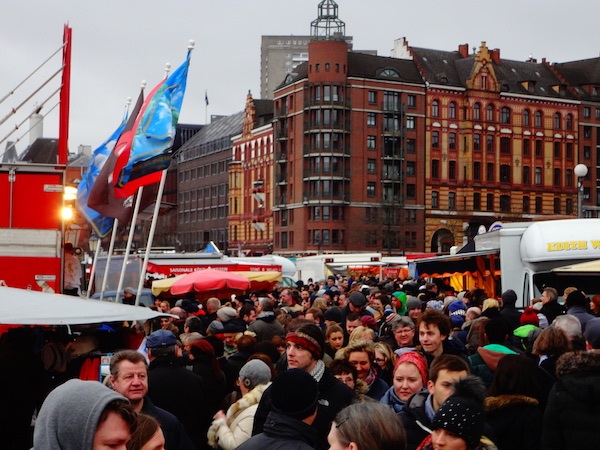 © Cheryl Koller
The Auction
The best and craziest part of this market is the auction. The vendors compete for your business by auctioning off their goods. Basically, they yell out a price and then keep adding products until someone says yes! This includes fresh fish, flowers, and produce. It was interesting to watch and by the end of the morning, I decided to purchase a basket of fruit for myself.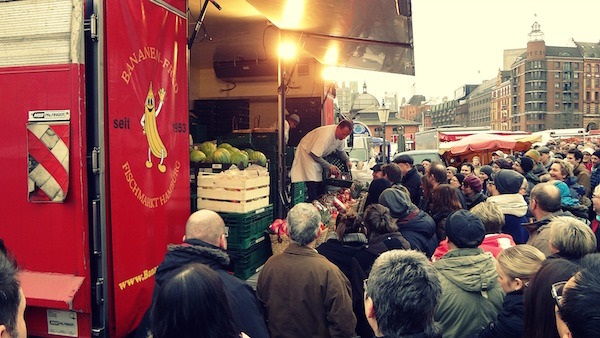 © Cheryl Koller
The baskets are all priced at € 10. I discovered that if you stand long enough and stare longingly at the basket, the vendor will add more fruit. I felt as if I got a really good deal because I wanted the basket and was getting fresh fruit for free. We did later discover that the fruit at the bottom of the basket is not so fresh, but it was still edible. No harm done. I have a basket.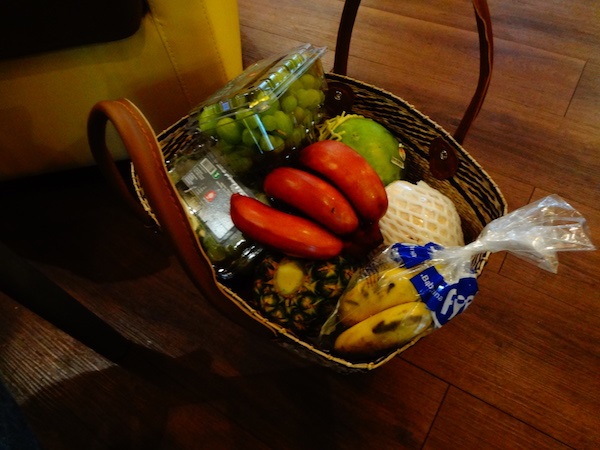 © Cheryl Koller
If we had understood how much fresh fish would be available, we would have purchased a cooler for the ride home. We had to settle for some cooked fish and a shrimp sandwich, which was delicious.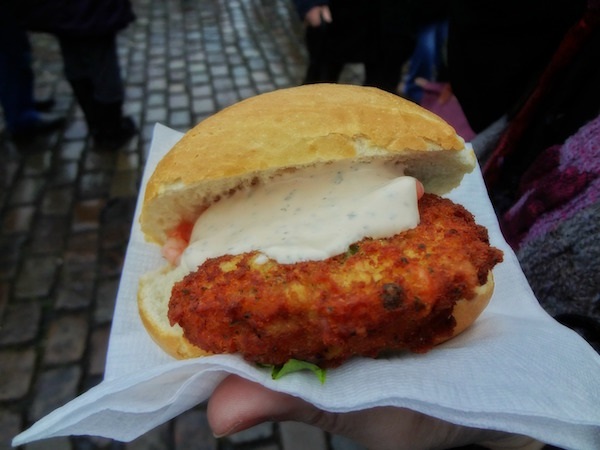 © Cheryl Koller
There were some interesting options that we could not bring ourselves to try…a sandwich that literally looked as if it contained a raw fish and smoked eel.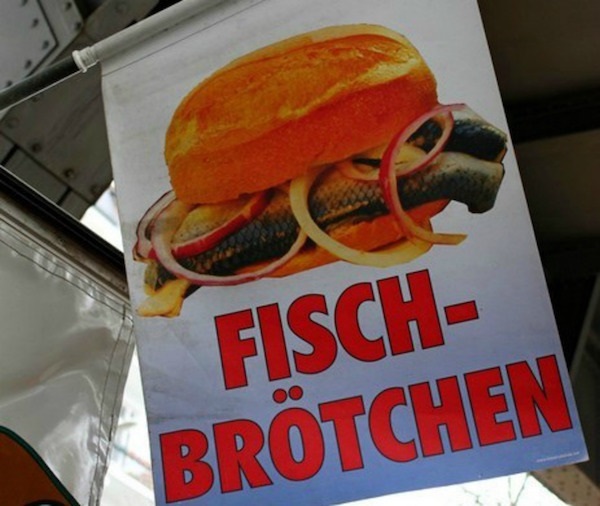 © Cheryl Koller
The Party Continues…
The market ends at the Fischauktionshalle, which translates to the fish auction hall, with more food, booze and live music.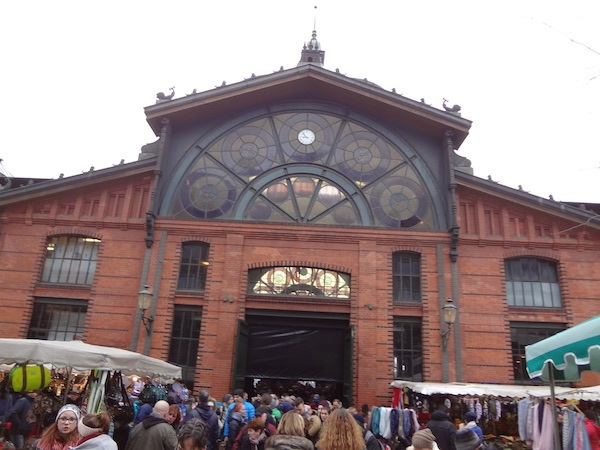 © Cheryl Koller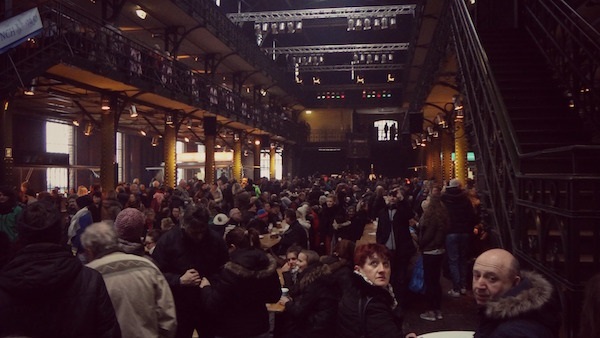 © Cheryl Koller
Not only were the early morning risers there to enjoy the festivities, we did see some tourists and locals that appeared to be ending their Saturday night out at this market.
If you have a free weekend and you are looking for something different to do (and craving some amazing and fresh seafood), I urge you to make the five plus hour drive to Hamburg on Friday, spend the weekend enjoying the city of Hamburg and go to this market early on Sunday morning. Bring a cooler!
WHAT YOU NEED TO KNOW
Opening Hours: In the summer (April-October), the market is open every Sunday from 5 a.m.-9:30 a.m. In the winter (November-March), the market opens two hours later at 7 a.m.
There is no charge to attend the market. Brunch at the Fish Auction Hall is available from 6 a.m.-noon for 15 €.
Address: Sankt Pauli Fischmarkt, Große Elbstraße 9, Hamburg
How to Get There
The drive to Hamburg is approximately 5 hours and 40 minutes north of Kaiserslautern, just under 5 hours north of Wiesbaden and 6 hours and 30 minutes north of Stuttgart. And for train information, click on DB Bahn.
Author's Profile: Cheryl Koller is a native of Georgia. She is a DOD spouse, mom of 4 daughters (2 adults, 2 teens), thrill-seeker, avid traveler, and lover of food and wine. She is a self-proclaimed Freedom-Preneur and Blogger currently living in Ramstein with her family.
Featured Image Photo Credit: © Pixabay