Picture yourself zipping down the side of a mountain with sun in your eyes and wind in your face. You are on your own speedy toboggan pretending to be in the Olympic games and going as fast as you dare! Now add a huge smile on your face when you envision this because it is so FUN! This exhilarating experience is possible at the summer toboggan run in Lorelei called Sommerrodelbahn Loreley-Bob.
Near Beautiful Lorelei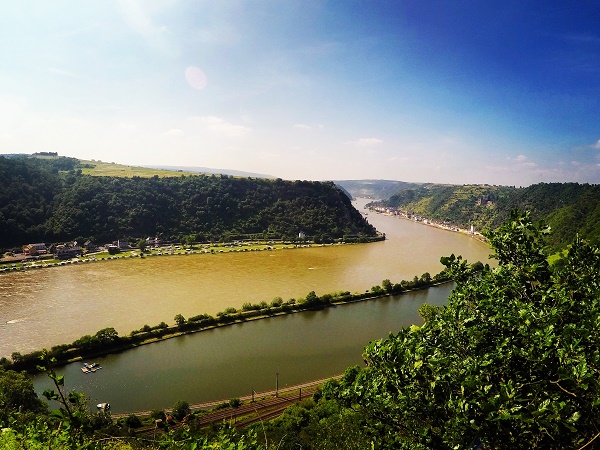 © Gemma
The toboggan run is located in one of the most beautiful areas of Germany in which Lorelei lookouts high above the Rhine River. Lorelei is a spot not to miss during your visit to the toboggan run. You can go to the lookout and See Through the Eyes of Lorelei.
After leaving Lorelei lookout, follow the signs for the toboggan run. It will take you steps down the mountain; but have faith, the toboggan run is around the corner.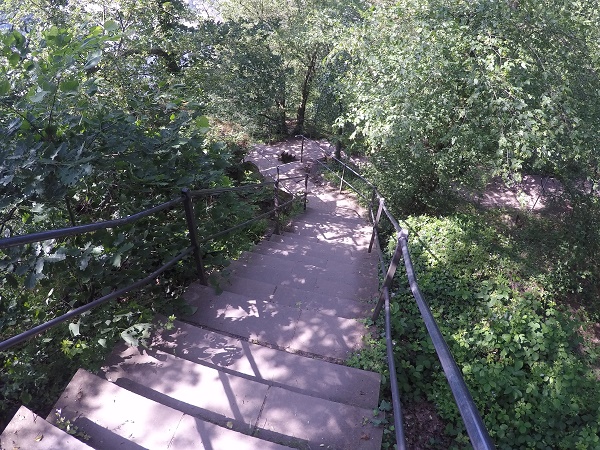 © Gemma
Toboggan Time
You can purchase a toboggan run ticket at the booth. It is very affordable, so the three us went three times each.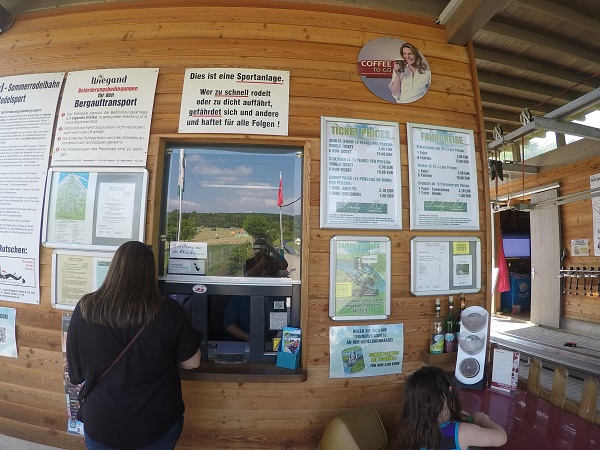 © Gemma
There is a sign in English.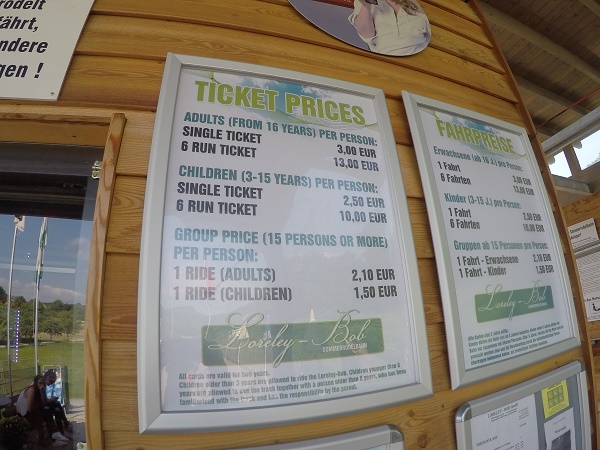 © Gemma
You then swipe your ticket to enter and it's time to ride. Your toboggan awaits!!!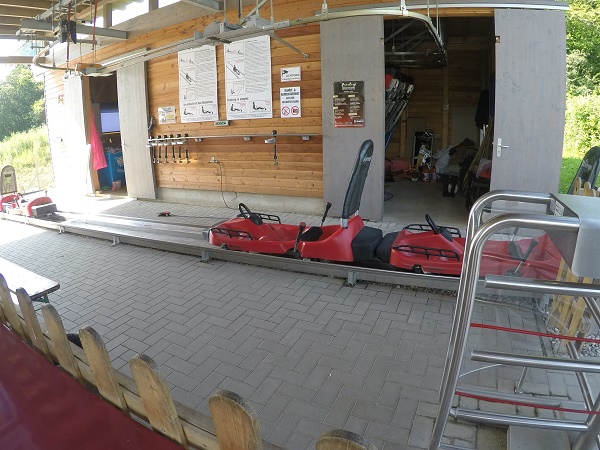 © Gemma
Children can sit right in front of you in which there is a handle for them to hold on to. When you get in, you will first be pulled up the mountain nice and slow. This was very relaxing and a good opportunity to take a photo or two…or ten! #TobogganSelfie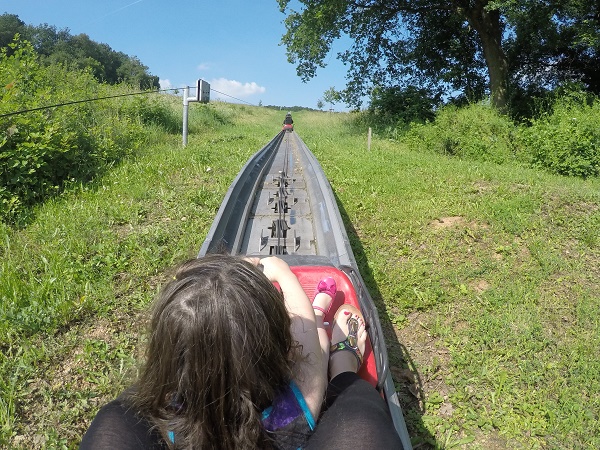 © Gemma
While getting pulled up, you can see the toboggan run that you are about to go down.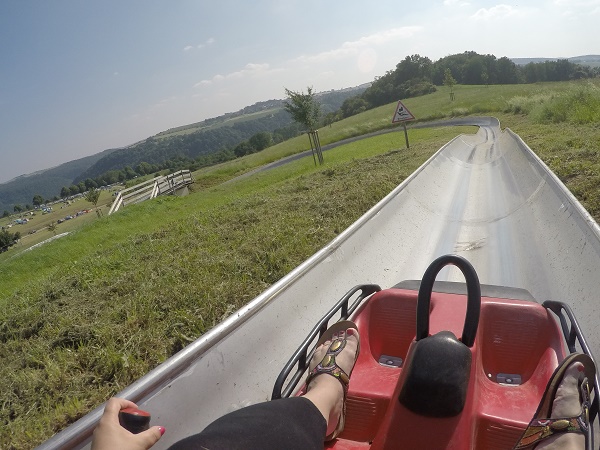 © Gemma
The last thing you see before it is just you and the open track is a cactus waving goodbye to you. Tschuss!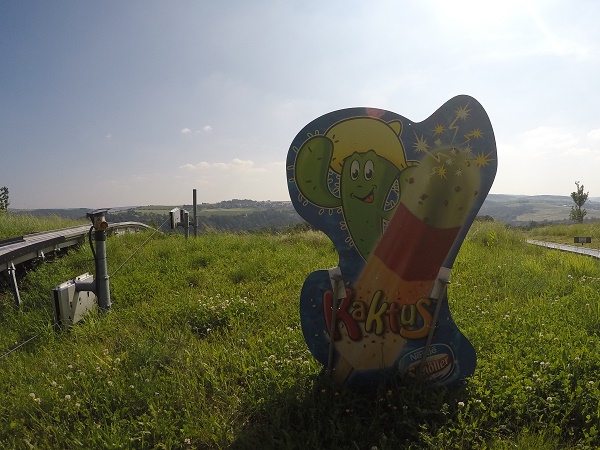 © Gemma
And You're off!
You can brake by pushing down on the lever or pull up to let it ride. There are signs before the turns that suggest that it is a good time to brake.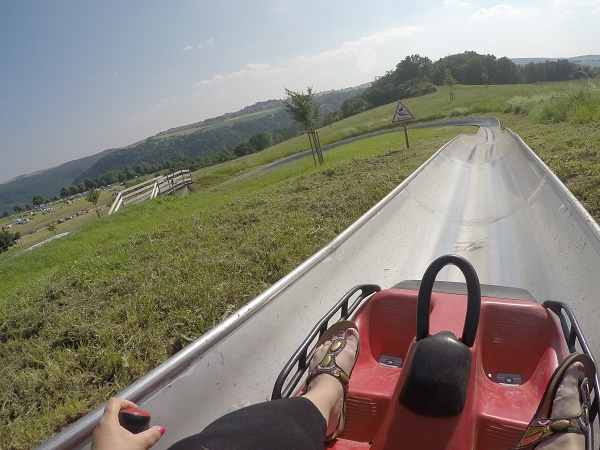 © Gemma
I was going down each time with my GoPro camera in hand and I was still able to brake and control the toboggan.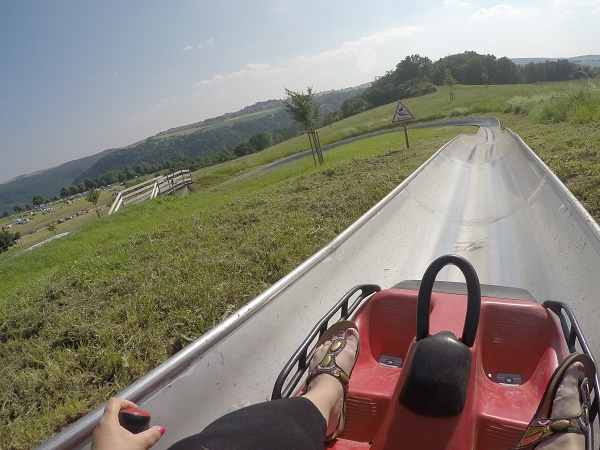 © Gemma
'Langsam' means slow, but it will be pretty obvious what you need to do after having plastic ribbons smacking you in the face.
All good things come to an end! You get off your toboggan and go check out how crazy you looked in the photo and also check your speed.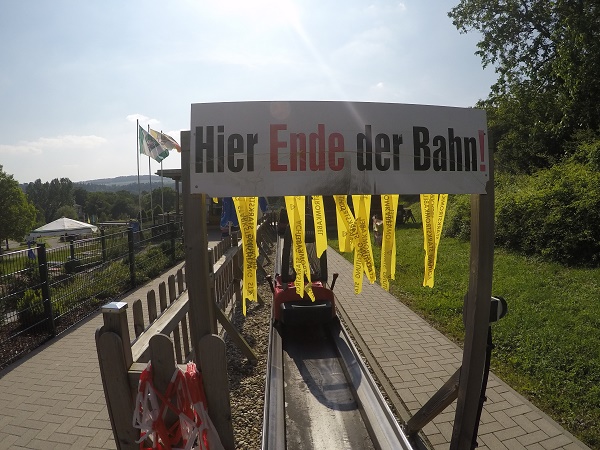 © Gemma
We got back in line and went two more times. Each time we went we tried to make our photo more ridiculous than the one previous!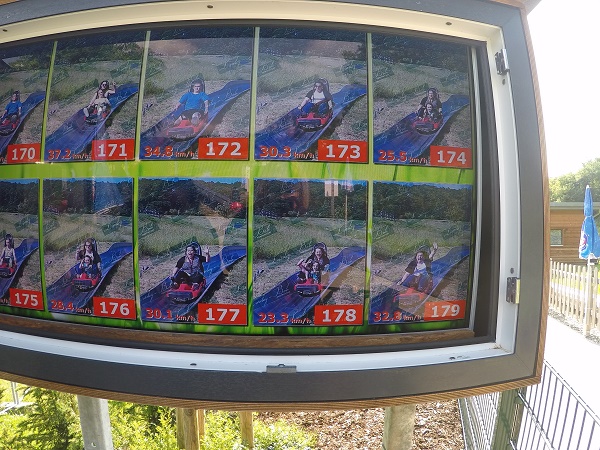 © Gemma
Tables are available for light snacks and ice cream. What a fun place to hold a birthday party!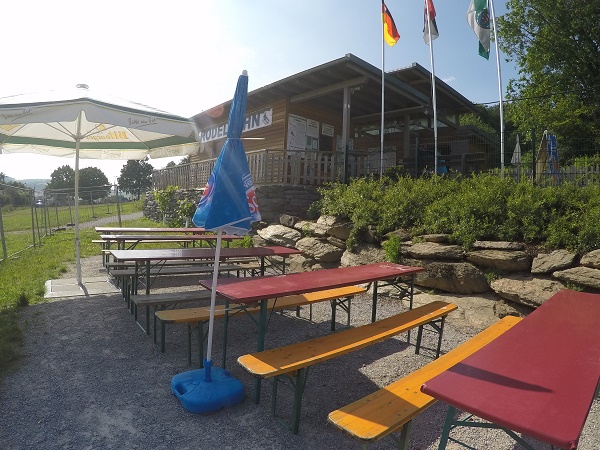 © Gemma
Perhaps I should join a German bobsled team like in the movie 'Cool Runnings'. Or maybe not and I will just stick to the toboggan run in Lorelei! This photo pretty much sums up our day!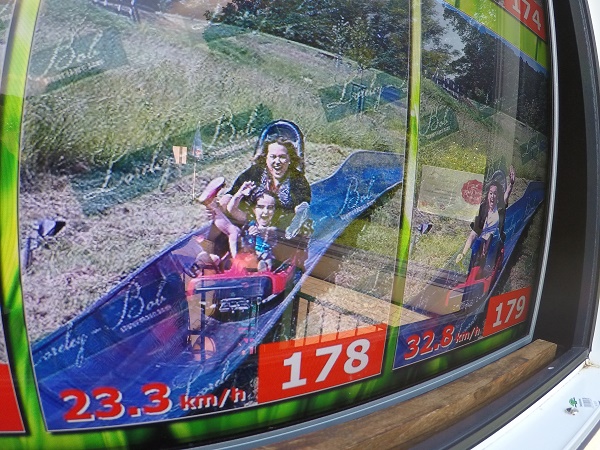 © Gemma
How to Get There
Loreley-Bob is approximately one hour northwest of Wiebaden, two hours north of Kaiserslautern and just over three hours north of Stuttgart.
Loreley-Bob's address:
Loreleyring
56346 St. Goarshausen
Author's Profile: Gemma is a mom, a veteran and an Army civilian living in Wiesbaden, Germany. With New Jersey roots, she is enjoying her extended European vacation.
Featured Image Photo Credit: © Gemma