by Ronnie Juhans
Photo by Sky Antonio/shutterstock.com
Skydiving is one of those experiences in life that many ponder and have on their bucket list of amazing adventures. My only warning to you is the addictive nature of this sport. My first jump got me so hooked that every time I see a Cessna fly over, even during the offseason, my adrenalin levels crank up and take me back to that moment.
Arriving at the hangar for my first jump and meeting the tandem instructors who were professional, friendly, and gave off powerful enthusiastic vibes got everyone in the group motivated and eager to get the show on the road and into the sky. We were briefed on the safety of the sport, equipment, and the process of jumping out of a plane while going on a tandem flight from 14,000 feet.
After boarding we took off on a smooth ascent and just chilled out while enjoying the view on the way up. My instructor was hilarious and told a couple of jokes during the flight, keeping us laughing.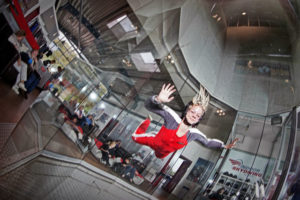 Leonie Milde | Military in Germany

Once the plane leveled, the words "ready mate" was the last thing that I recall hearing before spilling out the door for a thrill of a lifetime. The initial jump and freefall at over 100 miles per hour was crazy. It was amazing, like floating on water and not that gut-wrenching sick feeling of falling uncontrollably that many people anticipate and fear.

After the initial freefall the instructor deployed his chute and slowed us down for our descent to the drop zone. One of the coolest things was to go into circular maneuvers with my hands stretched in front of me while enjoying an amazing view of the hills, valleys, and surrounding villages below without an inkling of fear in my mind.

As we approached the landing zone my tandem instructor let me take the toggles and steer the chute for a bit while continuing to shout out what we were about to do and make sure that I was comfortable and that we would land safely. Once we landed I was ready to hop back into the plane and jump again.

Skydiving like many other adventures are seasonal because of weather conditions. End of March through October is prime season. I will feature some of the best skydiving opportunities, and experiences in the spring and summer 2019 editions of the Kaiserslautern American.

Until then there is a way to test the water this winter before diving in head first once the seasons change again.

Indoor skydiving in a wind tunnel is an excellent way to try out how skydiving feels beforehand and get yourself ready for the season. The wind tunnel airflow simulates the realistic freefall portion of a skydive as well as allowing you to do turns, go forward, backward, slow down and speed up your fall rate all which build your precision levels and confidence. The indoor flights are actually longer than outdoor flights. Not only was it fun and gave me that adrenalin junky fix, it is also very safe and can be done with a group of friends or the whole family at one time.

I have visited Indoor Skydiving Bottrop on various occasions. This extraordinary facility is open for beginners and professionals from all sectors of skydiving and offers the possibility to practice flying before an actual jump. The flight chamber is 17 meters high and has room for up to six participants. Skydiving Bottrop has a variety of packages for adults, kids, and groups that start with two tunnel flights which are longer than two skydives from an altitude of 13,000 feet!

You are welcome to bring food, water and snacks, or eat at the bistro. All equipment will be provided on site. Be sure to make reservations well in advance.

For more information, visit www.indoor-skydiving.com

(Visited 164 times, 1 visits today)

Tags: