November 12, 2021
It is increasingly important to have a COVID digital certificate on you at all times. Depending on where you live, you might need it to get into a restaurant, museum, or even your child's soccer match.
Fortunately, Germany offers some really great guidance and app options for Americans. Even better, the apps are now available in the US iOs App Store or on Google Play for Android.
Here's what you need to know.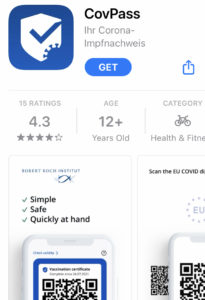 Photo from US iOs App Store
Best option for Germany: CovPass
Offered by the Robert Koch Institute, the CovPass allows you to download your EU digital certificate to your smartphone. The app can also be used to store certificates for your family members.
Using the pass requires that you have a vaccination certificate that contains a QR code. To load the certificate into your app, just use your smartphone camera to read the QR code, and off you go!
A good alternative: Swiss COVID Certificate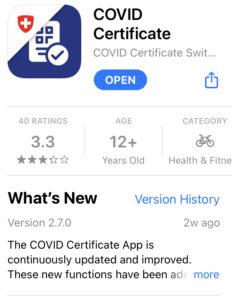 Photo from iOs App Store
Ever good at being technocratically awesome, the Swiss government offers an app that can be used by anyone with a COVID vaccination certificate.
Loading and displaying certificates is simple, intuitive and easy. Even though the app is intended to provide access to Swiss locations, it still works anywhere in Europe.
Good to have: the Luca app
Used exclusively in Germany, the Luca app has been a timesaver for a lot of people. Especially relevant for restaurants and events, the app ensures a highly secure transmission of your contact data for any venue that you want to share it with. In an era where contact tracing seems like it's here to stay for a while, this is a really useful thing.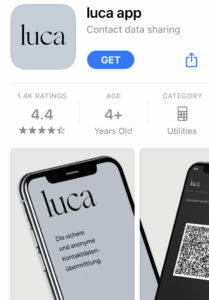 Photo from US iOs App Store
The app is highly encrypted, and offers several features that may be useful to you, including optional automatic checkouts (so your leaving time can be recorded), and automatic deletion of data 4 weeks after visiting a place.
Tips to remember
Always carry a form of official identification to go with your COVID pass. Even though some places might not ask to see ID, many others will. And the apps ask them to do so.
If you have questions about obtaining a COVID vaccination or recovery certificate, please see your doctor or a pharmacist.
The Robert Koch Institute has an excellent English-language FAQs section on COVID digital certificates and the CovPass app.
For U.S. government employees, including service members, remember to always follow command regulations, which may be different than host nation policies.