Spain is vast, beautiful and geographically diverse. Given its history, it is also one of the most culturally rich places in Europe. In addition, it offers mountains, beaches, deserts, plains and some of the world's best cities. In short, it's a tourist's dream.
This is true even when actual tourism isn't particularly possible. However, there are a number of very cool virtual tours that do an outstanding job of bringing Spain to you.
Check out these seven great spots, and immerse yourself in the history, art, and majesty of Spain.
La Sagrada Familia, Barcelona
Few things define the city of Barcelona as well as the designs of Antoni Gaudi. The basilica of La Sagrada Familia is perhaps his most famous work. Whatever your opinion of the undulating facades and towering spires that almost seem to be melting, this place has charisma. In real life, you can't take your eyes off it. The virtual tour does a great job of recreating what it's like to be there, and in showing off the unique and colorful interior.
Take the virtual tour: https://sagradafamilia.org/en/virtual-tour
Segovia
There's something special about Segovia. An hour north of Madrid, it's one of the cities (along with Toledo) that encapsulates the things that make Spain special. Segovia has an immense cathedral, a brilliant castle, a manageable-sized downtown, and a truly fantastic Roman aqueduct. This virtual tour gives you a birds-eye view of those places (and more), all set to a Spanish classical guitar soundtrack that is positively Segovian.
Take the virtual tour: https://www.airpano.com/360photo/segovia-spain/
Dali Theater-Museum, Figueres
In the 20th century, Spanish artist Salvador Dali rocketed to fame through virtue of his surrealist paintings, outsized personality, epic mustache and willingness to push boundaries. This virtual tour does an outstanding job of capturing Dali. It also offers one of the best virtual tours out there – highly entertaining, informative and provocative (in a good way).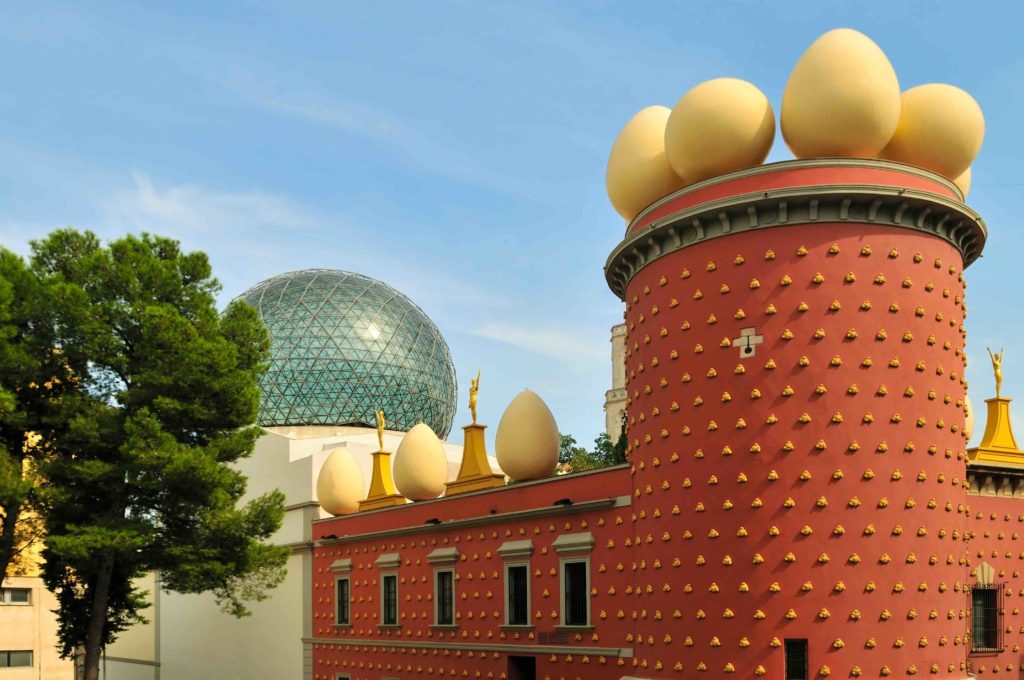 Denis Larkin / shutterstock.com
Take the virtual tour: https://www.salvador-dali.org/en/museums/dali-theatre-museum-in-figueres/visita-virtual/
The Alcázar, Seville
This royal palace is brilliant. It has an incredible history that stretches from medieval Moorish kings to the current Spanish royals who use it as a residence when they're in town. The gardens, architecture and art are all exquisite. Discover why the Alcázar of Seville is generally regarded as one of the most beautiful places in Spain.
Take the virtual tour: https://artsandculture.google.com/entity/alc%C3%A1zar-of-seville/m08dfpy?categoryid=place
Guggenheim Museum, Bilbao
Dedicated to being a monument of contemporary art, the Guggenheim Museum in Bilbao succeeds in a staggeringly excellent fashion. The building itself is a work of art. What's contained inside the building isn't so bad, either – masterpieces from modern giants like Andy Warhol, Mark Rothko, and Jean-Michel Basquiet, among others.
Take the virtual tour: https://artsandculture.google.com/partner/guggenheim-bilbao
Global Soccer Giants: Real Madrid and FC Barcelona
Perhaps nothing defines modern Spain so much as fútbol, or soccer as we Americans have a tendency to call it. Fans the world over are passionate supporters of Real Madrid and FC Barcelona, two of the world's most famous clubs, both of which play in the Spanish premier league (or La Liga). If you're a fan of these clubs – or even if you're not – check out virtual tours of their two iconic stadiums.
Visit the Camp Nou, FC Barcelona's home stadium: https://www.youvisit.com/tour/campnou
Visit Santiago Bernabeu Stadium, Real Madrid's home stadium: https://www.realmadrid.com/en/santiago-bernabeu-stadium/virtual-tour-3d