For Americans living in Germany, it can be all too easy to never learn German. If you speak English at work and English (or another non-German language) at home, you might think, "Why bother?"
However, learning to speak German – even a little bit – is a golden opportunity. The benefits of speaking multiple languages are many and proven. And you'll never be in a better place to improve the level of your German language skill.
Unfortunately, many of the traditional modes of language acquisition, like in-person classes, aren't available right now. Fortunately, however, there are plenty of other options (most of them free) to help you rapidly improve your ability as a German speaker.
Here are five tips to get you on your way.
1. Start with "Why?"
This is especially important for adults who are just starting to learn a language. Be very clear about why you want to learn. Is it to be able to navigate common situations, like grocery store shopping or calling in take-out pizza orders? Is it simply to be able to say hello to your neighbors in the hopes that you can someday start a conversation with them? Or would you like to master the language?
Keep the reasons for – and the benefits of – learning German at the top of your mind. If you're clear about why this is important to you, it is much more probable that you will stick with it.
2. Find a partner.
Learning a language is like getting in shape. If you have a partner, you're far likelier to accomplish your goals. Buddies can keep you motivated when you're not feeling like it, and they can help you give you gentle nudges when you need to keep moving. As a bonus, you've also got someone with whom you can practice.
Even better: find a native German speaker who will chat with you regularly. You'll never be in a better location to do so.
3. Find a language app that works for you.
There are several online options that are great for beginners and experts alike. For Americans living in Germany, here are some ideas:
Army MWR libraries in Europe offers an excellent and comprehensive program through Mango. Using this free online resource can be very useful.
There is no shortage of free online apps that can be used via mobile or in a desktop environment. Popular choices include Memrise, DuoLingo or Babbel. These can be especially useful for learning or reviewing the basics.
Online courses can occasionally be available through organizations that traditionally offer in-person classes. For example, the Kaiserslautern Kreisvolkshochschule often offers online beginner courses. Ask around at your installation, as well.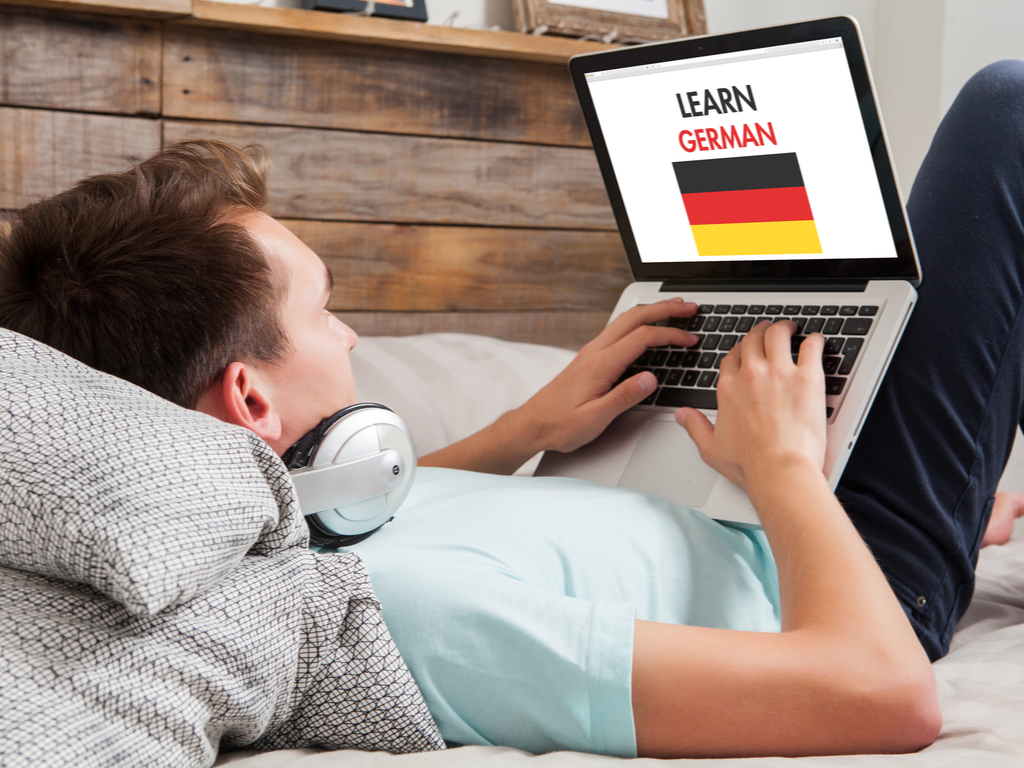 David MG/shutterstock
4. Put in the time.
Once you've got goals, a partner (or a sense of adventure), and a way to learn, it is important to put in the time. Consistency is often more important than volume: for example, 10 minutes a day every day will take you further than one hour a couple of times a week. Find a way to make sure you're putting in the time, even if it's something as simple as a putting a daily checkmark on your calendar.
5. Put your pride aside.
This is so important, especially for adults. Don't worry about looking (or sounding) like a fool. It's the only way forward. So try what you learn as often as you can, especially with local citizens (remember, you live in Germany!).
Start small, with greetings and basic phrases. Learn to ask, "Sprechen Sie Englisch?" before saying anything else. If someone says yes, you'll know you've got a safe audience with whom to speak German. The more you use your language skills, the faster you'll improve!