Seewoog parkrun in Ramstein-Miesenbach will soon be the 9th parkrun event to launch in Germany and will be officially opened by the Mayor of Ramstein, Ralf Hechler on 15 September, 2018 at 9:00am. It will take place at the same time every Saturday thereafter.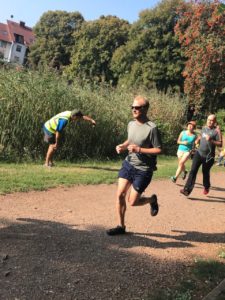 David Sweeney
parkrun is the biggest running event in the world. It is a global initiative supporting free, weekly, timed 5km events, organised by local volunteers. Everyone is welcome at parkrun – to walk, jog, run or volunteer. The aim is to create happier and healthier communities through participation of this – simple to organise and attend – regular event.
"Thanks to the work of our tireless volunteers in Ramstein, the support of the mayor of Ramstein and the international parkrun community, we now consider Ramstein to be part of the global parkrun family," said Catherine Ilic, co-Event Director.
Registration is free at http://www.parkrun.com.de/. You can register from 24th August onwards for the Ramstein Seewoog event.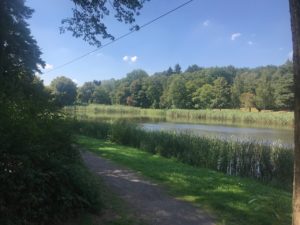 David Sweeney
What is parkrun?
parkrun – is a weekly event for running, jogging, or walking over a distance of five kilometers. It doesn't matter how fast you go. It doesn't matter what you wear. What matters is that you participate.
parkrun starts every Saturday at 9:00 am in 20 countries worldwide.
More than 3.1 million people have participated in a parkrun since its launch in the UK in 2004.
The events always take place in open spaces, for example in parks, on beaches or promenades.
parkrun is free for all participants. You register once online and then participate in every parkrun run worldwide.
Community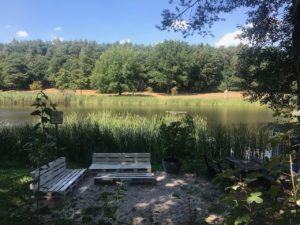 David Sweeney
The Seewoog parkrun course is a real treat for anyone who likes to be in direct contact with nature. The idyllic lakeside start and finish is complemented by a midsection trail run through the forest, which offers a varied terrain.
Following each weekly parkrun, all participants are invited to spend some time together over a post-parkrun-coffee at the Seewoog kiosk.
"The social aspect of parkrun is as important as the physical activity itself," emphasizes Ilic. She adds "We want to help make it easy for the Kaiserslautern Military Community (KMC) to mix with locals and meet new people. We are particularly pleased to create a special opportunity for community building and getting to know each other through parkrun. "
Getting Involved
Come along any week from the 15th September at the Seewoog parkrun in Ramstein-Miesenbach and jog or walk the five kilometers, or even volunteer to help with the event.
If you have not yet registered, please do so before your first parkrun below. Registration for Seewoog parkrun is live from August 24th:
https://www.parkrun.com.de/register/
The registration takes only a few minutes. Then print out your personal barcode. This is your ID card every Saturday at every parkrun event in the world. Wherever you want to run, just bring your printed barcode with you and be on time for 9:00am.
Further information about Seewoog parkrun can be found at www.parkrun.com.de/seewoog
Help with parkrun – An Interesting Opportunity
Occasionally helping at parkrun events is a great way to meet people, learn new things, and make a big contribution to community life.
If you would like to join the volunteer roster to help, please email seewoogteam@parkrun.com.